Articles
Walking the Walk
An overview of the truly moving stories of people who've walked across the country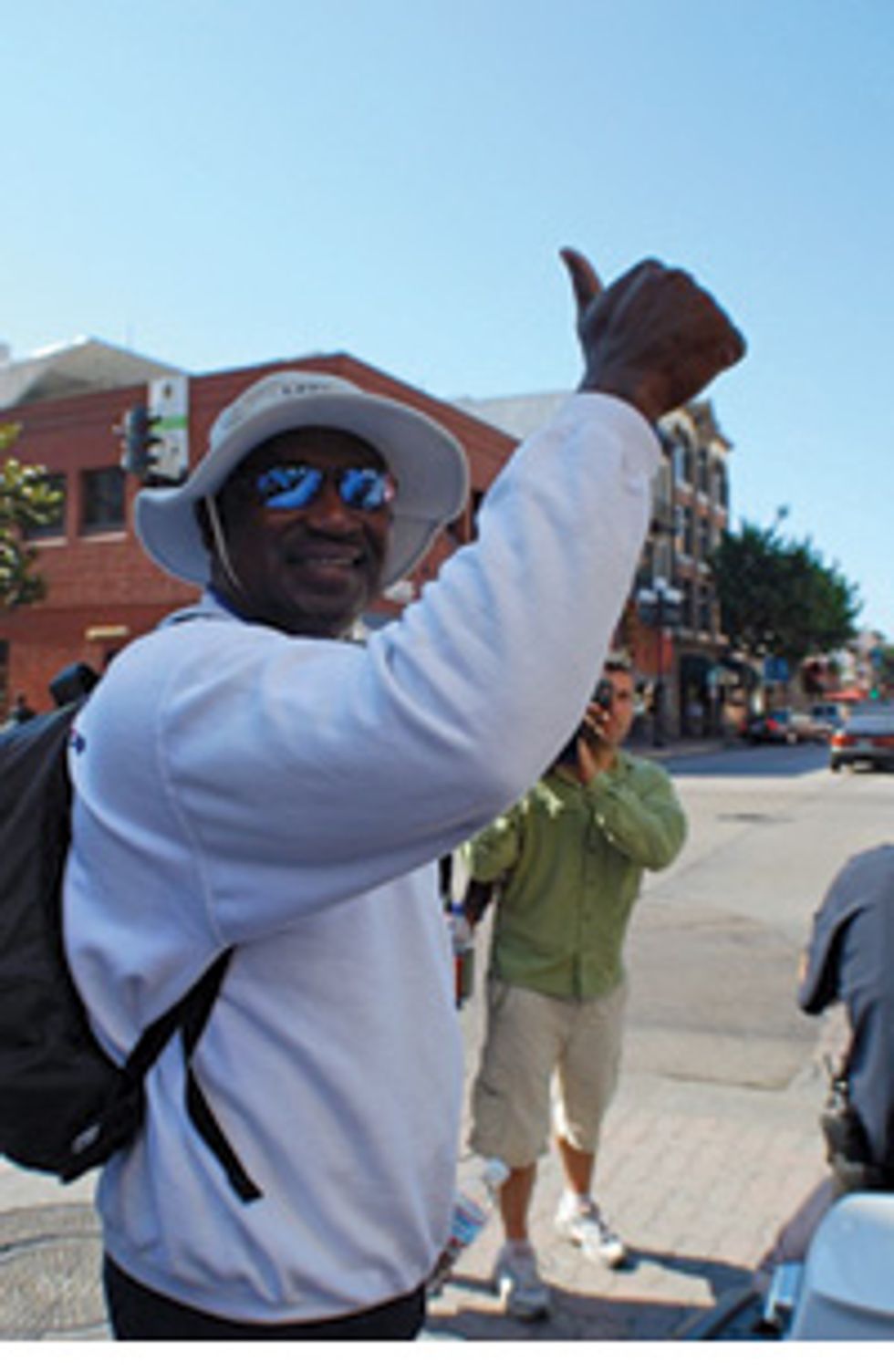 JOURNEYMAN
: George Martin, former NFL player
STARTING POINT:
George Washington Bridge in New York City
ENDING POINT:
North Embarcadero Park in San Diego
SPECS
: 3,003 miles over the course of eight months
YEAR
: 2007–2008
AGE AT TIME OF JOURNEY
: 55
REASON FOR TRIP
: Raised $2 million to benefit 9/11 responders, "the Heroes of Ground Zero."
IN HIS OWN WORDS
: "There are thousands of true national heroes of 9/11 who are now suffering medically, and I believe we owe them our support for helping our nation survive and heal after such a horrific tragedy."
MORE INFO
ajourneyfor911.info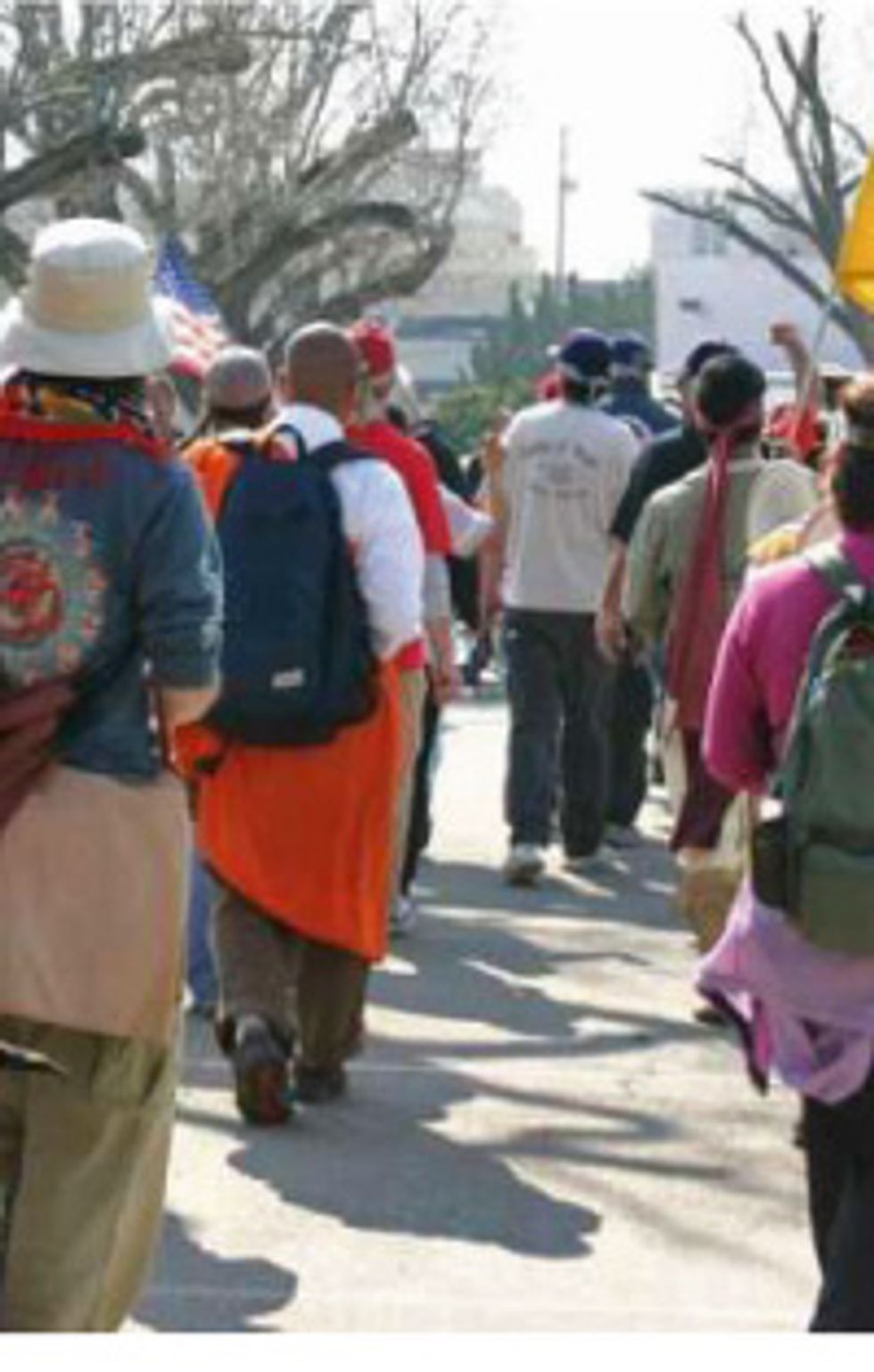 ---
JOURNEYMEN
: Some 800 Native Americans calling themselves The Longest Walk 2
STARTING POINT
: Alcatraz Island, San Francisco
ENDING POINT:
Steps of the Capitol, Washington, D.C.
SPECS:
Two different routes, one northern, one southern, totaling 8,200 miles over 175 days
YEAR:
2008
AGE AT TIME OF JOURNEY:
Variable
REASON FOR TRIP:
Thirtieth anniversary of the 1978 Longest Walk; to promote the message "All life is Sacred; protect Mother Earth," the group picked up trash and recyclables along the way and delivered a "Manifesto for Change" to representatives at the Capitol.
IN THEIR OWN WORDS:
"As indigenous peoples, we face a common threat … extermination through corporatization. We need to coordinate our struggles, and we need to maintain our tribal sovereignty."-Michael Lane (who participated in both the 1978 and 2008 walks)
MORE INFO
longestwalk.org
\n \n

\nJOURNEYMAN: Rick HammersleySTARTING POINT: Waters of Bodega Bay, north of San FranciscoENDING POINT: Waters of Coney Island, New York CitySPECS: 3,206 miles over 216 days (and $100.95 in change found along the way)YEAR: 2008AGE AT TIME OF JOURNEY: 60REASON FOR TRIP: Five years after beating colon cancer, he walked to raise money ($12,000) for cancer research.IN HIS OWN WORDS: "I know now from my prior experience with cancer, and from the daily drudgery of a seven months' walk, that there isn't a whole lot you can throw at me that I haven't already experienced. But I found out a long time ago you need something to strive for-a goal, if you want to call it that-to just keep you going."ANOTHER WALK: At the end of his journey, his cancer came back, but he hopes to beat it, after which he'll complete a second trans-America walk-this time from the border of North Dakota and Manitoba, Canada, to the southern border of Texas and Mexico, following Route 281. If he does it, his halfway point, in the Nebraska area, will be the same as on his first trek.MORE INFOrickwalksamerica.com \n

\nJOURNEYMAN: Hakim MaloumSTARTING POINT: Union Square, New York CityENDING POINT: Venice Beach Boardwalk, Los AngelesSPECS: 3,300 miles (and about 70 lost pounds) over five and a half months with only a backpack and $217 to his nameYEAR: 2008AGE AT TIME OF JOURNEY: 31REASON FOR TRIP: To prove that nothing is impossibleIN HIS OWN WORDS:

\nJOURNEYWOMAN: Doris "Granny D" Haddock:Starting Point: Los AngelesEnding Point: Washington, D.C.Specs: 3,200 miles over 14 months during which, according to her website, "She trekked through over 1,000 miles of desert, climbed the Appalachian Range in blizzard conditions, and even skied 100 miles after a historic snowfall made roadside walking impossible."Year: 1999–2000Age at time of journey: 89–90Reason for trip: To call attention to the need for campaign-finance reform and to support what became the McCain-Feingold Act.Fun facts: In 2003, she began a 22,000-mile drive around the country in an effort to register women and minorities to vote.An HBO documentary, Run Granny Run, depicts her 2004 campaign for Senate in New Hampshire, during which she garnered 34 percent of the vote in an effort to, as she puts it, "raise a little hell."MORE INFOgrannyd.com

Interesting fact: The shortest coast-to-coast distance in the continental United States is 2,089 miles, on a line stretching between a point near Brunswick, Georgia to a few miles south of San Diego.

\n

UPDATE: We've received some very sad news. On April 20, at 10:50 a.m., Rick Hammersley passed away. We at GOOD would like to extend our heartfelt condolences to his family and friends. You can find information about his memorial and his heroic fight against cancer here. May he rest in peace.

\n

\n