Articles
Your Favorite Business Books, Abridged
GOOD brings you the executive summary of Who Moved My Cheese, The Seven Habits of Highly Effective People, and three other popular business books. \rWho Moved My Cheese?  \rby Dr. Spencer Johnson\rWho Moved My Cheese is a corporate fable detailing the dangers of getting trapped inside an over-developed..\n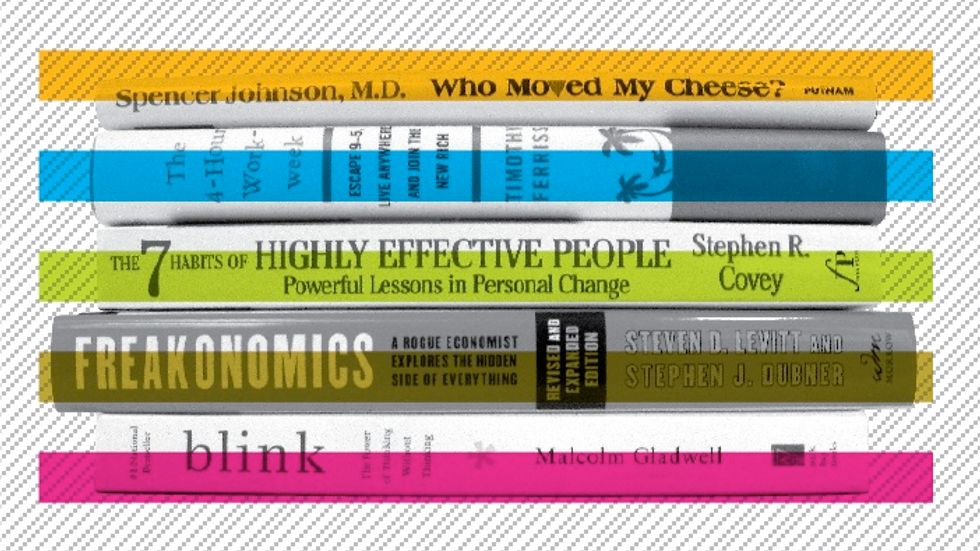 ---
GOOD brings you the executive summary of
Who Moved My Cheese
,
The Seven Habits of Highly Effective People
, and three other popular business books.
Who Moved My Cheese?
by Dr. Spencer Johnson
Who Moved My Cheese is a corporate fable detailing the dangers of getting trapped inside an over-developed metaphor. Your only hope of survival in the current business landscape, according to Johnson, is to outwit a pair of hyper-intelligent rodents of unusual size in order to find giant blocks of cheese that some all-seeing overlord is arbitrarily moving. This exercise is supposed to help you deal with change, if not unchecked substance abuse.
The 4-Hour Workweek
by Timothy Ferriss
Working for 48 minutes per business day can be pretty exhausting, which is why modest Princeton graduate Timothy Ferriss wants you to DEAL (Definition, Elimination, Automation, and Liberation). Without DEAL-ing, Ferriss would not have had time to break the Guinness World Record for tango, win Chinese kickboxing championships, and move objects with his mind (all claims Ferriss has made; the last one explains how his book is on the best-seller list).
The Seven Habits of Highly Effective People
by Stephen R. Covey
Sycophantism, nepotism, cronyism, luck, overconfidence, the ability to take credit for the work of others, having connections.
Freakonomics
by Steven Levitt and Stephen Dubner
If you've ever wondered why drug dealers can't break through the glass ceiling, why God kills a shoplifter after every abortion, or why people with the names of major deities don't have jobs, here is your loose correlation. The book stresses the point that incentives drive human action, which is why the two authors are hard at work on a sequel.
Blink
by Malcolm Gladwell
Gladwell teaches us about the benefits of blinking and thin-slicing, which has not only helped a lost generation of deli workers, but also numerous people in the business community. Maybe you were right in thinking that giving the guy with a teardrop tattoo a $500k home loan was a bad idea.