Articles
Will the Big Apple embrace this cuddly performance project?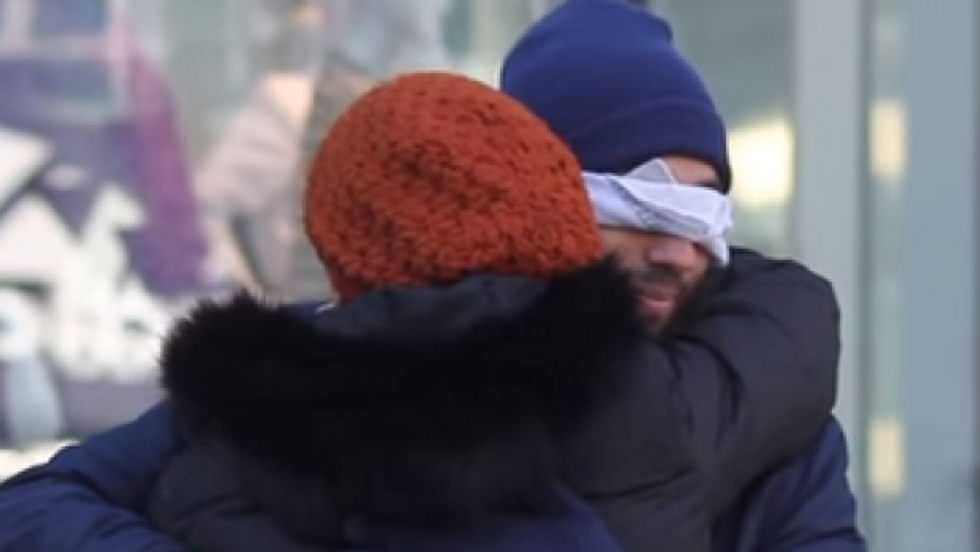 Screenshot from Time Vision Productions
There's no disputing that Torontonians are friendlier than New Yorkers, but can one of the world's "toughest" cities handle a hug? Recently, New York actor Karim Metwaly re-created a popular Canadian social experiment meant to promote tolerance and understanding of Islam, asking only that you give him a squeeze. In the experiment, originally staged in January by activist Asoomii Jay in Toronto's Yonge-Dundas Square, a young Muslim is blindfolded, holding up a sign that reads "I'm Muslim and I Trust You. Do You Trust me Enough for a Hug?"
<p class="p2"><span class="s1">Jay created the original experiment, called the <a href="https://www.facebook.com/video.php?v=807748252606519"><span class="s2">Blind Trust Project</span></a>, in response to rising Islamophobia, hate crimes, and bullying. In the video, she stood between two signs reading, "I am a Muslim, I am Labeled as a Terrorist", and "I trust you, do you trust me? Give me a hug." <a href="http://www.cbc.ca/news/world/new-yorker-re-creates-canadian-hug-a-muslim-experiment-1.2990717"><span class="s2">Jay recently told the CBC</span></a> she has been inspired by the popularity of the project, which currently has 1.8 million views on YouTube: "To see so many positive reactions, it's touching and inspiring."</span></p><p class="p1"><span class="s1">In the New York iteration, many passersby stared or took photos. But an unexpected number gave the stranger a hug. As the CBC reported, people were pretty receptive. "That's pretty good activism you're doing here, man," said one pedestrian. "I'm Muslim too, peace be upon you," was another comment.</span></p><p class="p1"><span class="s1">Jay is happy her project and message have spread to other cities.</span></p><p class="p1"><span class="s1">"It is a first step in helping educate people that not all Muslims are 'bad people' and a reminder for radical Muslims as well that if we want to defend Islam, we should do so in a way Islam teaches, not with acts of violence [which are] forbidden in Islam."</span></p><p class="p1"><span class="s1">Below, watch the video of New Yorker's reaction to a hug that spans the socio-political spectrum:</span></p><p class="p1"><span class="rm-shortcode" data-rm-shortcode-id="8ebc75671d1f8ae34cb5455e64a32a6a" style="display:block;position:relative;padding-top:56.25%;"><iframe frameborder="0" height="auto" type="lazy-iframe" scrolling="no" data-runner-src="https://www.youtube.com/embed/cKEKiwB1A3E?rel=0" style="position:absolute;top:0;left:0;width:100%;height:100%;" width="100%"></iframe></span></p>