Articles
A Village Grows in Los Angeles
L.A.'s Eco-Village aims to demonstrate higher quality living patterns at a lower environmental impact—and is finding new ways to fund the effort.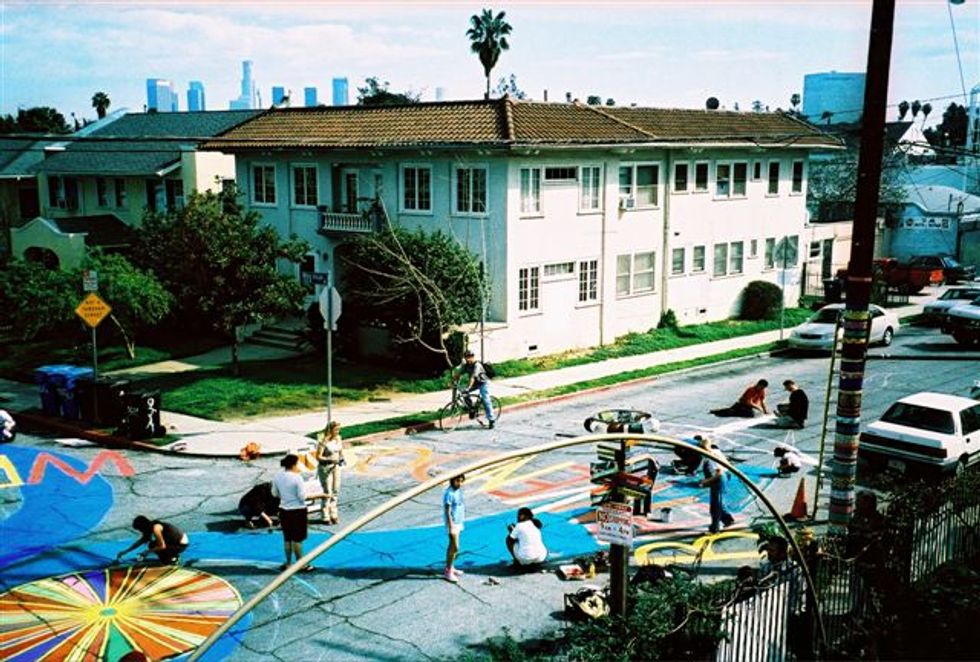 Glamour, excessive consumption, and a daily traffic snarl maybe the streotypical hallmarks of LA living, but that is hardly the kind of life at the
Los Angeles Eco-Village
(LAEV).
Unknown to most Angelenos, LAEV has occupied the two early 1900s apartment complexes a block east off Vermont Avenue in Koreatown for almost 15 years. LAEV moved into the scorched neighborhood in the aftermath of the LA riots, working to revive the community. Over the years, its thirty or so residents have eco-retrofitted the decades-old facilities in their units, repainting the walls with low-VOC paints, and refurbishing the floors to more insulating materials. Their once thirsty lawn is now an edible landscape that grows bananas, peaches, cherimoyas, chard, and lettuce, and even conduct permaculture workshops on site (below). Most units also have solar and gray water systems.
---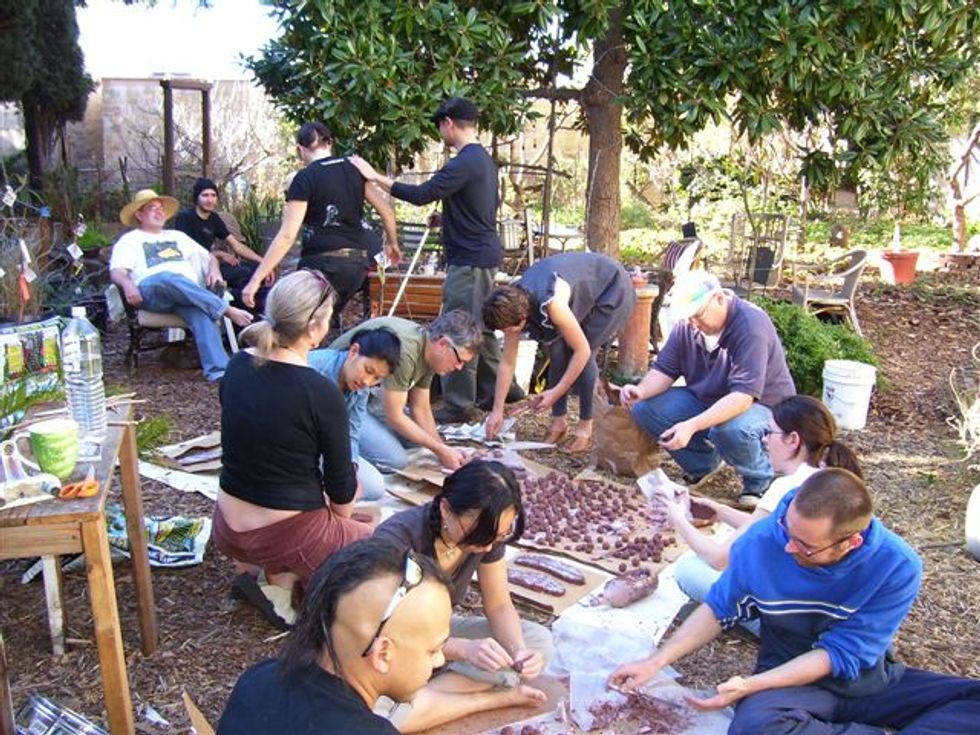 "We like experimenting—things like beekeeping, raising chickens—we're sort of early adopters to see how those work," says long-time resident Joe Linton, an urban activist involved in revitalization of the L.A. River.
LAEV, which aims to demonstrate "higher quality living patterns at a lower environmental impact," sits conveniently within a cobweb of bus routes and is less than a mile away from two metro stations, and its residents are ardent transportation activists. Rather than suffer infamous LA traffic jams, two-thirds have ditched their cars to walk, bike or take public transportation. Instead of a garage, this hamlet has a bike room where extensively used bicycles, trikes, and all sorts of human-powered transport jostle for space.
"There's a social aspect (to the village) too," says Linton. "If we're able to count on our neighbors for things, our lifestyles can be less impactful on the environment."
More than metaphorically tending to their own garden, residents see community as a necessary aspect of living sustainably. Every weekend, LAEV hosts potlucks and meetings. The eco-village has also incubated such ventures as The Food Lobby, a neighborhood food co-op that allows members to buy organic, whole food at bulk prices; Bicycle Kitchen, a non-profit that promotes a cycling culture by helping people fix their bikes; and, most recently, CicLAvia, a group that turned a 7.5-mile stretch of LA street into a car-free safe haven for bikers and pedestrians.
LAEV's social-environmental approach has proven so successful that plans are under way to purchase the four-plex across the street. Unlike the usual funding model, the additional $100,000 needed to close the escrow won't come from traditional banks, but from the people—without need of a costly mortgage.
Sidestepping bureaucratic rigmarole and saving thousands of dollars in interest payments, Cooperative Resources and Services Project, LAEV's parent nonprofit, gathers discretionary monies from friends, family, and other nonprofits to build up a no-collateral, simple interest loan called Ecological Revolving Loan Fund (ELF). The same fundraising technique allowed CRSP to purchase the two buildings LAEV currently occupies. Over a million dollars were borrowed and eventually paid back.
While urban eco-villages are uncommon, their role in re-inventing life in cities has become more pressing. Already, more than half the world's people live in cities; by 2050, the UN estimates that will increase to nearly 70 percent. Ongoing experiments like LAEV's show us what is possible and, perhaps, give us clues on how to live together better in the future.