Articles
Alpha Ventus: Germany Cuts the Ribbon on Offshore Wind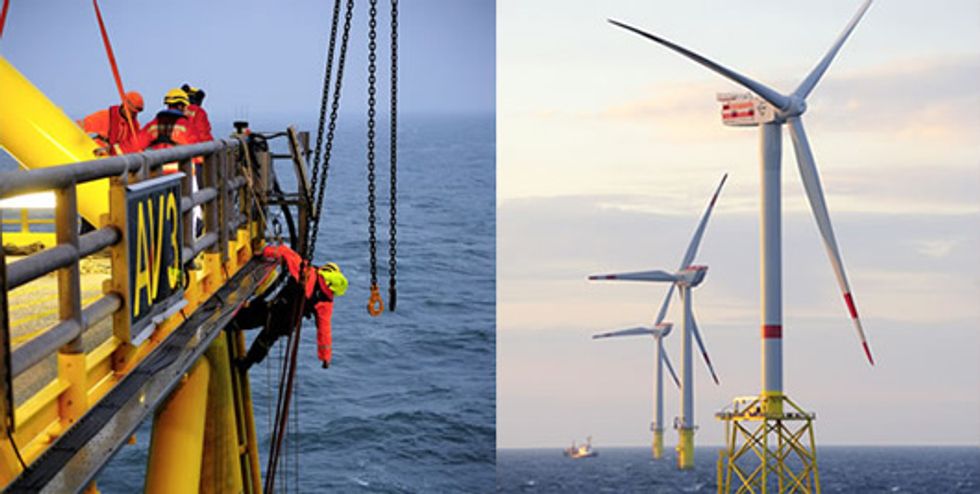 ---
With the announcement [Wednesday] that
the Cape Wind project has been approved
, it feels like the United States has finally entered the wind energy race. But those Germans stole a little bit of our thunder [Wednesday] when Germany's Environment Minister Dr. Rottgen cut the ribbon on the country's first major offshore wind project—Alpha Ventus.
The name sounds a bit futuristic (more like a space ship than a wind firm) but perhaps rightfully so. The German government sees a bright future in wind power. After investing billions in developing a residential solar industry during the 2000s (the same decade in which the fledgling United States renewable markets were nearly squashed to death by coal and oil subsidies) the German government realized they needed to expand the country's renewable portfolio to include wind if they are to reach their goal of 30 percent renewables by 2020 (Germany's currently at 16 percent). By 2030 Germany seeks to install a whopping 25,000 megawatts of wind.
Alpha Ventus acts as an "alpha test" for Germany's new wind industry—a prototype that will contribute 60 megawatts of installed capacity via 12 enormous, five-megawatt turbines to Germany's grid. It's not a whole lot of power (enough to power about 50,000 homes) but it will serve as a lab of sorts to test deep water mega-wind. The turbines are 28 miles off the coast and barely visible from the shore, so they will not face the same "eyesore" battle that Cape Wind faced (and will continue to face).
It's interesting to note that Cape Wind and Alpha Ventus were both conceived 10 years ago. But while Cape Wind stalled in miles of red tape and opposition from all sides (even Native Americans) the Germans started permitting and planning. By 2005 the project was green lit, and by 2007 the first underwater cables were laid. In 2008, the first test turbine went up and the rest is history.
Perhaps with the messy backlash from not one but two fossil fuel disasters this month—the Massey mine and the sinking of the Deepwater Horizon—the Obama administration will reverse its endorsement on offshore oil and start acting upon the rhetoric that got him elected. The many lives lost in these tragedies should not be taken for granted—not just the loss of life by oil and coal workers but by the estimated 30,000 deaths (according to the Sierra Club) that occur each year as a result of fossil fuel pollution.