Articles
At the Local Level, What's a Nobel Peace Prize Worth?
Liberian President Ellen Johnson-Sirleaf struggles toward re-election.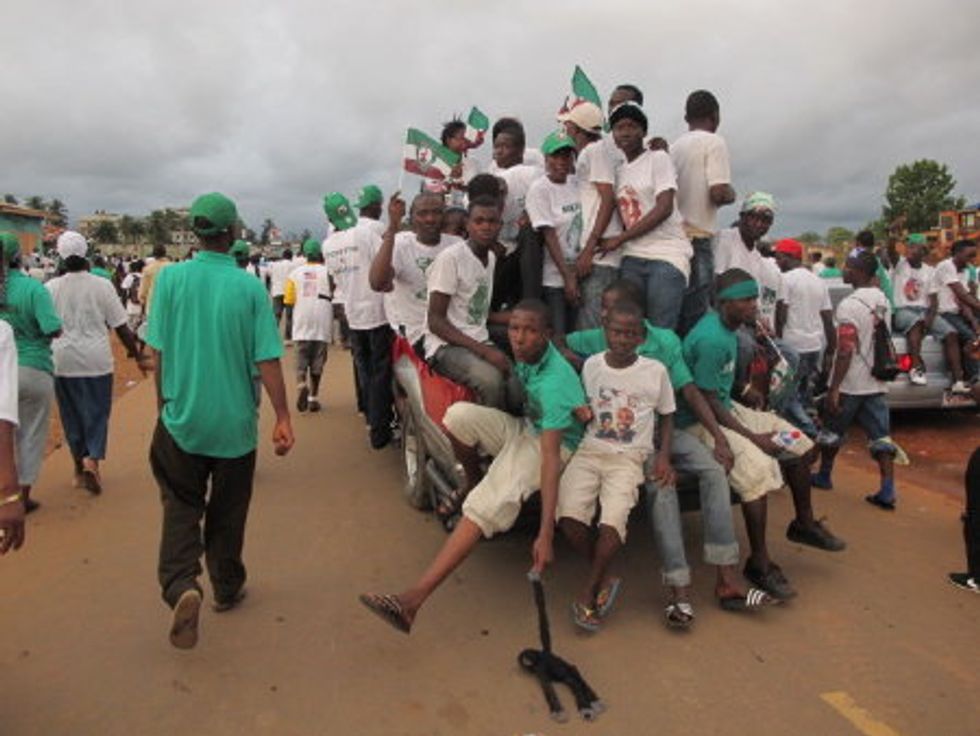 After a storm, Liberia is beautiful. The West African country founded by freed American slaves is better known for 14 years of civil war that introduced child soldiers into the global lexicon, and sent ripples of toxic violence throughout the region. The storm has passed. From the rooftop of the gorgeous-but-gutted Ducor Hotel, you can see the nation's potential: ports and rubber and abundant human resources. On the simple roads outside the capital, Monrovia, abandoned stone houses host ambitious, climbing plants—a metaphor for post-conflict Liberia if ever there was one.
The people of Liberia head to the polls Tuesday to elect a new government. Their second vote since civil war might have passed into the obscurity of distant democracy if the incumbent president, Ellen Johnson-Sirleaf, hadn't been awarded a Nobel Peace Prize last week. The citation, honoring her and two other female activists from Yemen and Liberia, gave confidence to advocates for a global feminism, particularly in the developing world. It also revived a debate about foreign intervention in a country struggling to normalize local institutions and exercise free choice.
---
The morning after the Nobel announcement, Monrovia's city hall wore a hastily printed banner congratulating Sirleaf on her peace prize. Sirleaf's opponent, George Weah, a famous former footballer and vice presidential candidate of the CDC party, quickly tamped down the hype. "She won it but I don't know for what," he told reporters. Winston Tubman, who is leading the CDC ticket, went further: "She does not deserve it. She is a warmonger," he said, adding that the Nobel committee made "a provocative intervention within our politics."
In the west, Sirleaf is well known as a canny, Harvard-credentialed activist who represents female power in a region where it's often missing. She has long been welcome in Washington and at the Clinton Global Initiative, and a good deal of foreign investment in Liberia—from a Firestone tire plant to a mining project operated by Arcelor Mittal—can be traced to Sirleaf's Rolodex. Her supporters believe this is great news for Liberia. "She's been at the World Bank. This isn't even a big job for her," said Tulay Hansford, a 31-year old working on HIV awareness. "The world is dollar-driven, and she can play in that world … we are grateful for it."
Elsewhere, Sirleaf's reputation as a member of the global elite hurts her; few Liberians have heard of Davos. While some residents welcomed a positive story from Liberia, one Monrovian, who does not support Sirleaf, questioned whether the Nobel Prize committee had ever visited his country. "We talk about peace and reconciliation and it's not here," says Gayflor Mulba, a part-time student supporting the CDC. "She has failed to reconcile the Liberian people." Another detractor chimed in, "No one with blood on their hands should control this country," referring to Sirleaf's admission of funding violent efforts to oust former dictator Charles Taylor. He called Sirleaf a rebel fighter "just like myself."
The difference between international reverence and local skepticism can be jarring, but is just the beginning. This election, widely supposed to be headed for a runoff, will have resonance far beyond Liberia. First, it's a test for female empowerment. The women of Liberia were essential to electing Sirleaf the first female president on the continent. Any crossover to the opposition party could be bad news for Sirleaf and other women running for office.
Second, it's a rare change election in Africa. Recent analysis from The Economist showed just a trickle of successful transitions between parties in the region. The Mo Ibrahim foundation today announced its prize for good governance in Africa—which hasn't been awarded since 2008. The world will be watching to see if Liberia can handle democracy more gracefully than its peers.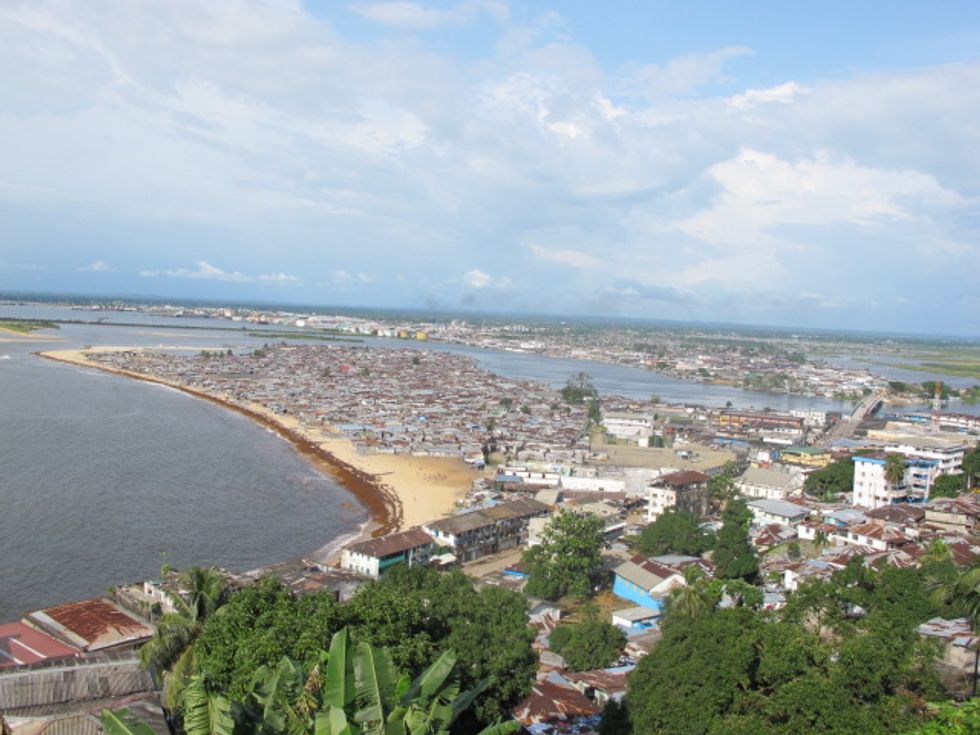 And, most importantly, it's a referendum on the relationship between democracy and real progress. The opposition CDC party is making a populist push for change based on the Reaganism: "Are you better off than you were six years ago?" The answer is ambiguous. Residents credit Sirleaf for maintaining stability and improving security after endless war, but still suffer obscene shortages in clean water, electricity, fuel and formal employment—80 percent of the population is officially jobless. A Nobel Prize doesn't feed the people—and young Liberians like 24-year-old Ben Joseph expect tangibles. "So many of us don't have jobs or money to go to school, or to survive," he said. "I need the government to work."
Among those who remember the chaos of war, stability is more important. Sirleaf and her running mate Joseph Boakai—known in all campaign literature as "Ellen and Joe"—have insisted they need more time. A slogan emblazoned on a placard on Harriet Tubman Avenue reads: "If the plane not e'en landed, don't change the pilot." Another highly popular slogan: "Monkey still working; let baboon wait small." The classic ruling-party argument holds sway with the monkey's supporters. "There is actually nobody to replace her and continue the things the government has done," says Allison Foday, a 49-year-old French teacher in Monrovia. "She should finish what she started."
Corruption is also a perennial concern in Liberia, which has some of the most porous public institutions on the continent. Though Sirleaf has made efforts to minimize graft, she is suffering from her own 2005 pledge to be a one-term president. In a country where decades of misrule ground down faith in institutions, Sirleaf's 2011 "never mind" both offends and frightens voters. "I was here during Charles Taylor's time," says Wres, a 37-year-old who voted for the second-tier Liberty Party in the previous election. "We needed change then and he just wouldn't go."
It's unlikely Sirleaf will cling to power if she loses the first-round vote on Tuesday. But the threat of illegitimacy hovers over her cause—and the Nobel intervention only exacerbates the belief that, somewhere, strings are being pulled. A disputed outcome could lead to a hobbled presidency, or worse, violence when the results are announced. "If the vote is free and fair, Ellen will not win," said a female CDC supporter who declined to give her name. "If she wins, people are going to be angry."
It's a charming reality of Monrovia that the "business centers" which dot the city are so called not for their printing and faxing capabilities, but because they are sites of airing "business"—literal chat rooms that hum with political debate. On Saturday, a statistical shouting match erupted between one of many women backing Sirleaf and a man supporting Tubman. "It's not Tubman you are supporting," says the woman, slicing the air with her right hand. "If George Weah left the CDC tomorrow, all these men you see in the streets would follow George Weah." The alleged turncoat vigorously disagreed.
If tempers stay this hot, expect a high turnout and a very close race. There is no formal electoral polling in country, and so the political temperature is measured in boots—or more likely, sandals—on the ground. On the day of Sirleaf's Nobel win, thousands of CDC supporters packed the streets of Monrovia, chanting for Weah long into the night. On Sunday, it was Sirleaf's turn. She addressed a throng that nearly filled the city's 33,000-seat Samuel K. Doe stadium. Her long chain of supporters drummed through the city, undeterred by the evening storm but ready for the rain to cease.
Photos by Dayo Olopade