Articles
Creative Acts that Mattered at COP15
From bike protests to Yes Men stunts. This is part four of a GOOD mini-series by the Canary Project's Ed Morris on the cultural...
\n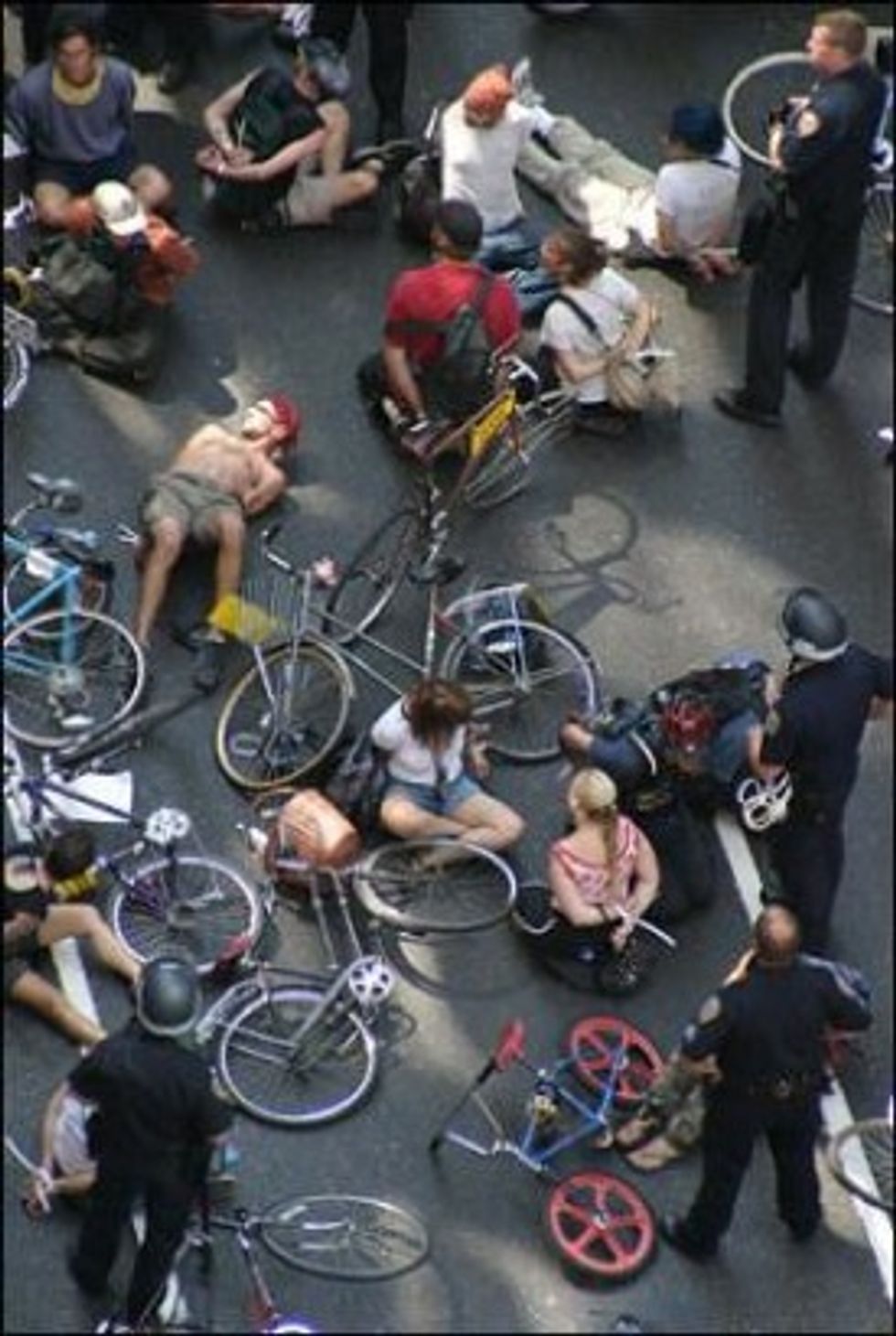 From bike protests to Yes Men stunts.\n
This is part four of a GOOD mini-series by the Canary Project's Ed Morris on the cultural happenings surrounding COP15.
In a previous post
for this series I called out the Copenhagen museums for being un-innovative, uninteresting, and unhelpful in the way they put together their tepid exhibition on "Art and Climate Change" called ReThink. In contrast to this exhibition, each of the following three works provided a bold and distinct answer to the question (as put to me by Isa from the
Laboratory of Insurrectionary Imagination
), "In a era of crisis, what is the role of the artist?"
By highlighting these particular projects, I am not suggesting they employ the only possible strategies when dealing with an issue like climate change. Nor I am suggesting that they are somehow "better" art than other projects (whatever on earth that might mean). What these projects have in common, as opposed to say the
brilliant satire of Thierry Geoffroy
or the portentous film by
Allora & Calzadilla
in the ReThink show, is their clear impact beyond the immediate confines of the art world. Each of them had a real, discernible effect on COP15. At the same time, each of them used very different methods to achieve this impact and had different ambitions.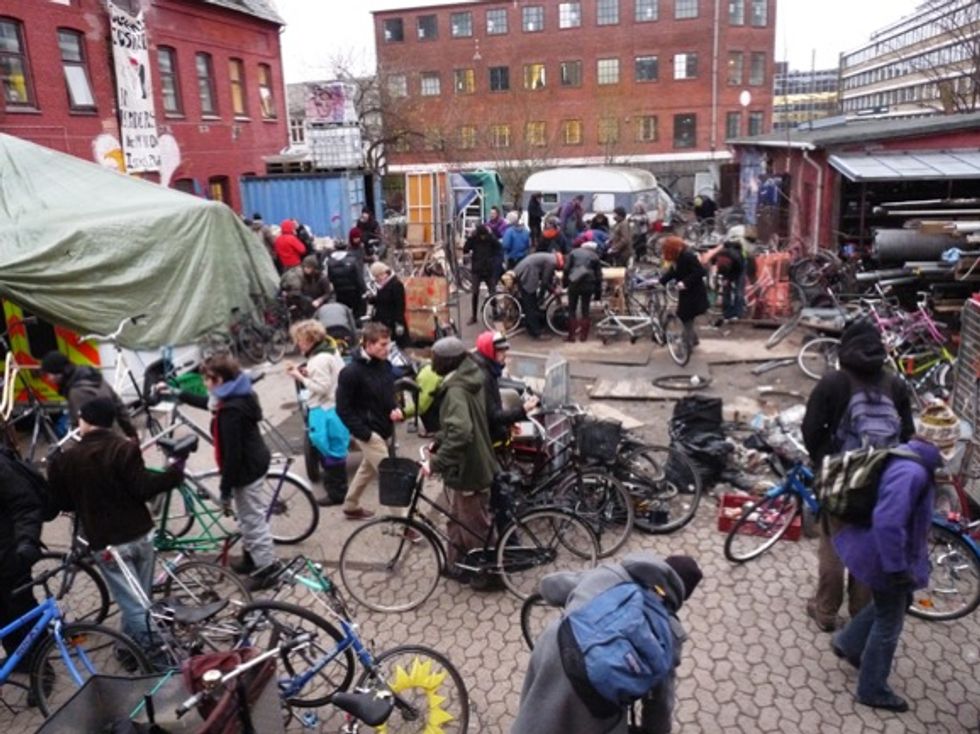 ---
Bike Bloc, The Laboratory of Insurrectionary Imagination/Climate Camp
The Bike Bloc writes that it is: "a new tool of civil disobedience for the
Reclaim Power
mobilizations taking place in Copenhagen. ... Made from hundreds of recycled bikes,
The Bike Bloc
will merge device of mass transportation and pedal powered resistance machine, post capitalist bike gang and art bike carnival." The plan: Use three types of bikes to create a legion of support for the Reclaim Power protest to establish a "People's Assembly" in the Bella Center. The three types of bikes: (1) individual bikes that had been discarded and repaired by Bike Bloc. These bikes would be maneuverable and quick to swarm; (2) The Double Double Trouble: multiple bikes welded together into a chariot for high visibility. These bikes would take a pre-established route to the Bella Center; (3) The Machine, on which the Bike Bloc people would not comment further. Additionally, Bike Bloc offered training everyday in how to use the bikes in the service of the protest. A community developed. When I visited the Bike Bloc Copenhagen headquarters in an old candy factory, it was a hive of activity. People fixing up bikes, making plans, warming themselves by an open fire. It was also a zone of paranoia, understandable given the police surveillance of the place. Incidentally, the Bike Bloc was originally slated to be part of the
ReThink show at the Nikolaj.
However, museum organizers reneged on this when they learned (horrors!) that Bike Bloc actually intended to carry out its plan and not just draw it up as a sort of artistic conjecture.
(I had to leave Copenhagen the day the Bike Bloc would spring into action. There have been many reports of the violence and confrontation at the Reclaim Power protest, but I have yet to see photographs of the Bike Bloc in action and my contact in the group as gone into radio silence. Yet, it is clear that the sort of disobedience embodied by the project is making a clear statement that if governments fail to act, the social contract is null and void.)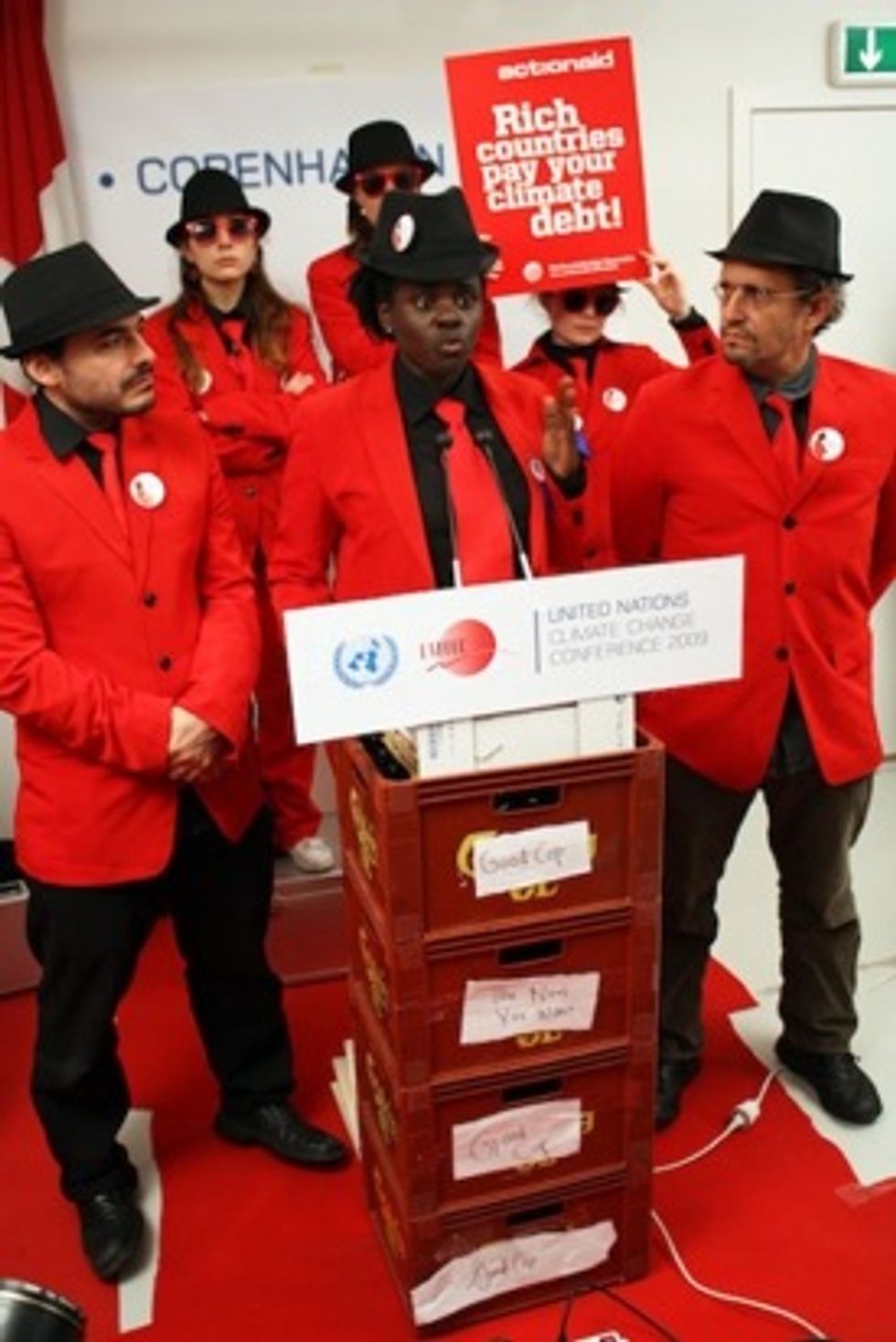 Good COP15, The Yes Men
Everybody loves
the Yes Men
. It is hard not to. While not all of their projects reach the same level of critical commentary, they inevitably succeed in making the impossible seem possible and/or showing how twisted and ridiculous the logic of a dominant position can be. They do this by masterfully imitating tone or by extrapolating the implications of a given position. The Yes Men, known primarily by their leaders "Andy Bichlbaum" and "Mike Bonanno," are increasingly using collaborations and the inputs of others to extend the effectiveness of their projects. In Copenhagen it was no different, as dozens of people and several different organizations contributed work to an effort that
shamed Canada and lampooned the position of developed nations generally
. It began with a
press release
announcing a dramatic shift of position by Canada on emissions cuts and aide to the developing nations. Fake news articles, press conferences, and, finally, the unveiling of
Good COP15
, an alternative conference where dream announcements are realized. The real media bought it for long enough that it could do damage.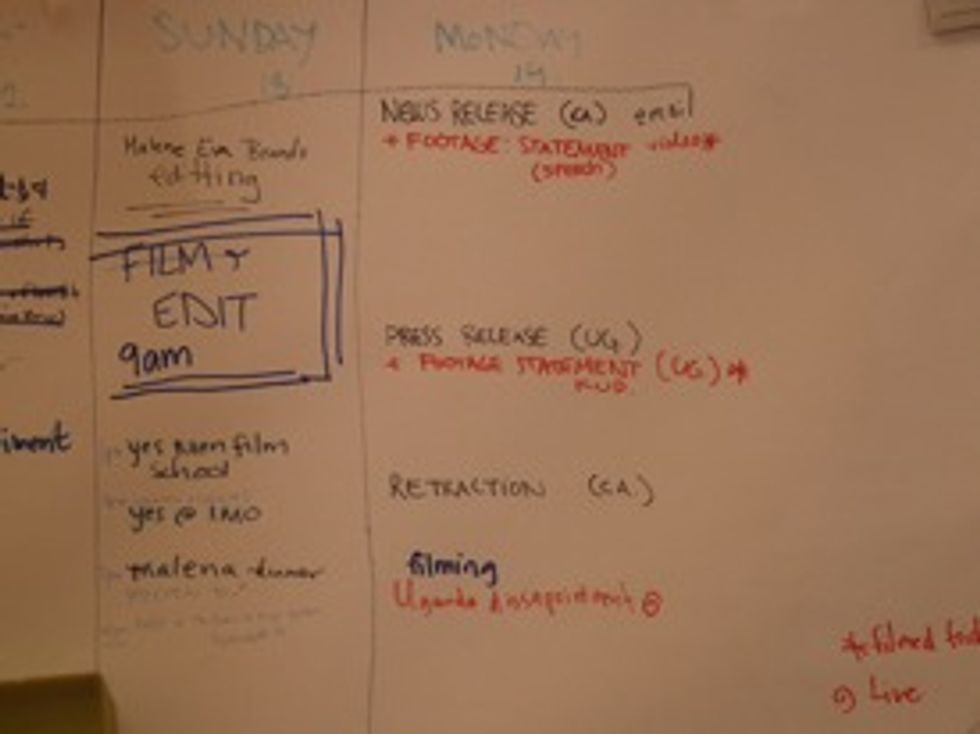 That these stunts had a palpable effect is shown by how the Canadian delegation in Copenhagen went into a frenzy trying to react-accusing various opposition members of being behind it and desperately seeking a photo op with Stephen Chu, which was denied. When asked why it was so important to get a photo with Chu, the senior aide to Jim Prentice, the Environment Minister spoofed in the release said: "We were carpetbagged this morning by [environmental non-governmental organizations] with a false press release. I have to change the story."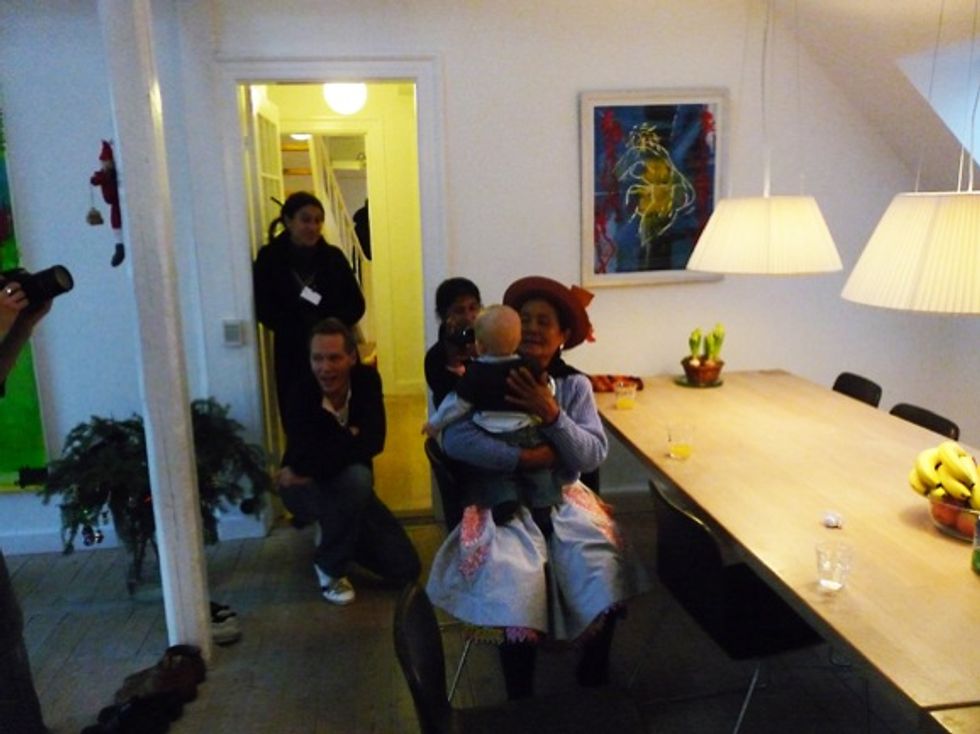 New Life Copenhagen Festival, Wooloo Productions
The artist group
Wooloo Productions
matched an estimated 3,000 people who wanted to come to Copenhagen, but who otherwise could not afford it or find a place stay, with Danish hosts willing to open their homes. Wooloo defined this program as an "art festival and social experiment" that "takes place in thousands of Danish homes during the United Nations (UN) Climate Change Conference from December 7th to 18th, 2009." It produced countless interactions, including the ceremony performed by a Peruvian shaman described in
my third post
for this series. Wooloo has done several things to formally collect these interactions, which are the essence of the project, but of course most will go undocumented. The bottom line: Wooloo brought 3,000 activists, artist, journalists and observers to Copenhagen that otherwise might not have been able to come. By framing this project as a social experiment/art festival rather than just providing the service, Wooloo gave special meaning to each of the countless interactions spawned by the program and has invited us to consider the implications of such a coming-together for our future.
In light of these sorts of projects, which are hardly new to the art world, the ReThink exhibition seems worse than tepid. It seems downright cowardly. Participatory, engaged projects with a clear program of exerting pressure on the negotiations, as well as the more intimate actions of everyday life that I wrote about in my last post, were the really vital cultural happenings in Copenhagen. This is not over. As the negotiators dither, projects like these are more and more relevant, more and more needed.