Articles
Get Your Irish Up
\r\nFor St. Patrick's Day, get to know your Éire-inspired words, from Irish apricots to Irish wolfhounds.\r\nSt. Patrick's Day is a...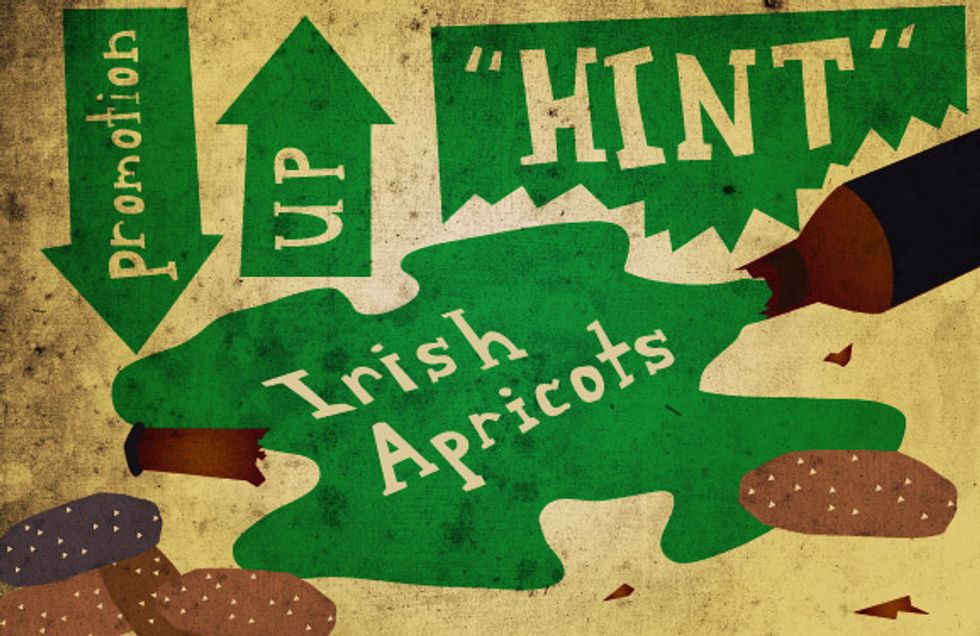 ---
For St. Patrick's Day, get to know your Éire-inspired words, from Irish apricots to Irish wolfhounds.
St. Patrick's Day
is a time to remember the history and celebrate the culture of the Irish people. Shamrocks! Blarney stones! Claddagh rings! The brogue! James Joyce! Irish apricots!
Irish apricots? According to an Oxford English Dictionary quote, Irish apricot is a slang term for a potato, dating from 1785: "...it is a common joke against the Irish vessels to say they are loaded with fruit and timber, that is, potatoes and broomsticks." If you ever hear about Irish apples, Irish footballs, Irish grapes, Irish lemons, and Irish roots, those are all potatoes too-at least in the Irish section of the slang dictionary.
Like it or not, part of Irish history involves a metric ton of colloquial terms that have the word "Irish" as a describer. While you're hoisting a Guinness or chasing a leprechaun, take a minute to appreciate this small but vibrant subset of the huger linguistic impact of the Irish. As a substantially Irish person myself, I can appreciate that not all these terms are flattering, but they're an undeniable fossil record of how people have perceived the Irish, and the prejudice they've faced. Dictionaries-accurate ones, anyway-have never been a safe haven for the squeamish; they record the sins, errors, prejudices, and foibles of humanity in all their ugly glory.
Before getting to the main course, I have to mention the common expression "get one's Irish up," which the OED traces back to 1834: "Her Irish was up too high to do any thing with her." Oddly enough, the Historical Dictionary of American Slang has a first use from 1834 too, so that must have been an angry year indeed: "It raised the Irish in me pretty quick...for I jumped up and kicked the table over." Like so many of these idioms, there are similar versions for other groups, such as "get one's German up." But since these terms are born and raised in Stereotype-istan, it's not surprising I couldn't find examples of anyone getting their Canadian or Swiss up.
Some Irish terms are less controversial than others. If you talk about an Irish terrier or Irish greyhound, no one will be offended. Other terms of this non-slur-y ilk include "Irish moss," "Irish deer," and "Irish coffee," which are similar in flavor to "French kiss," "German shepherd," "Swedish pancakes," and "Canadian bacon"-no harm, no foul. Which brings us to other terms that are insulting in the same manner as "Iranian shower"-a nasty term I heard in college that can loosely be translated to "no shower at all."
Many terms are simple negations, like an "Irish dividend," which is a loss or a case of breaking even, and an Irish promotion, which is a demotion. Others comment more directly on the idea that the Irish are a tribe of drunken, brawling hooligans. So is it wrong that I-an occasionally drunken, mostly non-brawling semi-hooligan-find several of them clever and enjoyable?
For example, I love "Irish hint," a term as old as 1796 for a threat. That's the kind of talk you might hear during "Irish parliament," which a 1904 HDAS quote puts in context: "When passing one of the many saloons that grace the waterfront, we were attracted by a boisterous Irish parliament within... In the bar-room a jolly crowd of excited mariners were holding forth all at once, everybody talking and nobody listening." That pugnaciousness is reflected in the "Irishman's coat-of-arms" (two black eyes and a bloody nose) which could lead to a visit to the "Irish clubhouse"-jail or the police station.
Then there's "Irish cocktail"-a drink that's been drugged-and Irish confetti, which consists of stones and bricks. If some hits you, you might get hauled away in the Irish ambulance, a wheelbarrow. Tools of the working class figure prominently in this area of slang, as "Irish baby buggy," "Irish chariot," and "Irish go-cart" also refer to a wheelbarrow, while a shovel is known as an "Irish banjo," "Irish fan," and "Irish spoon." You get the feeling that the coiners and users of these terms had a problem with working people as well as Irish people.
Before I end this column, I want overcome my heritage and provide a smooth transition that is definitely not an Irish goodbye. My editor Siobhan O'Connor introduced me to this term as we were discussing this column: "Don't forget Irish goodbye. Do you know that one? It's when people leave social situations abruptly and without really saying goodbye to anyone, and every Irish person I know does it, myself included."
There's a wonderful discussion of the term by Jeffrey Morgenthaler
here
, including instructions on how to use this technique to your advantage: "The trick to the Irish Goodbye is to look as if you're on a mission, as if you've got someplace important to be before coming back to the bar. But once you've made it outside, my friends, you're practically home-free once you've hailed a cab."
Hey, it beats Irish confetti any day.