Articles
GOOD Voter Guide to California: Lieutenant Governor
The Lieutenant Governor is president of the State Senate, and serves on various commissions that oversee things like the economy and the environment.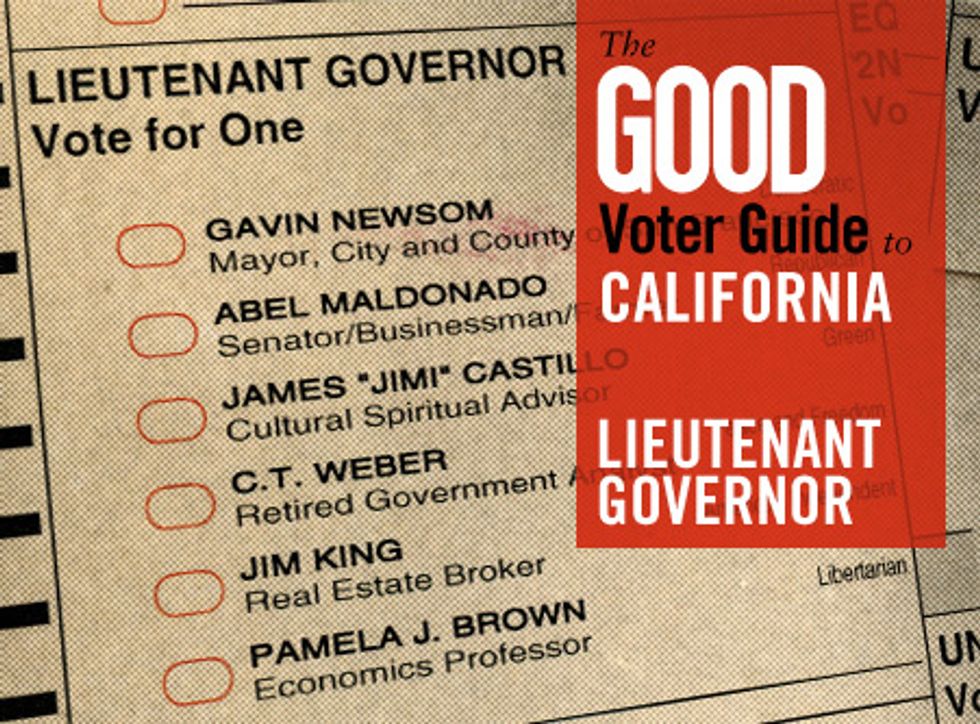 ---
\n
Over the course of the next two weeks, we will be publishing primers about the important items on the ballot in California as part of our
GOOD Voter Guide
.
The Lieutenant Governor is president of the State Senate, and serves on commissions that oversee public colleges, economy and trade, environment, disaster relief, agriculture, cultural tolerance, and the census.Pamela J Brown
Political Party: Libertarian
Candidate Platform: Personal freedom and small government. Yep, she's a Libertarian.
Background and History: That's Dr. Brown to you. Born in Boston, attended University of Rhode Island and then got her PhD in Economics at George Mason University. She went on to teach economics in California. She has been a Libertarian sine age 19, and has run for both the california state senate and assembly.
Civil Rights: "My husband and I are gun owners and supporters of the NRA and 2nd Amendment." She wants to control our borders to "prevent illegals from committing violent crimes or terrorist acts against our citizens and siphoning billions in state services must be a top priority for our state." She supports the legalization of marijuana.
Economic Responsibility / Justice: Her plan is to reduce state tax burdens to levels competitive with other U.S. states in order to attract business and jobs back to California. She also wants to cut state spending by aligning public-sector pensions and salaries with those in the private sector.

Environmental Responsibility: She supports Prop 23, the measure suspending AB32 Global Warming regulations to reduce carbon emissions in California. she does not believe the science supporting "global warming." She also believes that California's farmers must have access to water resources, instead of "tiny endangered fish." In essence, she wants more water to be sent to the very dry farms of the central valley, though negative environmental impacts have been demonstrated when sending water there. She does, however, believe that "protecting our coastline and environment is essential so tourists worldwide want to visit, and retirees want to live in our wonderful state."
Education: She wants to improve education outcomes with competition (school choice) and pay-for-performance incentives (not clear on whether that is payments to teachers, schools or students, though).
Fun Facts: She is an "enthusiastic" Tea Party supporter. Her call to action? "Had it with RINOs and socialists? I have. Help me take back our state and our liberties." (RINO's are "Republicans in Name Only.")
Key Donors and Endorsements: She has not accepted campaign contributions from unions or business groups.
Sources: Smart Voter; Vote Smart; California Wants Freedom


James "Jimi" Castillo



Political Party: Green
Candidate Platform: He sums it up this way: "We are all stewards of this earth. Now is the time to go "GREEN." Chief among his priorities are to establish a more affordable and accessible educational system, reform the criminal justice system, assure California residents a clean, safe supply of drinking water, protect existing surface and groundwater from pollution, preserve our oceans with their enormous diversity of life and functions, create a greater awareness of the rights of all indigenous peoples worldwide, promote full self-government on all Indian reservations, advocate children's rights, and set a standard of excellence in public land management to ensure that we maintain a healthy environment in the future.
Background and History: Jimi Castillo is the first Native American to run for the office of Lt. Governor in California. Born and raised in Whittier, he is a Pipe Keeper and Sun Dancer for the Tongva and Acjachemen People. He is a proud member of the statewide Bear Clan Society and a Marine Corps veteran (1960 to 1965). Castillo is a respected Native American spiritual leader, and his profession is listed as "Cultural Spiritual Advisor." He has served as a mentor for young men housed in the California Department of Corrections and Rehabilitation. Castillo participated on the Board of Directors and also contributed as a counselor for the Southeast Area Counseling Center in Santa Fe Springs, California. He actively helps plan and staff UCLA's annual Graduation Powwow and Youth Leadership Conference and donates much time to work with the UCLA Native American Student Association. Castillo is married to Jeanette Castillo and has four children and nine grandchildren. As mentioned, his tribal ancestry is Tongva, the original people of the Greater Los Angeles area, Orange, Riverside, and San Bernardino County (commonly referred to as the Gabrieleno) and Acjachemen, the original people of the South Orange County area and North San Diego County (commonly referred to as the Juaneno).
Civil Rights: Castillo believes that our criminal justice system is inhumane, ineffective, and prohibitively expensive, and that retribution has replaced rehabilitation. He wants to focus again on rehabilitation (such as halfway houses, electronic monitoring, work-furlough, community service and restitution and recovery programs), with prison sentences being a last resort, mostly reserved for violent criminals. He also wants to fix the parole system with a focus on re-entry programs. He lists possible legislation on his site. Castillo believes that no immigrant should be imprisoned because of immigration status, and in the recognition of the rights of all indigenous peoples worldwide. He supports of full self-government on all Indian reservations.

Environmental Responsibility: He's got a big focus on water, and believes that it is the responsibility of government to assure a clean, safe supply of drinking water to every California resident. He offers dozens of potential polices for Water Management, solutions for Water Conservation and Pollution, and Ocean management, including support of the National Oceans Protection Act which bans offshore drilling to a distance of 50 to 175 miles from U.S. shores; mandate water efficient appliances and fixtures be used in all new construction as well as to promote retrofitting of older buildings; promote native landscaping and other drought resistant/climate-appropriate plants to reduce the need for irrigation; support upgrade of the water infrastructure including levees, irrigation canals, and aqueducts. He also wants to work to reduce carbon emissions to 1990 levels by the year 2005 (...Do you mean 2025, Jimi?) and establish an environmental trust fund with money raised from pollution fees and other public revenues.
Education: Wanna fix the school system? Castillo does. His solutions: increase and make more equitable state and federal funding for public education at all levels, increase compensation and support for teachers, decrease the student-teacher ratio in classrooms and increase the number of counselors, nurses, librarians and social workers; oppose state or federal requirements to make significant decisions about schools, teachers or students based primarily on test scores; promote and fund bilingual and second-language immersion education with trained teachers and appropriate materials and support services; oppose any advertising or promotion of commercial products on a school site or in any adopted or recommended curricular materials or school-based Internet access; revive vocational education in high schools; and add more before-school and after-school programs. To top it off: nutritious, preferably organic breakfasts and lunches must be available for all students, subsidized according to need. How to pay for it all? Stop paying to fight all those wars abroad, and fix the costly criminal justice system.
Fun Facts: Castillo's website is worth a mention: the background involves closeups of leaves and a graphic of a green flower sort of cradling the earth. But, like, in a good way.
Key Donors and Endorsements: Marty Cantu, Pipe Keeper & Sun Dancer Treasurer, Native American Spiritual Council of California Native American Spiritual Leader at the California Men's Colony, San Luis Obispo

Other: A Note from the researcher: "it is a rare thing to come across a website with so many actual policy recommendations. Other non Dem/Repub candidates could learn a lot from him. Maybe that's why he gets to be called a Cultural Spiritual Advisor…"
Sources: Jimi Castillo; California Votes


Abel Maldonado (Incumbent)



Political Party: Republican
Candidate Platform: Fix the budget process, build a stronger economy, no new taxes, quality schools, cut out corruption and waste, safe communities, and emergency readiness.
Background and History: Abel Maldonado is the son of immigrant Mexican-American farm workers. His family succeeded in raising enough money to buy a small strawberry farm and send him to California Polytechnic in San Luis Obispo where he studied agriculture. There is an outstanding dispute between the IRS and Maldonado's farm, about social security, Medicare, and federal withholdings.

Maldonado first ran for office when he was 26 after working with city bureaucracy on improvements to the farm. He ran for Santa Maria City Council and two years later became Mayor of Santa Maria defeating the incumbent. He has since served in the California State Assembly and the State Senate. He criticized Gov. Schwarzenegger for not supporting his candidacy, however later Arnie nominated him for Lt. Governor. He currently holds that post.
Civil Rights: Maldonado supports upholding Prop 8. He has voted No on allowing incarcerated youth to appeal sentences of life without parole.
Economic Responsibility / Justice: Maldonado signed a bill as Lt. Governor that refunded $2.9 million to City of Bell property owners after they were found to have paid an illegal tax to fund the compensation scandal that's been in the news (City Council members paying themselves waaaay too much). He generally votes "pro business" and has voted down many bills in regards to raising minimum wage and increasing disability pay, though he did vote for AB 1835 which raised the minimum wage $1.25 over two years.
Environmental Responsibility: Voted against several measures to reduce emissions through higher taxes for companies. Has voted for several pro environment measures including a ban on Suction and Dredge Mining and increased Water Conservation requirements. He appears to be a moderate when it comes to environment. He has even stated that he does not back Prop 23, which is seen as one of the major pro business anti-green propositions on the November ballot.
Health Care: In the past, he has leaned much more conservative on healthcare. Voted against a bill that required employers to pay 7.5 percent of payroll of employee healthcare. He also voted against one that would prohibit healthcare providers from canceling health insurance unless the insured submitted false information.
Education: On his website he pledges to prepare for the future by increasing research projects in green energy and bio genetics, and computerized manufacturing. He also opposes fee hikes and tuition hikes in the future. However last year he supported the Republican party line and reduced education spending.
Reproductive Freedom: Although Maldonado is anti-choice he seems to be more of a moderate. He doesn't make it a priority in his campaign literature. He has gotten scores between 40 and 50 voting from Planned Parenthood and NARAL.
Fun Facts: Not so fun, but Abel currently has a lien against him by the IRS for unpaid Social Security and Medicare taxes for the workers on his farm.
Key Donors and Endorsements: California Coalition of Law Enforcement Associations, California Farm Bureau Federation, Clovis Chamber of Commerce, California Republican League, San Luis Obispo Republican Party, George Deukmejian (former Governor, California), Bill Simon (former Republican nominee for Governor), Steve Poizner (Insurance Commissioner)
Sources: Abel Maldonado 2010; Los Angeles Times; Sacramento Bee; Vote Smart; Smart Voter


Gavin Newsom



Political Party: Democratic
Candidate Platform: There are three primary issues at the heart of Newsom's campaign. The first is revitalizing California's economy. Though California is the eighth largest economy in the world, it is struggling with a significant drop in GDP and an unemployment rate of 12.3 percent. With this in mind comes the second main issue, that of improving the quality of the environment by encouraging recycling and green energy while reducing landfill and carbon emissions. Newsom strongly advocates for expanded investment and incentives for the clean-tech industry to create jobs and drastically improve the quality of the environment and the economy as a whole. The third main issue is that of improving and fully funding the public education system of California.
Background and History: Newsom, 42, is the current Mayor of San Francisco. He attended Santa Clara University and graduated with a B.A. in political science in 1989. After college, Newsom had a variety of jobs in the fields of orthotics, real estate, and he eventually founded PlumpJack, a wine shop that now operates wineries, restaurants, and hotels. In 1996, Newsom was appointed to the Parking and Traffic Commission and elected President of the Commission. He was then elected to the Board of Supervisors in 1998, 2000, and 2002. He was elected Mayor of San Francisco on December 9, 2003 and then re-elected on November 6, 2007 with 73 percent of the vote.
Civil Rights: Newsom gained national attention in 2004 when he authorized marriage licenses for gay and lesbian couples, with 4,036 couples getting married in a month. This action defined Newsom's first term as Mayor, and remains his most famous and controversial accomplishment. He was a strong opponent of Prop 8.
In July 2008, Mayor Newsom enacted an immigration policy that shifted enforcement of San Francisco's City of Refuge Law, permitting city officials to report minors to immigration authorities as soon as they are booked on felony charges, rather than awaiting a conviction.
Yet Gavin supports San Francisco as a sanctuary city and has sought to reduce immigration raids by federal authorities. Newsom supports identification cards for immigrants, whether they are legal or illegal, so that they may have access to city services.
Economic Responsibility / Justice: Gavin's plan for the California economy is vague, though he advocates strongly for the need to attract and retain business as the solution to unemployment and other fiscal problems. A greater emphasis and investment in a green economy highlights his economic platform.
Combating homelessness in San Francisco has been a key initiative for Newsom as Mayor (i.e. Care Not Cash; San Francisco Homeless Outreach Team; Project Homeless Connect). He transitioned 10,000 homeless individuals off the street, and his volunteer initiative, Project Homeless Connect (imitated in over 130 cities) has led to more than 20,000 San Franciscans helping the homeless in some capacity.
In accordance with the Minimum Wage Ordinance of San Francisco, Gavin has stood in support of wage increases that keep pace with inflation and linking the city's minimum wage to the Consumer Price Index. He hopes this establishes a national model for minimum wage laws.
Gavin's record on the economy includes implementing a local economic stimulus plan that provides for new jobs through a local payroll tax credit for two years for new hires, small and no-interest loans to small businesses, and a 50 percent property tax rebate for local businesses. He launched JOBS NOW! in 2009, which led to 3,820 San Franciscans with children being put to work.
Environmental Responsibility: Gavin's environmental goals include conserving natural resources, fighting climate change and pollution, clean energy generation, and the growth of a clean energy economy. He opposes the expansion of offshore oil drilling, seeks to protect coastal resources and he strongly supports the Marine Life Protection Act. He also strongly supports AB32, Cali's Global Warming Solutions Act. He seeks to limit land use developments that do not address the consequences of climate change and advocates for research and education on energy and environmental innovation. He advocates for a transition to a cleaner energy generation by means of renewable energy on state lands, promotes renewable ocean-based energy, and wants funding for research and development of clean energy technologies, using UC and Cal State systems to train clean technology professionals.
Newsom's accomplishments as Mayor include closing San Francisco's last two-fossil fuel burning power plants (Hunters Point and Potrero), reducing greenhouse gas pollution by 7 percent below 1990 levels, authoring the most environmentally sound municipal green building standards in the country for new construction and renovations, requiring mandatory recycling and composting in San Francisco buildings, implementing the United State's largest municipal rebate program for residential and commercial solar installations, implementing the greenest public transportation fleet in the U.S,, retrofitting 17,600 streetlights, and more.
Newsom also signed the Kyoto Protocol for San Francisco.
Health Care: In 2007, Newsom fought for the Healthy San Francisco initiative in support of universal health care for all residents. More than 80 percent of the previously uninsured are now covered by San Francisco's universal health care program.
Education: Promises to fully fund higher education in California and strongly opposes cutting UC and/or CSU budgets. He also promises to ensure access to pre-school for all California children, limit teacher layoffs, reduce the cost of higher education, and encourage college students to become teachers. As Mayor, Gavin launched Kindergarten to College savings accounts, prevented the layoffs of 405 public school teachers, initiated Preschool for All, Afterschool for All, and SF Promise, guaranteeing a place at SF State for all 6th graders and above who achieve a high school diploma.
Reproductive Freedom: Gavin is pro-choice and has been endorsed by Planned Parenthood Affiliates of California.
Fun Facts: We've got a few: Gavin famously had an affair with an aide, Ruby Rippey-Tourk, the wife of Newsom's campaign manager and close friend, Alex Tourk. He is now married to actress Jennifer Lynn Siebel. He is the second cousin, twice removed, of California-based musician Joanna Newsom, and he attended Santa Clara University on a partial baseball scholarship.
Key Donors and Endorsements: A boatload of elected officials, including House Speaker Nancy Pelosi, Senator Dianne Feinstein, CA Assembly Speaker John Pérez, CA Senate President Pro Tem Darrell Steinberg, CA Treasurer Bill Lockyer, Chair of the State Board of Equalization Betty Yee. Also various Labor Unions, like SEIU Statewide Council, CA Teachers Associatin, United Food and Commercial Workers, Electrical Workers, Teamsters, aaaand, Dolores Huerta, co-founder of the United Farm Workers & friend of Cesar Chavez. He's also got firefighters, police people, and organizations like the CA League of Conservation Voters, Stonewall Dems of Sacramento, Equality California, The Sierra Club, and Planned Parenthood of California.
Sources: Gavin Newsom; San Francisco Chronicle; Los Angeles Times; The New York Times; San Francisco Chronicle; San Francisco Press; Ford Harrison; San Francisco Chronicle; San Francisco Chronicle; San Francisco Chronicle; San Francisco Chronicle; San Francisco Chronicle


C.T. Weber



Political Party: Peace and Freedom
Candidate Platform: Two main goals: solve the budget crisis and institute electoral reforms that will result in better and fairer representation (parties represented in legislatures in proportion to votes received, require a majority vote for executive positions, and equal funding of all campaigns). His other goals are those of the P&F party.
Background and History: Weber is a retired government analyst who now serves as the State Chairperson of the Peace and Freedom Party of Cali (which he has been elected to three times). He's got a Master's degree in Public Administration and Bachelor's degree in History, both from Cal State Long Beach. He was elected to four, two year, terms on the California State Employees Association Board of Directors. He has also served on the SEIU Local 1000 State Council, and as a delegate to the Sacramento Central Labor Council.
Economic Responsibility / Justice: Wants to preserve social programs and shift burden of taxation back to "those who get wealthy off the system." He wants to achieve economic security through full employment, double minimum wage/tie it to cost of living, and a defined benefit retirement system.
Environmental Responsibility: opposes offshore drilling.
Fun Facts: Founded the Long Beach Free Clinic.
Key Donors and Endorsements: Peace and Freedom Party of California, Committees of Correspondence for Democracy and Socialism Northern California, Party for Socialism and Liberation
Other: Believes that the major issues facing CA today is to have a fair, open and comprehensive immigration policy.
Sources: Smart Voter; Weber campaign site

Some disclaimers: This guide is a volunteer operation, not produced by GOOD. Due to research fatigue, lame candidate websites, and Murphy's Law, you may spot a mistake or two. Some candidates simply don't provide a lot of info, and our researcher styles varied, so some profiles may differ or seem a bit incomplete.