Articles
How Teens Are Thinking Globally and Acting Locally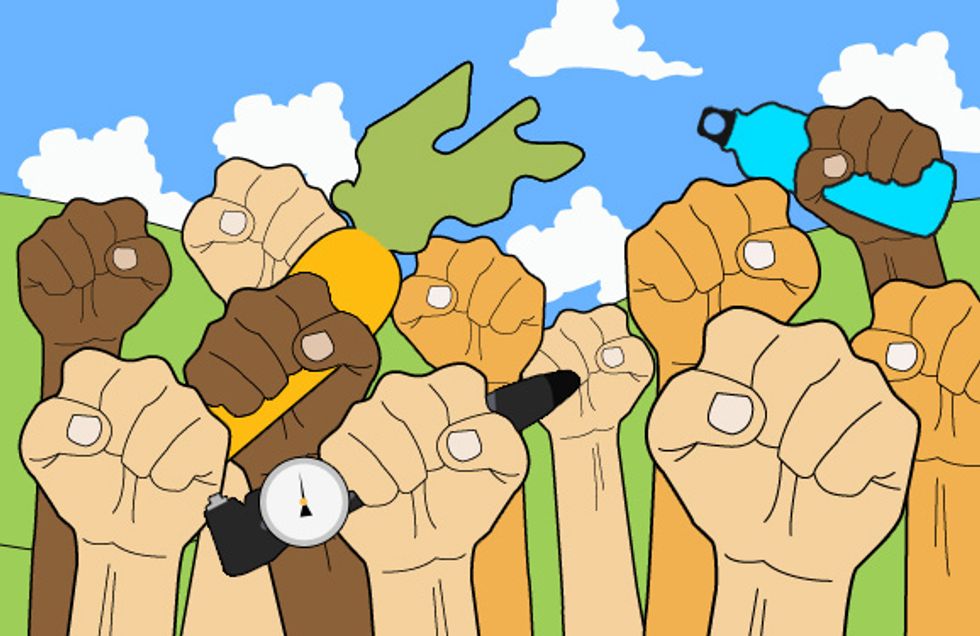 Teens Turning Green
is a national nonprofit devoted to education and advocacy around environmentally and socially responsible choices for individuals, schools, and communities. Our student-led movement seeks to promote global sustainability by identifying and eliminating toxic exposures that unknowingly permeate our lives. What started around my kitchen table in 2005, has since expanded to numerous middle and high schools, universities, and student organizations across the country.
The TTG chapters lead grassroots efforts to raise awareness and work to lessen local and global impact. The lifestyle component includes cosmetics and personal care products, fashion, and home, among many other aspects of daily life. We believe that conscious consumption is critical and has the power to shift mass markets. In particular, our work with schools uses the campus as a palette for exploration of greener alternatives in four categories: landscape, janitorial supplies, food service, and classroom products.
I have witnessed firsthand the power of young people around these issues—and see a real need to focus energy around personal responsibility and individual local actions: think globally, act locally. I think it is vital to demonstrate how accessible sustainability is to everyone, for there are innumerable entry points. We have seen an incredibly positive public response to simple educational resources. Any and all progress is rooted in education, particularly of young people, and communication; when information is available and alternatives are accessible, people think critically and initiate change.
Advocacy is another vital aspect of our campaign, lobbying for legislative and policy change that protects human and environmental health, as well as partnerships with companies to urge and ensure corporate responsibility. We must challenge corporations to consider not only pure formulation and full ingredient disclosure, but also encourage responsible ingredient sourcing, business practices that respect the environment, fair trade labor policies, human and animal rights, community empowerment projects, sustainable packaging, among other things.
All of my work furthers a (not-so-simple) personal mission: To inspire a generation of conscious citizens and bring about universal global health for the environment and its inhabitants.
Here are seven simple steps to follow:\n\n\n\n\n\n\n\n\n\n\n\n\n\n\n
---

\n
1) Use organic and chemical free personal care, body products, and cosmetics. Focus on the four universal essentials: soap, shampoo, deodorant, and toothpaste.

\n
2) Purchase clothes made of organic cotton (conventional cotton is one of the most pesticide-laden crops in the world) or other sustainable fibers—or go for vintage!

\n
3) Eat organic and locally grown produce. Buy food made with wholesome organic and fair trade ingredients. Pack a lunch with biocompostable containers and utensils.

\n
4) Carpool, ride the bus, bike, or walk. Work to lessen your carbon footprint when it comes to transportation.

\n
5) Seek out recycled and 100% post-consumer paper, notebooks, binders, etc. and refillable or recycled pens and pencils.

\n
6) Swap single-use, leaching plastic water bottles for durable reusable metal ones without plastic liners.

\n
7) Take a reusable tote with you to the grocery markets and to other stores as well! Say no to both paper and plastic.
Erin Schrode is the spokeswoman and founding member of Teens TurningGreen. She shares her knowledge as an eco-expert and seeks to educate young people about global sustainability and the importance of environmentally and socially responsible choices. She currently studies cross-cultural diplomacy and global public service at New York University.

Illustrations by Matt Manos.