Articles
Tim Tebow's purity ring is the most visible sign of his near-robotic perfection.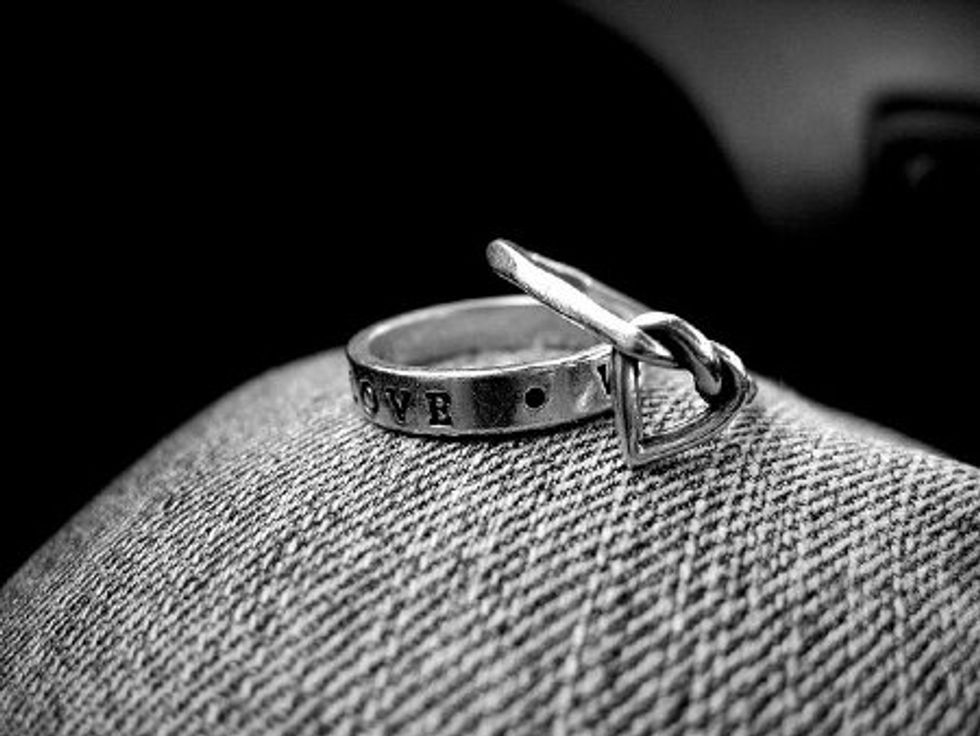 Glorification of the NFL quarterback/religious figure Tim Tebow reached a crescendo ten days ago, when he led his Denver Broncos to a stunning upset over the heavily favored Pittsburgh Steelers. So it was only fitting that when the New England Patriots routed the Broncos this weekend, Tebow's most vocal haters had their moment. "Tebow should have replaced the bible verses on his arm with football players," wrote one snarky Twitter user.
A seemingly endless stream of articles have speculated about why Tebow became the most polarizing figure in sports, but none have focused on the most visible sign of his near-robotic perfection: the purity ring on his finger, his commitment to remain a virgin until marriage. He's just the latest famous devout evangelical to broadcast his faith in that way. The holy accessory has found its way onto the fingers of celebrities from young Disney tweens to aging actors whose dissatisfaction with their careers have led to religious rebirths.
---
Though it espouses an old-school moral, the purity ring is a fairly recent development. In 1987, the Christian Life Education Project developed a program called True Love Waits, encouraging teenagers to sign commitment cards pledging abstinence until marriage. Nine years later, inspired by the model, Denny Pattyn founded the Silver Ring Thing, an event-based movement that encourages participants to purchase and wear rings as a visual reminder of abstinence. Purity rings rose in popularity during the mid '90s and flourished under President George W. Bush, whose administration provided federal grants to organizations that promoted abstinence and virginity pledges. In 2006, with the help of then-Pennsylvania senator Rick Santorum, Pattyn received more than $1 million in government funding for the Silver Ring Thing. The American Civil Liberties Union intervened, accusing the federal government of using taxpayer money to promote a religious message and succeeded in cutting off federal funds for the program.
In her enthralling thesis about the abstinence movement, Wesleyan University anthropologist Abigail Elise Rosenstein describes attending a Silver Ring Thing event. Before each event begins, attendees fill out forms to custom-order purity rings. Participants pay $20 for a thick or thin silver band inscribed with "1 Thessalonians 4:3-4," a reference to the Bible verse that reads, "For this is the will of God, your sanctification, that you should abstain from sexual immorality; that each of you should know how to possess his own vessel in sanctification and honor."
Though some abstinence practitioners buy plain, unadorned bands, specially designed purity rings are big business for jewelry retailers eternally in pursuit of new markets. Plenty of other online vendors offer their own purity rings, inscribed with other popular Bible verses such as the wedding-friendly 1 Corinthians 13:4 or Jeremiah 29:11, which reads: "'For I know the plans I have for you,' declares the Lord. 'plans to prosper you and not to harm you, plans to give you hope and a future.'"
Yet most purity rings harken back to the original abstinence movement; "True Love Waits" is by far the most popular inscription. Couples who've promised to abstain until marriage can even purchase rings bearing their names and birthstones. Other ring motifs include crucifixes, lock-and-keys, and hearts. Even Jews aren't left out from the seemingly Christian-only movement: Cornerstone Jewelry Designs sells a sterling silver Hebrew purity ring inscribed with "Kodesh," which means "sanctified."
The purity ring, much like the tattooed X on the hands of people who identify with the straight edge movement, is the highly public symbol of an entire group that feels they're marginalized by the broader world. But unlike tattoos, rings can easily be removed. The Jonas Brothers, Selena Gomez and Miley Cyrus, Disney tween stars who sported purity rings four years ago, have since abandoned their symbolic pledges.
Research shows that virginity pledges generally are ineffective: A 2001 study published in the American Journal of Sociology found that out of 2.5 million adolescents who made pledges by 1995, just 12 percent remained abstinent until marriage. While there are no scientific studies yet on how purity rings affect the impact of abstinence pledges, they can make teenagers feel a sense of identity and belonging to a bigger group. "Abstinence today is not the norm but a minority position that typically requires justification," Rosenstein writes, pointing to an incident at the 2008 MTV Video Music Awards when host Russell Brand suggested that the Jonas Brothers wear their purity rings on their genitals if they were truly serious about their commitment to abstinence. Later, American Idol contest Jordin Sparks shot back, "I just have one thing to say about promise rings. It's not bad to wear a promise ring, because not everybody—guy or girl—wants to be a slut."
Abstinence advocates often position themselves as an oppressed group rebelling against the temptations of an increasingly sexualized culture. And because they feel underrepresented in popular media, virginity pledgers are eager for a leader—which means that Tebow, for all his polarizing religious speak, may just be the messiah for those who believe true love waits. Perhaps he'll go the way of Disney's young stars, deserting his religious priorities and going on the sort of week-long bender that fuel the dreams of tabloid publishers. But at age 24, he's already waited this long—what's a few more years?
Photo via (cc) Flickr user BellaNoche248