Articles
New York Group Uses Music to Make College Cool
Five New York City-based artists are out to change attitudes about higher education.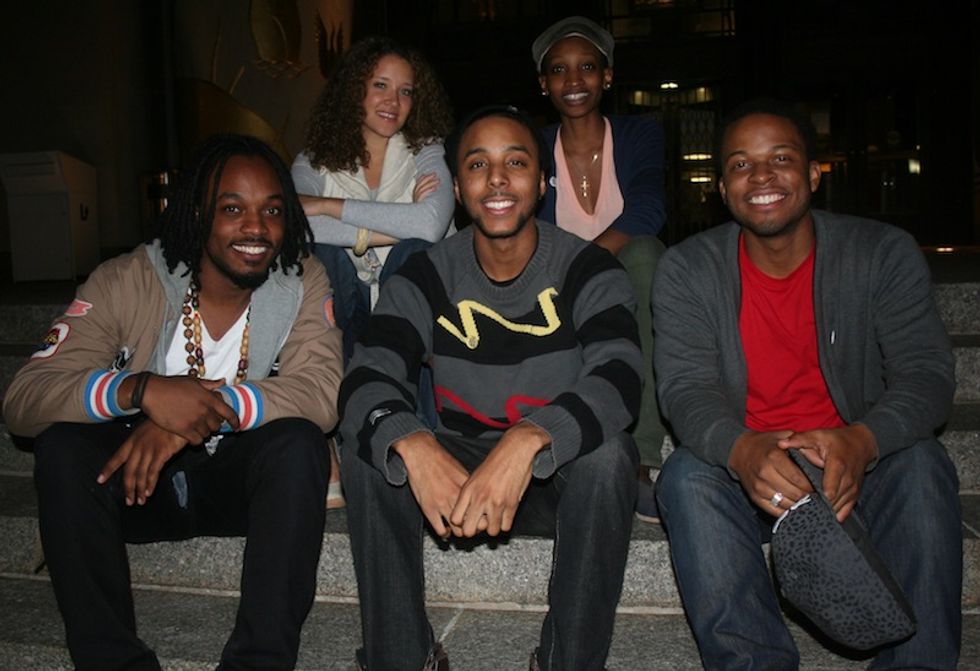 Too often when we talk to students about going to college, we tell them preachy, boring stories about how they'll have to pull all-nighters and write 20-page papers. But that's not inspiring to the average kid worried about making it through the current school year. And for students who don't have a family tradition of going to college and don't want to be seen as nerdy, that kind of messaging can be downright discouraging. Fortunately, the New York City-based Hall Pass Tour, is using high-energy after-school workshops and concerts to ensure more low-income youth see going to college as cool.
---
Hall Pass Tour's five members—host Holley Monelle Murchison, singer Janelle "j.RENEÉ" 'Bechdol; tour manager Jemar "Meezy" Souza, MC Jamal "ScienZe" Monsanto, and DJ Michael "DJ Kraff" Lawrence—launched the project earlier this year with the backing of national nonprofit College For Every Student. Although they're all college graduates or current students, they relate to teenagers because they "don't dress like a typical nerd or talk like a typical nerd," Souza says.
Hall Pass Tour's concerts tap into students' enthusiasm for creativity, contemporary music, and hip-hop culture to get them thinking about college. An essential part of the group's effort to engage students is giving them the chance to perform in the tour's show. Hall Pass Tour hosts auditions at every school, using students as opening acts, co-hosts, or co-DJs. But to get up on stage, the teens have to publicly share their college and career goals. "When they share their plans," says Murchison, "they have to say, 'I'm Holly, I want to go to school for this reason, I want to do this when I grow up,'" and that makes the event "more of an empowerment workshop than a concert."
Hall Pass doesn't just focus on the the students who perform, either. At each school, they host a lively pre-concert workshop for students, providing resources and information about going to college. The performers also ask principals and faculty members for a list of the students they want acknowledged. "We give out awards for the highest grade point average, or students who are working hard and improving in class—and they have to come up on stage to get them," says Murchison.
Instead of hosting in-school assemblies, the Hall Pass team decided to put on after-school concerts because they wanted to involve the entire community. "Parents and other community members can come after work," says Murchison, who was the first in her family to go to college and recently quit her job to run Hall Pass Tour full-time. It's essential, she says, that each "student's support network also gets excited and educated about college."
Last spring, the tour visited five New York City campuses: two middle schools and three high schools. The student response, says Murchison, was phenomenal. She's still getting emails from students keeping her up-to-date on their academic progress and plans.
Next month, the group kicks off a new tour that will take them to 16 schools in New York, Connecticut, Delaware, and Massachusetts. To help finance their work, they're using Kickstarter to raise $20,000 by October 20. The money will cover all of the costs, including college readiness activities and resources for the pre-concert workshop. In spring 2012 the group plans to take the tour nationwide.
"During our shows, kids can see that we're chill, young adults that you're obviously having fun with," Souza says. But "we're also letting you know that college is just as fun as this, if not better." To get an idea of just how much fun students have at a Hall Pass Tour show, check out this video of their concert at Brooklyn's Paul Robeson High School for Business and Technology:
Photo courtesy of Hall Pass Tour