Articles
NeighborGoods Makes It Easier to Share Your Stuff With Groups of Any Size
Now existing groups—businesses, neighborhoods, or even entire cities—can set up private sharing networks with NeighborGoods.
[vimeo][/vimeo]
It's not every day you need a power washer. And that's exactly why you don't need to buy one. In the past year, more and more people with these occasional requests have been calling on NeighborGoods, the online community for borrowing and renting everything from sporting goods to baby products from friendly people just like themselves. Since going national in 2010, NeighborGoods now has more than 15,000 registered users who list their personal "inventories" as well as their "wish lists" of goods they need.
---
Now the Los Angeles-based company is launching a new way for friends, companies, and even cities to share what they've got, founder Micki Krimmel told me this week at SXSW in Austin, Texas. "We want to help each other," she says of our natural desire to share. "NeighborGoods is all about giving you the technology to build relationships that can improve your neighborhood."
I caught up with Krimmel as she was spreading the word about the company's news and, of course, checking out a local roller derby competition. (Krimmel's a member of the Derby Dolls, located in the Historic Filipinotown neighborhood of L.A., and she's got knees polka-dotted in bruises to prove it.) She came to Austin to engage the tech community in NeighborGoods' Kickstarter campaign to raise money for the next iteration of the site.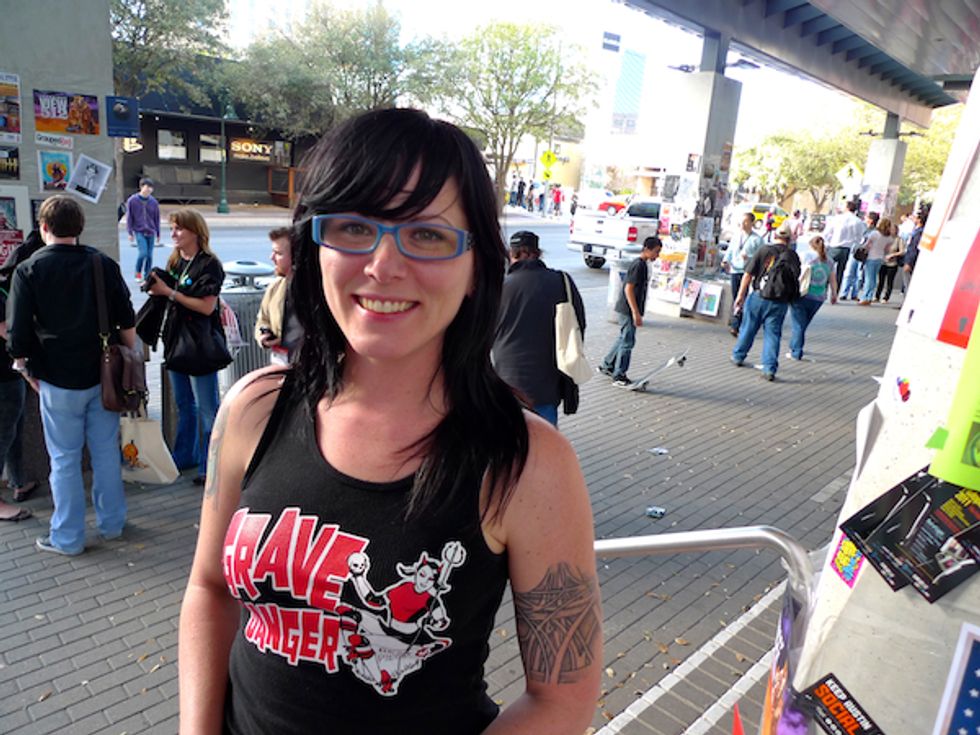 After NeighborGoods launched last year, Krimmel collected feedback on how members used the service. Even though they liked being able to supply, say, a sleeping bag to a stranger, 85 percent of the time, they were sharing with people they knew. "We heard that some things they needed to share privately or within an organization," she says. So NeighborGoods 2.0 will allow individuals to start a closed sharing group for as little as $6.00, and if you back their project on Kickstarter, you'll be one of the first to try out the service.
While the new groups will be perfect for sewing clubs and school groups, Krimmel is also launching two bigger community-based programs at NeighborGoods: Enterprise and Cities. Enterprise will allow companies or corporations to build large private sharing groups for their employees, essentially becoming the new office bulletin board. Here's where Krimmel sees a major opportunity for brands to get involved, touting their use of NeighborGoods as part of their sustainability programs. In L.A. she'd like to see entertainment studios use it, especially since they're famous for generating waste and employ people from diverse backgrounds.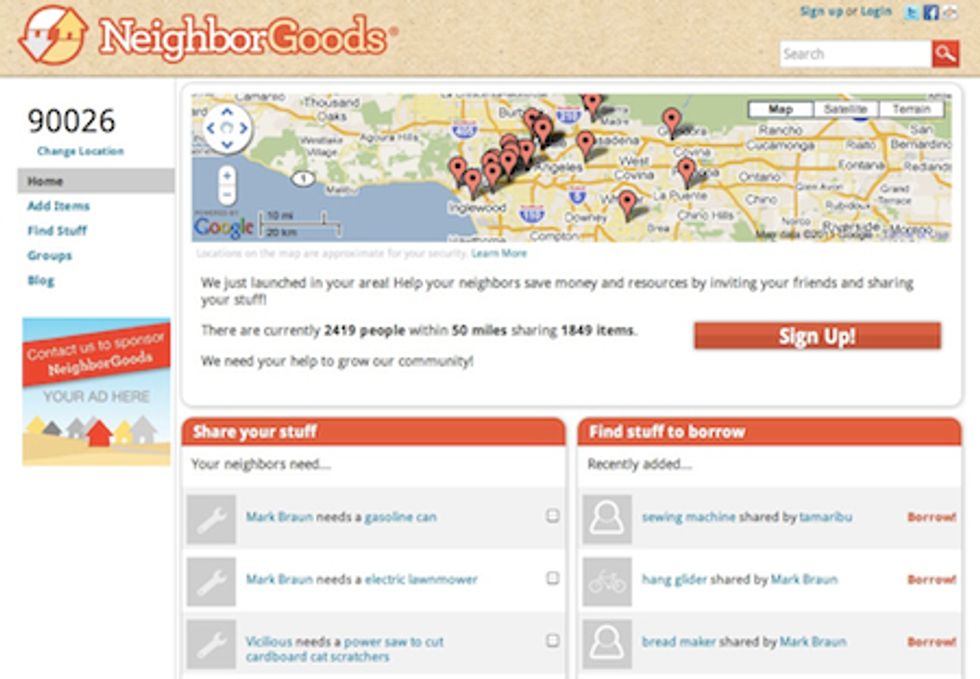 The larger-scale Cities program will organize neighborhoods into groups which will not only be able to trade and borrow goods, but also collect information on what the neighborhood needs. This will allow neighborhoods to have direct contact with government in order to improve their cities. A pilot program will launch in San Jose, and Krimmel is interested in eventually starting a smaller program in her own city council district in Los Angeles.
Launching in Los Angeles has given Krimmel exceptional insight into how communities form, especially by looking at L.A.'s supposedly disconnected and sprawling residents. "I think that's why it's done so well there," she says. "People need this." She says NeighborGoods 2.0 can change the way people think about their local community by allowing them to easily interact with people across the city, instantaneously. "Your group can redefine your idea of neighborhood," she says. "It doesn't need to be about logistics."