Articles
People Are Awesome: European Mayor Uses Tank to Crush Car Blocking Bike Lane
A publicity stunt on behalf of bicyclists involves a Lithuanian mayor destroying a luxury sedan with a tank. Sweet revenge.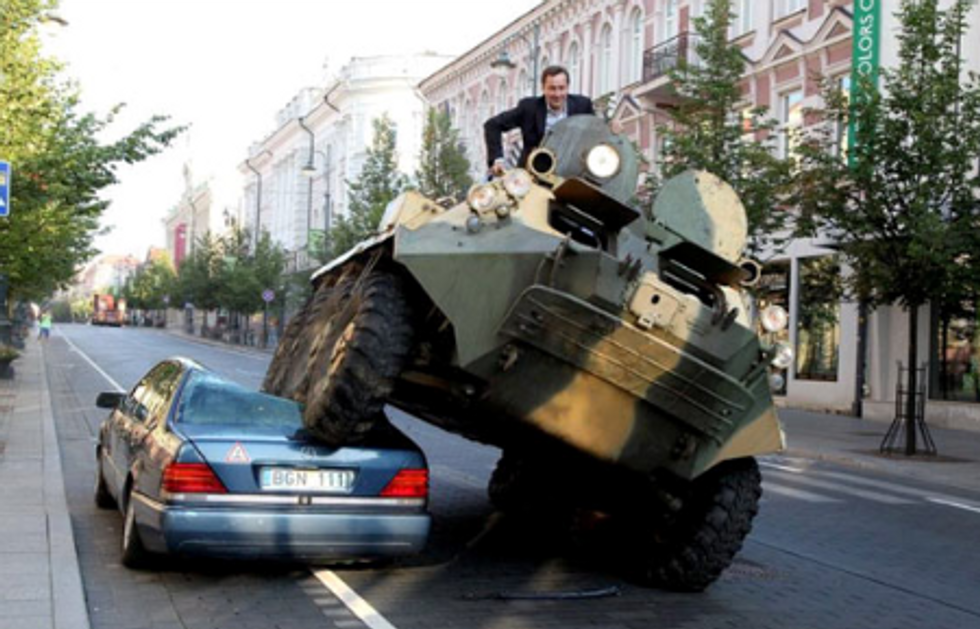 Any urban bicyclist can share with you the frustration of having to avoid people and cars blocking what should be clear bicycle lanes. Sometimes it can make you want to destroy all the impediments with a tank. Today, in Vilnius, Lithuania, mayor Arturas Zuokas lived out the fantasy of every bike messenger forced to dodge a Dodge (or BMW or Toyota) on their daily route.
"I've had enough of these drivers parking their luxury cars on bike lanes and pedestrian crossings," said Zuokas, a former war reporter. "This tank is a good tool to solve the problem of parking in the wrong place." With that, the 43-year-old mayor rolled over a blue Mercedes that was parked in a bike lane.
---
The UK's Daily Telegraph reports the tank smash was probably an elaborate stunt—one that wasted a perfectly good car, we might add—but it's nice to see a mayor taking a real interest in the safety and wellbeing of his city's cyclists.
Now: What's the fuel efficiency of that tank?
[youtube]http://www.youtube.com/watch?v=V-fWN0FmcIU
photo via SWNS