Articles
How Knitting Behind Bars Transformed Maryland Convicts
The male prisoners of the Pre-Release Unit in Jessup, Maryland knit hats and dolls for children in need.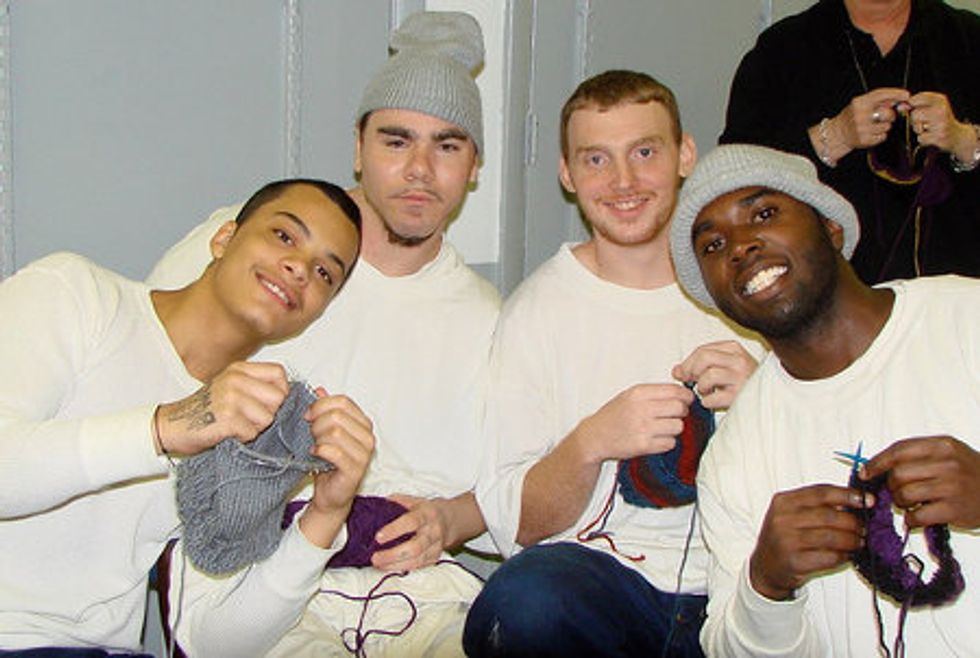 In late 2009, Lynn Zwerling stood in front of 600 male prisoners at the Pre-Release Unit in Jessup, Maryland. "Who wants to knit?" she asked the burly crowd. They looked at her like she was crazy.
---
Yet almost two years later, Zwerling and her associates have taught more than 100 prisoners to knit, while dozens more are on a waiting list to take her weekly class. "I have guys that have never missed one time in two years," Zwerling says. "Some reported to us that they miss dinner to come to class."
Zwerling, 67, retired in 2005 after 18 years of selling cars in Columbia, Maryland. She didn't know what to do with her time, so she followed her passion and started a knitting group in her town. No one came to the first meeting, but the group quickly grew to 500 members. "I looked around the room one day and I saw a zen quality about it," Zwerling says. "Here were people who didn't know each other, had nothing in common, sitting together peacefully like little lambs knitting. I thought, 'It makes me and these people feel so good. What would happen if I took knitting to a population that never experienced this before?'"
Her first thought was to bring knitting to a men's prison, but she was turned down repeatedly. Wardens assumed the men wouldn't be interested in a traditionally feminine hobby and worried about freely handing out knitting needles to prisoners who had been convicted of violent crimes. Five years passed before the Pre-Release Unit in Jessup accepted her, and Knitting Behind Bars was born. "I [wanted to teach] them something that I love that I really believe will make them focus and happy," Zwerling says. "I really believe that it's more than a craft. This has the ability to transform you."
The men were reluctant at first, complaining that knitting was too girly or too difficult. But Zwerling assured them men had invented the craft, then gave them a five-minute knitting lesson she swears can teach anyone. Suddenly, Zwerling says, the men "found the zen," and got hooked. Now, every Thursday from 5 to 7 p.m., they come to class, leaving their crimes and the hierarchies of prison life behind.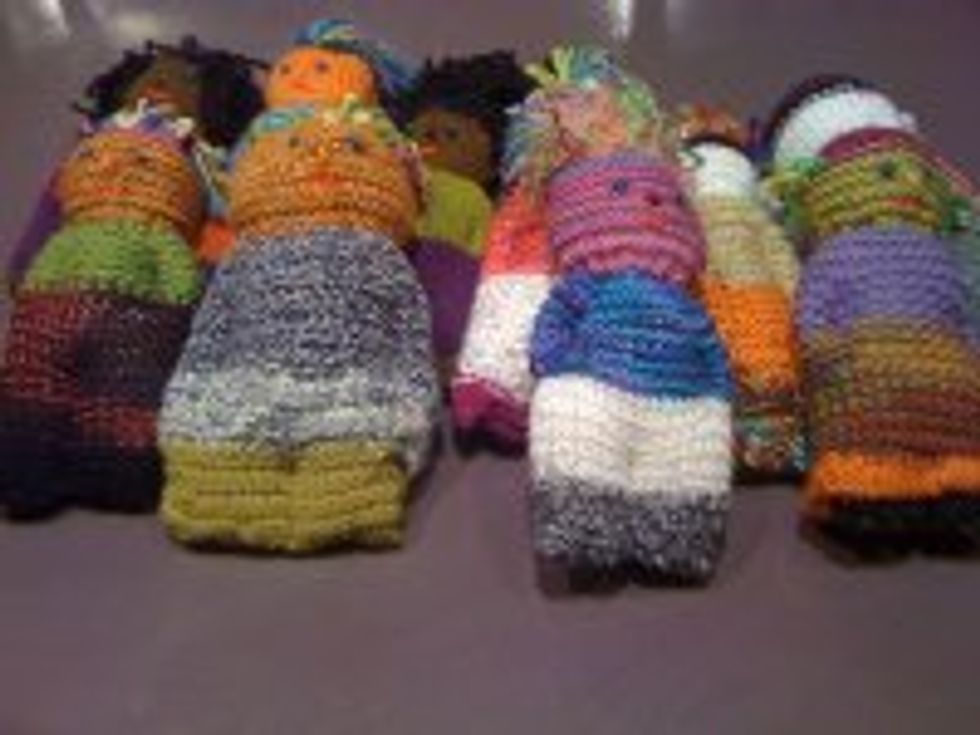 They started by knitting comfort dolls, which they gave to children removed from their homes because of domestic issues. Then they moved on to hats for kids at the inner-city elementary school many of the prisoners attended, Zwerling says. "If you look at them, they're covered with tattoos, they're rough looking, and many of the young guys don't have all their teeth," she says. "But it doesn't feel rough. They're very respectful and grateful and very happy to knit."
The prison's assistant warden, Margaret Chippendale, believes the men involved with KBB get into trouble less often. "It's very positive because you can see when you go into the room, the dynamics of their conversation; very calm, very soothing," Chippendale says. "It radiates even when they leave the room and go out into the institution."
Richy Horton, 38, served almost four years at the Pre-Release Unit and reluctantly joined KBB about 6 months before he was released. "I was like, I'm not going to that thing," Horton says. "And then I went, and you were actually speaking to real people. People can't really understand [that in prison] you're completely separated from anything normal or real in the world. You're always told what to do and when to do it, so to have people come in and treat you like a human being means so much. They came in and they were like my mom."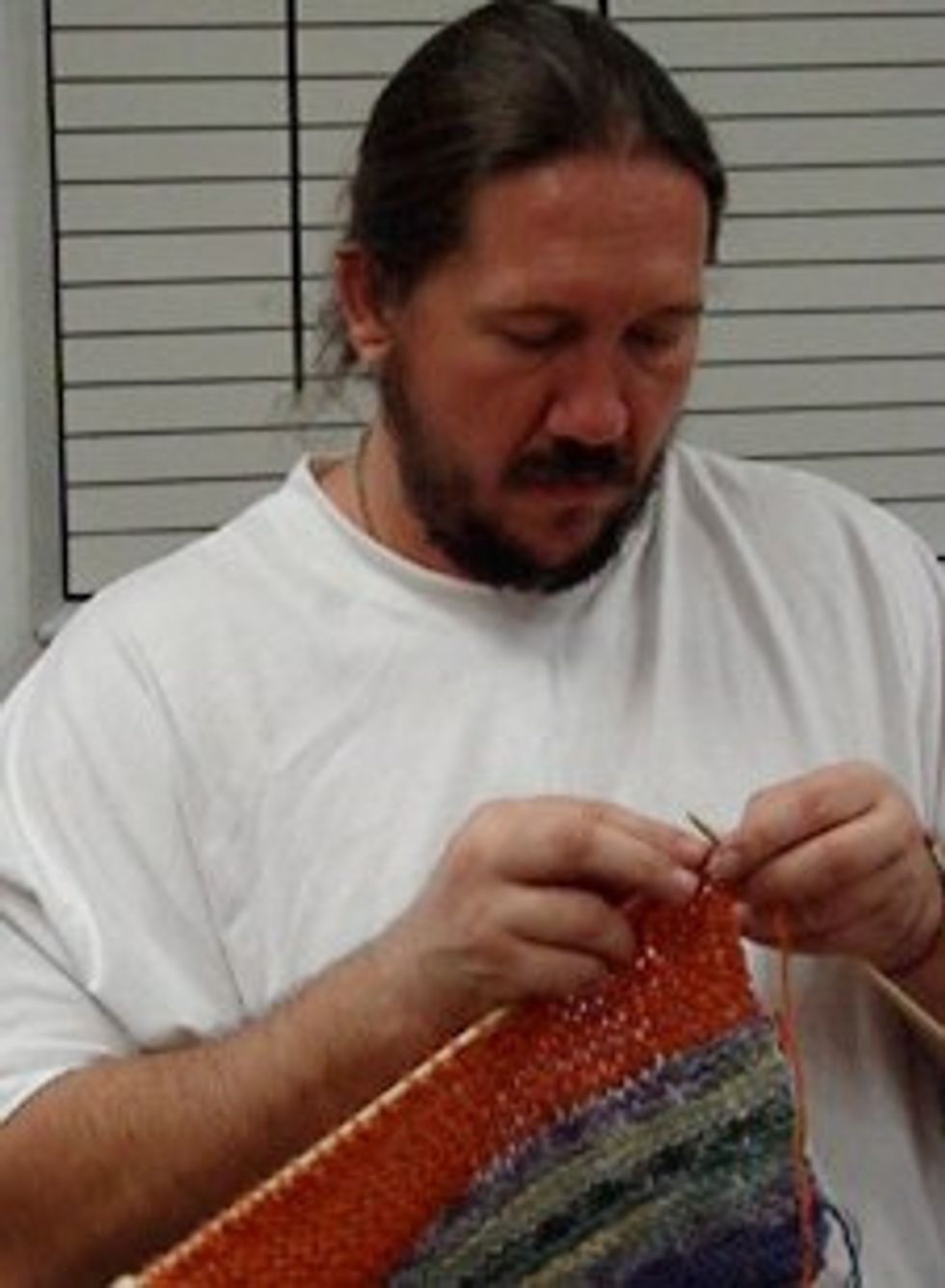 Horton and the other men formed deep friendships with Zwerling and her fellow volunteers, Sheila Rovelstad, 61, and Lea Heirs, 58. "They tell us their stories and dreams," Zwerling says. "And some of them lie to us. They don't want us to know the really terrible things they did."
Each week the men eagerly await the women's arrival, then promptly get to work. "It takes you away a little," Horton says. "You have to watch what you're doing, otherwise your stitches will become loose or tight or you'll skip stitches. It almost makes you feel like you don't have to be anything. You're all sitting there knitting. You can just be yourself."
Horton was released from prison last December and now works in construction. He believes his involvement with KBB helped him get out of jail and onto parole, showing the parole interviewers his small but positive effort to help the outside community. He continues to keep in touch with the women of KBB and is currently knitting a beaded scarf. "They're not normal people," Horton says of Zwerling, Rovelstad, and Heirs. "They're almost like saints."
To donate to Knitting Behind Bars, visit their Etsy shop, or contact Lynn Zwerling at lynnzwerling@verizon.net.
Photos courtesy of Lynn Zwerling
Via the Baltimore Sun