Articles
Project 009: Lunch In Jars
Ann Karash's lunch in jars for Project 009 proved to be unusually photogenic. She put more pictures of the meal on Flickr. She writes: "I ended...
Ann Karash's lunch in jars for Project 009 proved to be unusually photogenic. She put more pictures of the meal on Flickr. She writes:
"I ended up packing my lunch mostly in jars, as we have them around thanks to salsa, peanut butter, and other jarred items, and I find they are great to use in a pinch as glasses or storage...The panforte is a new obsession, a perfect sweet to have with a meal and as a snack. And, thanks to the beauty of the jars, fits easily into a paper bag and can be eaten out of, if no bowl available!"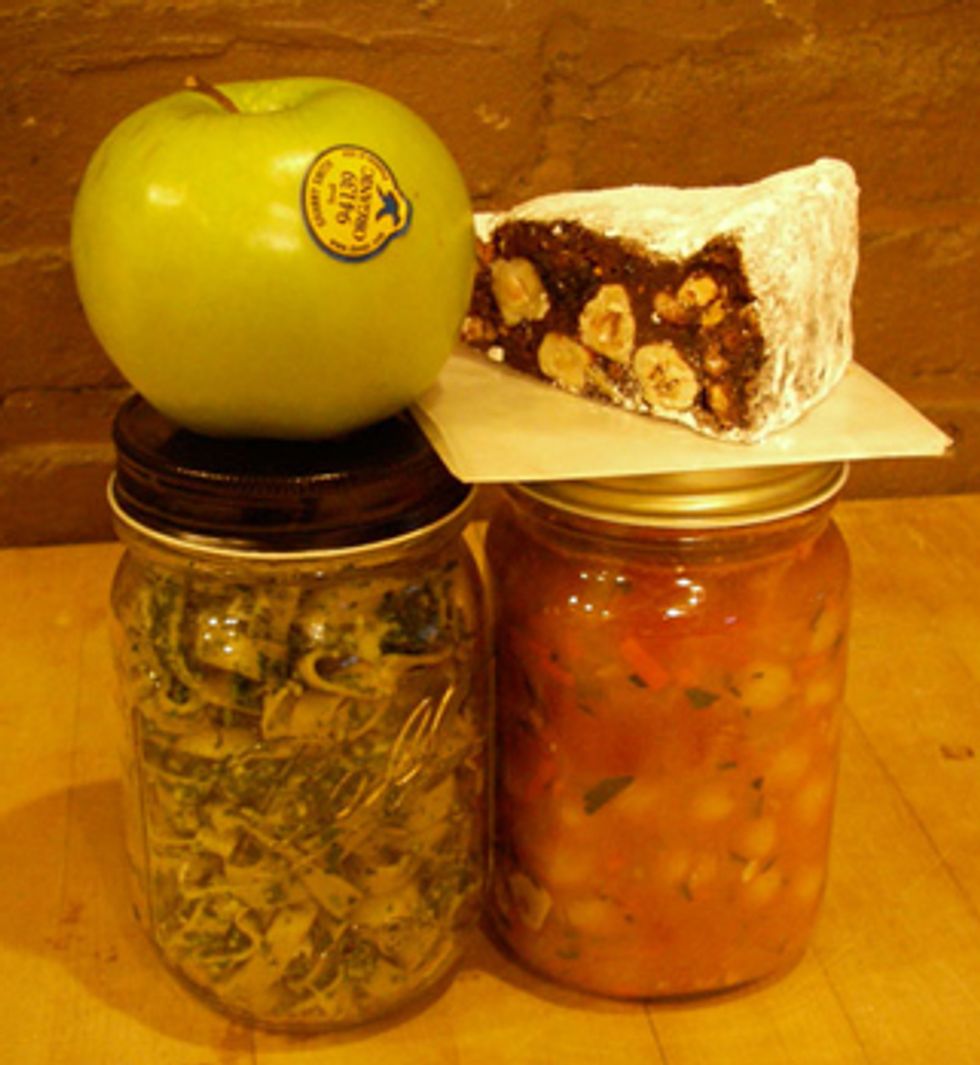 ---
Ann Likes to Have Lunch in Jars!
Italian Chickpea Soup, with Tomato and Fennel
Fettucini with Spinach, Sage, and Walnut PestoA nice slice of PanforteA lovely apple
Italian Chickpea Soup, with Tomato and Fennel
Have on Hand:Olive Oil (roughly 2 tablespoons)Chicken or Vegetable broth, about 8 cups2 16 ounce cans of diced tomatoes, drained4 cups of cooked chickpeas (can be from a can, if so, drain first)A quarter of an orange rind (cleaned of white pith on the inside)1 or 2 bay leavesSalt and ground pepperChop (ideally squarish pieces, thinner in depth, particularly for the carrot):1 medium onion3 shallots1 fennel bulb (green tops and stalks discarded)I large carrotSlice thin:6 large garlic clovesBlend or process:2 anchovy fillets with a little of the stockFinish with:Grated Parmesan cheese (however much you like)Chopped Parsley (about a quarter cup)Optional additions:chopped chorizo (add to the vegetables as they brown)chopped celery (add to the soup as it simmers)stalk of celery (just for flavor, to be fished out in the end)In a large pot, sautée chopped vegetables in the olive oil over medium to high heat. Once vegetables have become soft and slightly translucent, with a little browning, add the garlic. After a minute or two, add the minced anchovy (and its bit of broth), mix to stir, cook for another minute, then add tomatoes, stirring frequently. Once the vegetables seem well combined and heated all together, add the broth, chickpeas, 1 or 2 bay leaves, and the orange rind. If you have an extra stalk or two of celery on hand, throw it in the pot (you'll need to fish it out in the end, along with the rind and the bay leaves. If you really like celery, you can chop it up to add to the soup while it simmers). Stir for a few minutes, increase heat to boil, and then simmer soup for at least half an hour (but it can go for as long as an hour).Final steps: mix in the parsley, reserving some for a bowl garnish, and salt to taste. Add a nice helping of ground pepper (again, to taste), and (if you like) a grating of cheese (which also looks nice as a garnish).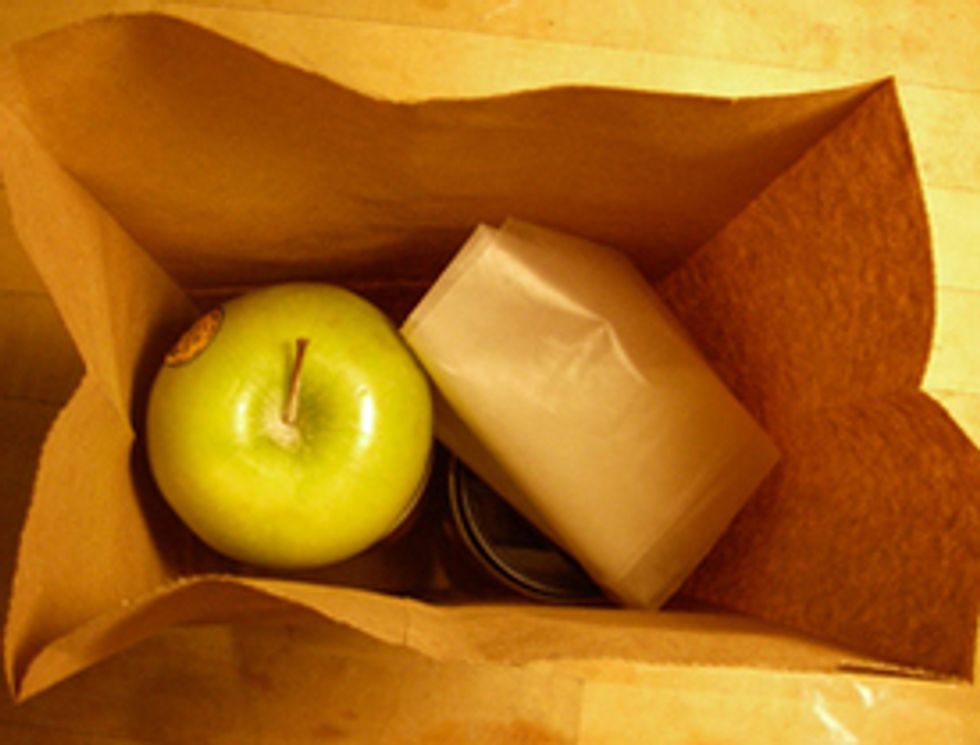 Fettucini with Spinach, Sage, and Walnut Pesto
Spinach, Sage and Walnut PestoSpinach (about two pounds, either 2 cello bags or four bunches), tough stems removed1/2 cup Walnuts6 T Olive Oil1/2 cup grated Parmesan4 cloves of garlic(parsley and grated parmesan for garnish)Wilt the spinach in batches in a large pot (the batches allow you to not overcook the spinach: just cook until dark green and wilted, reduced in volume). Place wilted spinach in a wire collander and press out excess water. Transfer spinach to a clean dishtowel (or two), and press out more water! Then, place the spinach in a food processer with the walnuts, garlic, and parmesan. Chop/Process on pulse until all seems well mixed and chopped into a fine, dry mass. Add olive oil a tablespoon at a time until the mixture becomes more fluid (but not wet) and held together.Fettucini (which does not need to be homemade, but it is easy and fun all the same!)1 1/2 cups of semolina flour (makes a pasta with nice texture, but you can use half white flour instead, if you like)1/2 tsp salt2 eggs2 T Water2 T olive oilCombine semolina and salt. Add beater eggs, water and oil and mix to make a stiff dough. Knead the dough for about ten minutes, flouring your hands if the dough seems sticky. Once the dough is smooth and elastic, wrap (well) in a dishcloth or place in a ziplock bag for 20 minutes.From here, you can either roll out the dough on a lightly floured surface and cut into thin slices OR put the dough through your pasta extruder, press, or crank machine. (We recommend Atlas)Combine!Cook Fettucini in a large pot of rolling boil water with 2 Tablespoons of olive oil and a generous dash of salt. Fresh pasta shouldn't need more than four or so minutes, or cook boxed pasta to instructions. Drain when al dente, and drizzle with olive oil. Place half of pesto mixture in a bowl and spread it out around the sides, add pasta, and mix heartily to combine. Add more pesto, as you like, or reserve for later sandwiches or pasta! Top with grated parmesan, cracked pepper, and parsley.
Panforte
6 ounces whole unblanched almonds6 ounces whole unblanched hazlenuts2 T ground cinnamon1/2 t ground ginger1/4 t ground cloves1 c. plus 2 T all-purpose flour2 T unsweetened cocoa powder1 c. sugar2/3 c. honey1 1/4 pounds dried organic (and unsweetened) fruits. Recommended combination is: dates (pitted, then softened in a little bit of boiling water), figs, cherries, raisins, and one handful of candied orange peel (an exception to the unsweetened rule). Apricots, raisins, cranberries are also nice!Confectioner's sugar for garnishPreheat oven to 350 degrees. Keeping them separate on a cookie sheet, toast the almonds and hazlenuts for 10 minutes until just lightly browned. Remove from oven, and reduce temperature to 300 degrees. When cool, place hazlenuts in a dry towel (or rub them between your hands) to remove the skins. Leave the skins on the almonds.If you have a food processor, chop and pulse the dried fruit until combined. If not, simply chop and mix in a large bowl. Toss the nuts with the spices, flour, and cocoa and add to the fruits.In a small saucepan, heat the sugar and honey to full boil and cook to 225 degrees, or soft ball candy stage. Immediately pour into the fruit mixture and stir. The dough will be very stiff.Generously butter and flour a 9 inch springform pan. Cut a piece of parchment, measured to the round, and place in the bottom of the pan. With buttered or wet hands, press the fruit mixture evenly into the pan. Bake for 1 hour, until the edges look set and the top is slightly puffed. If the center seems too soft, continue to bake for up to another half hour.Remove from the oven and cool completely in the pan. Run a knife around the outside of the pan and remove pan forte from pan and parchment. Dust or rub with confectioners sugar, wrap tightly in wax paper and then plastic wrap or ziplock. Panforte will keep for several weeks, wrapped up tight. Serve sliced in wedges.