Articles
Project: Design a School Garden Winners Announced!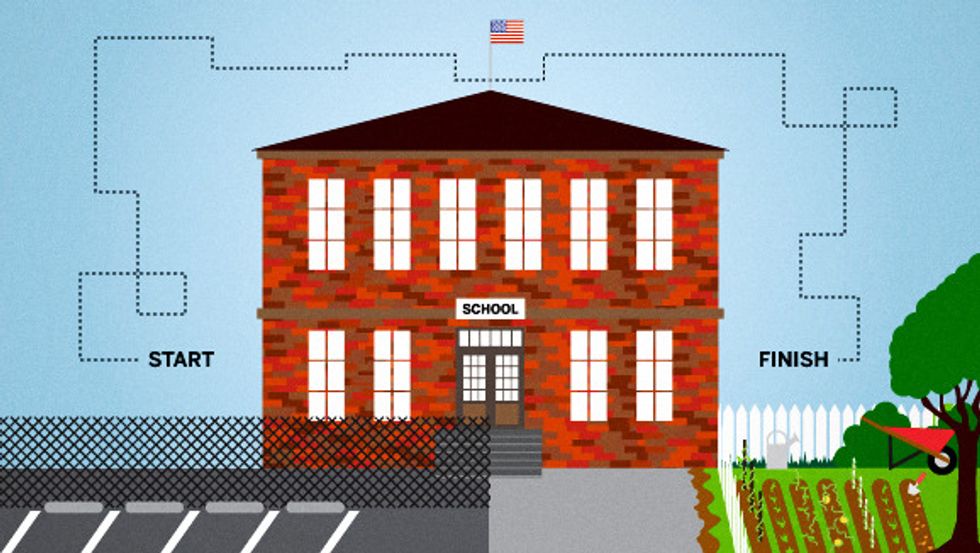 Way back in April, we announced our project, Design a School Garden with LAUSD (and We'll Build It!). Over the next few weeks we received 40 submissions from all over the country (and a few outside of it as well), with ideas from architects, teachers, gardeners, and parents about how we could create better outdoor classrooms for our schools. Last week, our esteemed jurors convened and chose five winners as well as one special commendation. Congratulations to all the winners, listed in no particular order.
---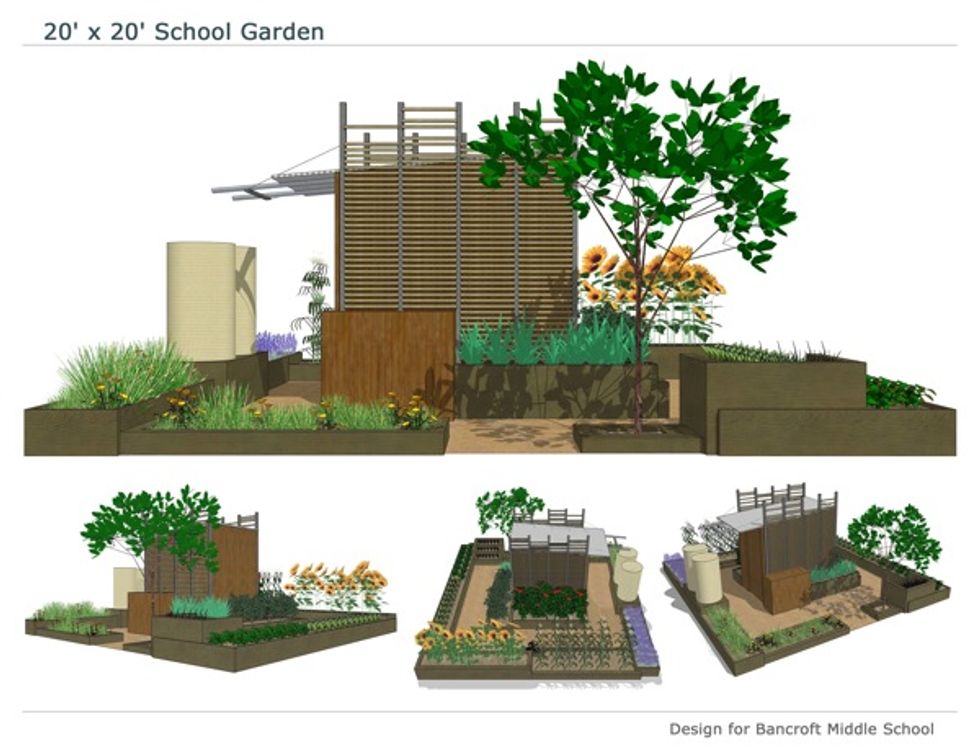 20 x 20 School Garden
Joseph Sandy
Arcadia, California


This garden was designed to teach and inspire. A circular path was designed so that every planter has wheelchair access, while maintaining as much planting space as possible. Planters are built of either 2 inch or 4 inch pieces of reclaimed redwood which interlock to create a continuous landscape around the garden. A shed takes a prominent position in this design to give the garden visual identity within the school grounds, but also to collect rainwater. A composting bin helps provide nutrient-rich soil and a section of native California plants teaches kids about their local climate and habitat.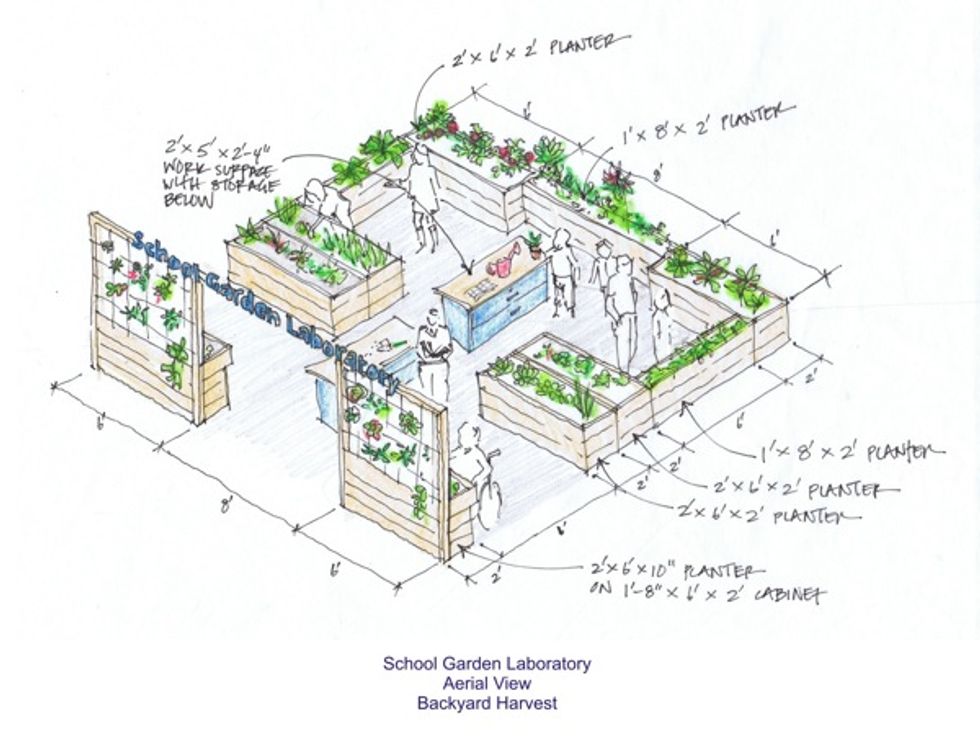 School Garden Laboratory
Sun Kim and Stephen Fowler, Backyard Harvest

Boston, Massachusetts
This school garden "laboratory" module provides a flexible layout and recognizable atmosphere. Applying a conventional academic concept to the garden encourages students and teachers to view the space as a learning, exploratory environment. The design draws on simple construction with easily obtainable materials, including a wood or metal living wall/gateway trellis, which can be planted with shallow root or climbing plants and a system of wood planters made from reclaimed lumber, leftovers, or construction endcuts. Soaker hoses provide an uncomplicated, efficient, and economical irrigation solution and two wood work tables that provide gathering space and storage. The straightforward module of the school garden laboratory allows learning and growing to be the focus of the garden.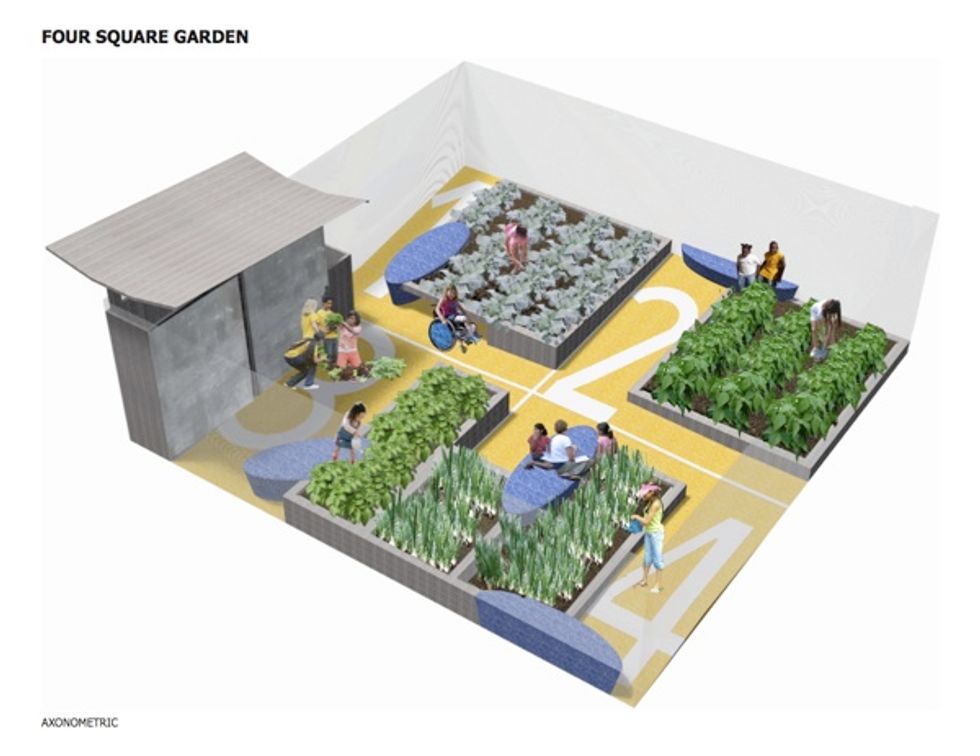 Four Square Garden
Jill Desimini
Boston, Massachusetts


Using the basic principles of the playground game, the Four Square Garden teaches children how much produce can be grown on a 20 foot by 20 foot plot. Using crop rotation, one of the oldest and most effective cultural control strategies for food production, four different crops, each from a different family, are planted in the "four squares" of the garden. The children prepare the beds, cultivate the plants, and measure the annual yield of each crop. After each year, the crops are rotated around the squares in an order proven effective to maintain the proper nutrients in the soil and provide pest control. The pathways are constructed out of rubber, to be comfortable for kneeling to tend the garden or for sitting and resting. Embedded graphic letters delineate the four squares. In addition, there are rubber seating elements scattered throughout the garden. The garden can be installed over existing asphalt or concrete as necessary.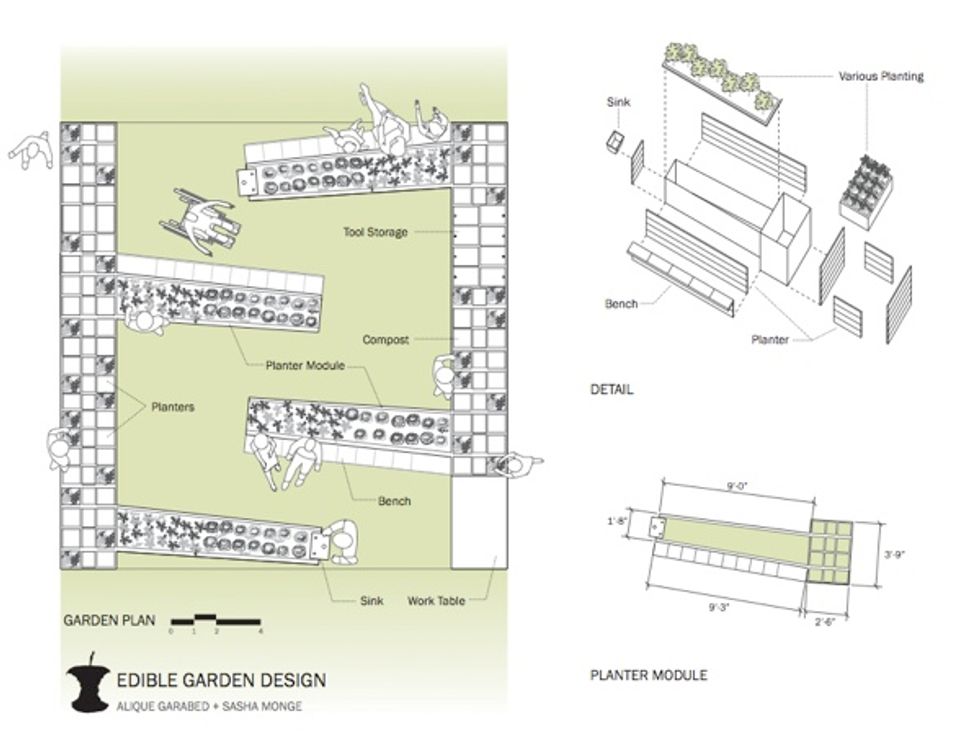 Edible Garden Design
Alique Garabed and Sasha Monge
Los Angeles, California


This multi-functional module can be replicated as many times as desired, on any school campus. Each unit consists of a single elongated planting bed attached to a smaller, cellular planter, seating that can transform to shelves, a sink with a drinking fountain, storage, and composting drawers. The modules would also be constructed at various heights to accommodate different ages of children. The beauty of the planter module is that it can be adapted to various plant uses, growing edibles one season and native plants the next. The designers recommend using salvaged or donated wood in this simple construction.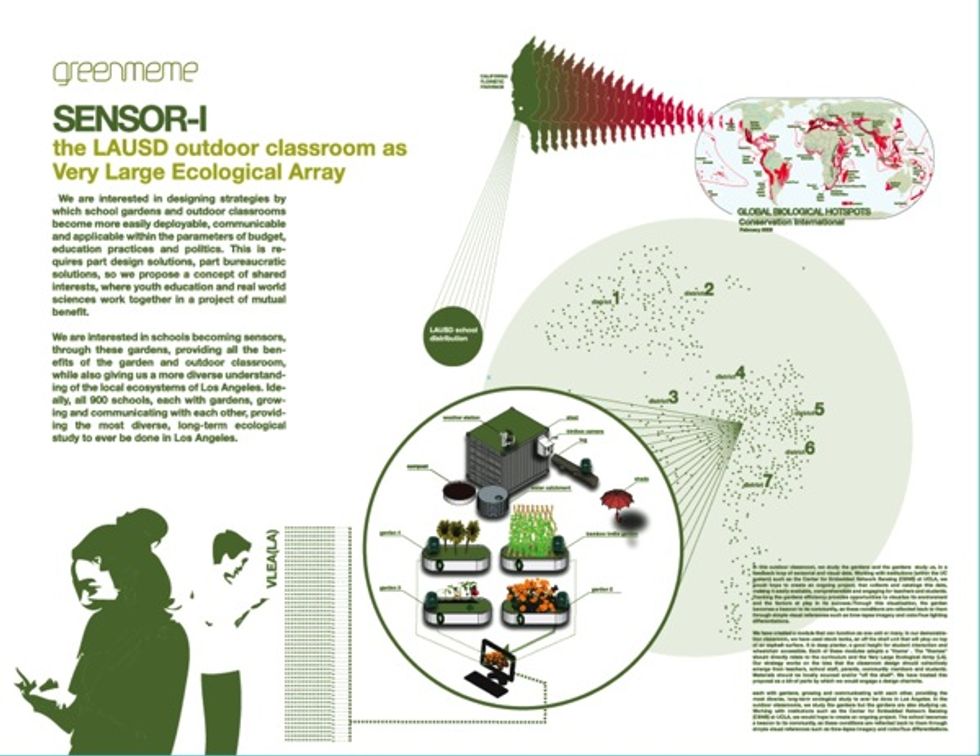 SENSOR-I
Freya Bardell and Brian Howe of Greenmeme, with Dr. Michael Hamilton, reserve director of Blue Oak Ranch Reserve

Los Angeles
In this proposal gardens become sensors, providing all the benefits of the garden and outdoor classroom, while also giving a more diverse understanding of the local ecosystems of Los Angeles. Ideally, all 900 schools, each with gardens, are growing and communicating with each other, providing the most diverse, long-term ecological study ever done in Los Angeles. In this outdoor classroom, students study the gardens within a network, providing a feedback loop of sensory and visual data. Working with institutions (within the UC system) such as the Center for Embedded Network Sensing at UCLA, students would work with scientists to create an ongoing project that collects and catalogs this data, making it easily available, comprehensible, and engaging for teachers and students. In this demonstration classroom, stock tanks, an off-the-shelf unit, provides a deep planter that's a good height for student interaction and wheelchair accessible.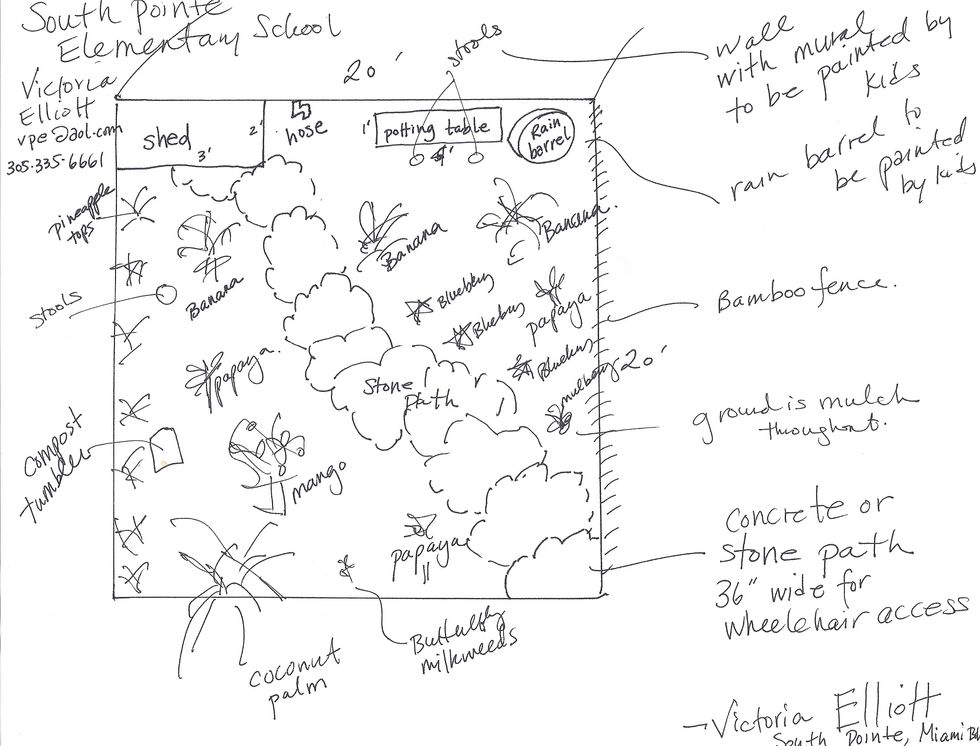 Smoothie Garden
Victoria Elliot
Miami Beach, Florida


Finally, the jurors decided to give one special commendation to a mother who not only submitted a great idea, but was putting it into practice at her kids' school. We'll let her explain:

"I call it the smoothie garden because it involves growing delicious fruits that can be put into frozen smoothies and sold to raise money for our school projects," she says. "Our garden will include several varieties of banana trees, carambola (star fruit), coconut, pineapple tops from a local Whole Foods juice bar, papaya, and mangoes. Of course, we are in the tropics and not all of the United States can sustain these exact fruits, but the idea is to grow fruits that are immediately delicious and enticing to little ones. Fruits that they can pick themselves and can be frozen and whipped up into yummy shakes that are as nutritious as they are sweet."

\n
Bravo! We wanted to commend her innovation as well as her dedication.
So, what happens next? All six design teams will be invited to a one-day workshop with the Los Angeles-based landscape architect Mia Lehrer to refine their proposals. Working closely with LAUSD, proposals will be matched to local schools due to site appropriateness, maintenance resources, and available funding. Designers will be encouraged to participate in the building of the gardens and at least one garden will be installed in a Los Angeles school by October—with hopefully more to come.
We had also planned to produce a toolkit for the five winning garden designs that LAUSD could share with their schools. But the jurors realized that there were valuable ideas in all 40 submissions, so, with the permission of each of the teams, we plan to produce a guide, perhaps as a downloadable PDF, containing all 40 submissions as a kind of "40 great ideas for your outdoor classroom." Stay tuned for that, and for updates on the workshop and garden as it gets underway. And thanks to everyone who submitted for your fantastic ideas!