Articles
Project: Redesign Your Farmers' Market
How can better design ensure that food grown by local farmers is delivered and distributed to urban residents? A contest sponsored by GOOD, The...
\n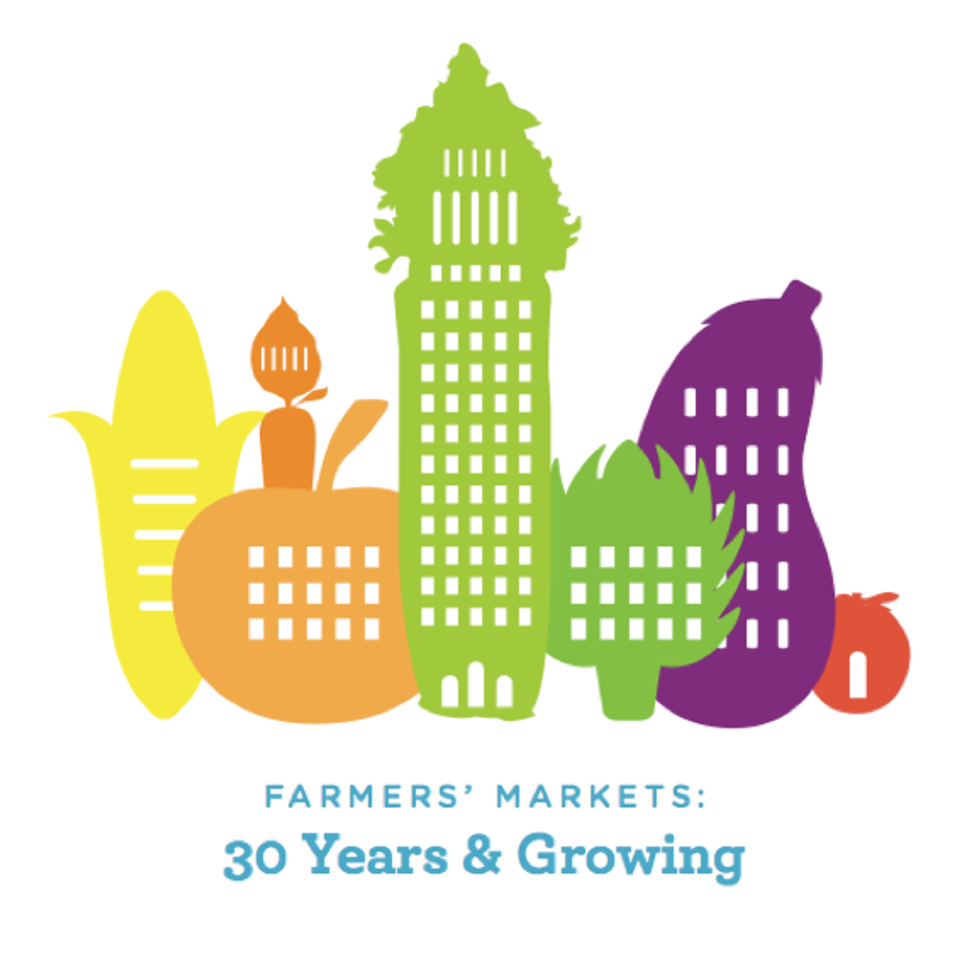 How can better design ensure that food grown by local farmers is delivered and distributed to urban residents?
A contest sponsored by GOOD, The Architect's Newspaper, The Urban & Environmental Policy Institute, CO Architects, and The Los Angeles Good Food Network.
Demand for
"good food"-defined as healthy, affordable, and fairly and sustainably produced-is rising. Whether it's from a rural family-run farm, community-supported agriculture group, or a backyard plot, locally grown food is increasingly viewed as a solution for many economic, environmental, and health concerns.Yet significant barriers exist in bringing that food to urban tables. Even if a steady supply of good food is available, it can't be delivered without better distribution networks that efficiently move it to multiple outlets and consumers.What we need is a massive shift in our food delivery systems that will provide a variety of opportunities for farmers to sell directly and effectively to urban residents, helping us redefine the path from farm to fork. It's time to rethink our local farmers' markets.
UPDATE 9/3
: The winners were announced this morning at the event 30 Years & Growing in Los Angeles. The judges picked 22 finalists that were exhibited at today's event. Out of those finalists, three runners-up and one winner were chosen:Third runner up, Hydroponic Farm(ers Market) by Michael Leung of San Francisco for its visionary and site-specific concept to harvest fog for a hydroponic farm in San Francisco.Second runner up, The Urban Field Farm Stop by BCV Architects in San Francisco, for using existing channels of mass transit and bus stops to distribute produce in LA.First runner up, The New City Center of Urban Farming by im Studio mi/LA, Los Angeles, for bringing the farm experience to the city in a permanent farmers market hub located in Hollywood.And the winner of the Redesign Your Farmers Market open ideas competition, for their Farm on Wheels concept that uses a fleet of electric trucks to disperse fresh produce more effectively in Los Angeles, Mia Lehrer, Astrid Diehl and Zhihang Luo, Mia Lehrer and Associates, Los Angeles.We'll be posting images and descriptions from all 22 finalists tomorrow. Thanks again to everyone who submitted, we were overwhelmed by the thoughtfulness and passion in each entry.
the OBJECTIVE
We want designers, architects, farmers, chefs, vendors, and farmers' market shoppers to think about how good design can improve upon the modern farmers' market experience.
the ASSIGNMENT
Design a new venue, product, distribution method, or marketing mechanism that increases both financial returns to farmers and access to healthy foods for consumers of all scales-from the home cook to food service chefs. Innovations should help small family farmers bring good food to market and/or provide consumers access to good food.
the REQUIREMENTS
By September 1, 2009, send us an email at projects[at]goodinc[dot]com with the following:-At least one image: sketches, drawings, three dimensional renderings, scaled technical drawings, photographs, altered photographs.
Your images should be high resolution
(they should print at 300 dpi at 8.5 x 11).-A brief narrative, up to 500 words, that explains how the design enables food production and/or delivery methods that support both the needs of small- to mid-sized family farmers and/or distribution to urban residents.-Your name, city, and local farm or farmers' markets.
thePRIZES
A jury of architects, urban planners, journalists, city leaders, chefs, and farmers will judge the entries. Jurors include Paula Daniels, Commissioner, Board of Public Works, City of Los Angeles; Vance Corum, Farmers' Markets America; Paul Zajfen, CO Architects; Tibby Rothman,
The Architect's Newspaper
; Market Wall, First Manager at Gardena Farmers' Market; Steve Tamai, Tamai Farms; Vanessa Zajfen, The Urban & Environmental Policy Institute; Moira Beery, Urban planner, Occidental College; and Alissa Walker will facilitate on behalf of GOOD. Winners will be announced by Pulitzer Prize-winning food critic Jonathan Gold on September 3, 2009 at the Los Angeles farmers market celebration
Farmers' Markets: 30 Years & Growing
.The winning entry will receive a cornucopia of farmers' market goodies including
The Santa Monica Farmers' Market Cookbook: Seasonal Foods, Simple Recipes, and Stories from the Market and Farm
by Amelia Saltsman and
The Urban Homestead: Your Guide to Self-sufficient Living in the Heart of the City
by Kelly Coyne and Erik Knutzen, a one-year subscription to GOOD and a GOOD T-shirt, and more. The top three entries will be published in an upcoming issue of GOOD magazine and exhibited at the Occidental College campus, and the designers will be featured in a story in an upcoming issue of
The Architect's Newspaper
. The top 20 entries will be published on GOOD and exhibited at the Los Angeles farmers' market celebration,
Farmers' Markets: 30 Years & Growing, on September 3, 2009.
RESEARCH and INSPIRATION
Your design can be a permanent "hub"-a market design that will provide year-round direct marketing opportunities for farmers and create a vibrant public space with food at its core (this project recommended for architects who want to propose a large-scale, holistic design). Examples include-A public space customized for local farmers to sell produce year-round-A retail store for local farmers-A wholesale market for local farmers to sell to restaurants and supermarkets-A market within a mixed-use development with complementary businesses-A restaurant that heavily involves and features local farmers-A system for vending local produce within an existing retail storeOr your design can address one of the programs or products that service farmers markets: the collection, storage, and transport of regional foods; processing, food product development and marketing; or food and health related community services. Some ideas include vehicles, farm equipment, storage?-containers, distribution methods, tents/vending stalls, kitchens for processing produce, public eating areas?, campaigns?, school programs?, chef/restaurant programs.Some additional inspiration: Read about
how design can help farmers' markets
from our own Alissa Walker;
The Science Barge
is a floating sustainable farm in New York; The
New City Market
is a model for sustainable permanent markets; The
Mercy Corps
food carts in Jakarta make healthy snacks more attractive to kids;
Foodzie
is an online farmers market where small food producers and growers can sell their products; The
Edible Schoolyard
is a garden and kitchen classroom for urban public school students.
SUBMISSIONS
We're seeing lots of delicious farmers' market redesigns in our inbox! If you haven't sent yours in, you've still got all weekend to come up with a great idea-deadline is Tuesday, September 1 at midnight PST. Also, check out the updates to the Los Angeles farmers' market celebration,
Farmers' Markets: 30 Years & Growing
where we're thrilled to announce that the winner of the contest will be announced by none other than the Pulitzer Prize-winning food critic for the
LA Weekly
, Jonathan Gold.Here are three great entries we plucked from the bumper crop of submissions so far: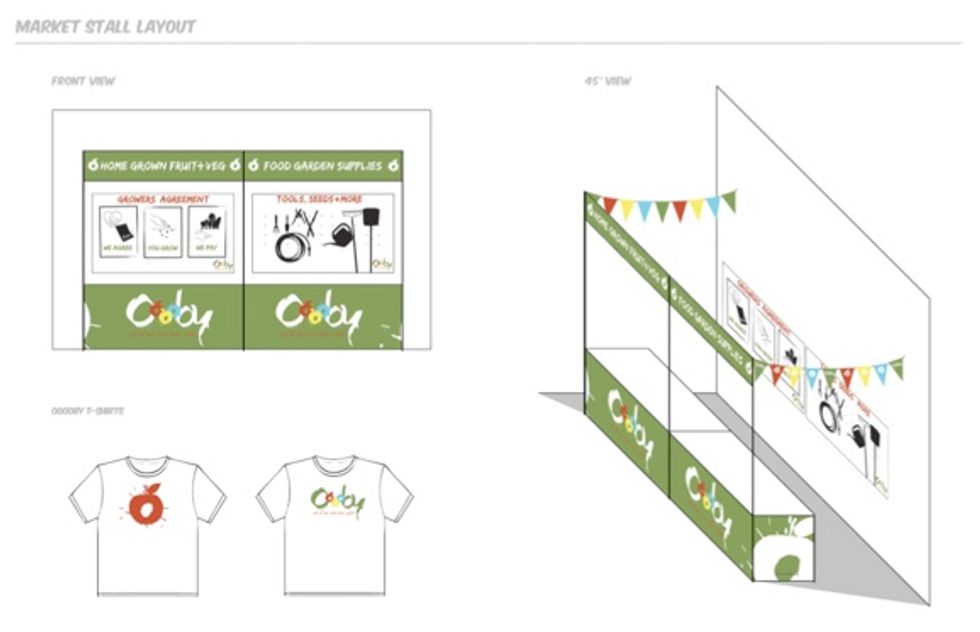 ---
Ooooby Stall
Pete Russell, James Samuel, Rich McCoy & Nolan|RossGrey Lynn, Auckland, New Zealand
The idea is a farmers market stall that represents local food gardeners. It is called the Ooooby Stall. Ooooby is an acronym for Out Of Our Own Back Yards. We are basing the concept on the idea that if we were able to somehow aggregate and coordinate the efforts and yields of lots of home food growers, then we could possibly source enough produce to fill up a market stall table every weekend.
www.oooby.org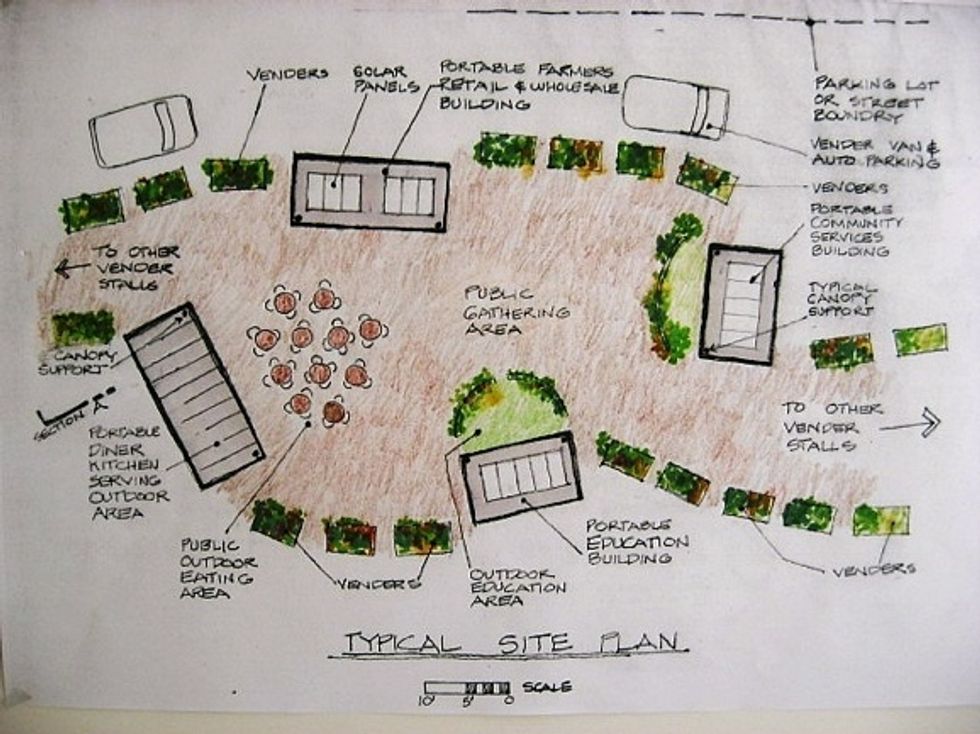 Farmers' Market Movable Spaces
Alan TossmanSanta Monica, California
Small portable architectural buildings are moved by trucks to various farmers' market locations, and they can be permanent or temporary. The portable buildings provide an immediate and simple solution, and they are arranged around an open gathering space with canopies overhead.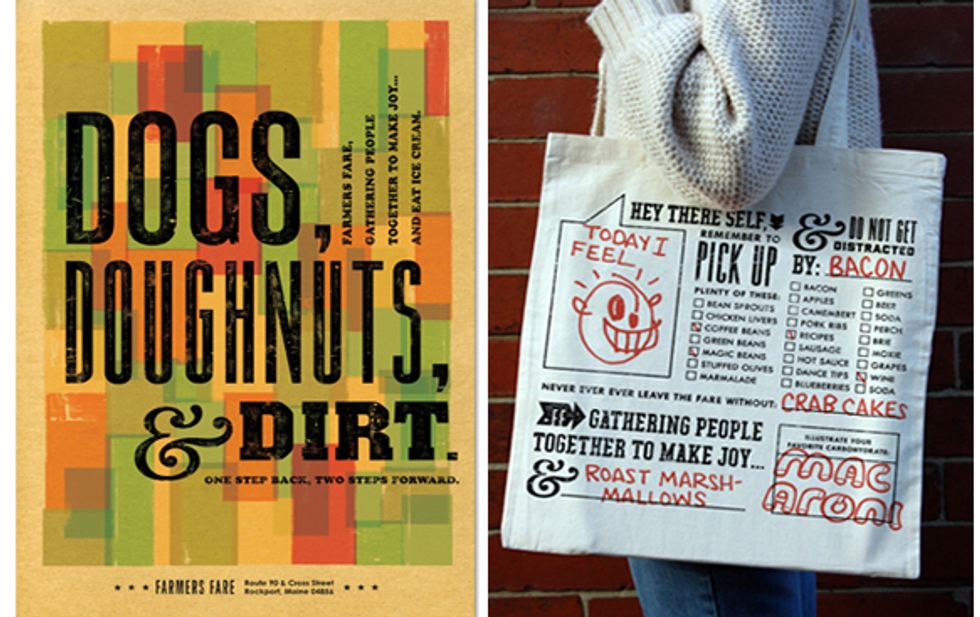 Farmers Fare
Christian HelmsRockport, Maine
We at Farmers Fare want to bring a contemporary interpretation to traditions that have always enriched our lives. We will host Sunday suppers, pig roasts, pumpkin carvings and other fun events. We pledge to provide a welcoming atmosphere, and scrumptious local food and products of highest quality. We will provide rooms for lectures and informal meetings about food, cooking, and growing healthy crops.
www.farmersfaremaine.com
Send your farmers' market redesign ideas to projects[at]goodinc[dot]com by September 1.
Title image by Michelle Park and Manny Garcia