Articles
Railroad Revival Tour: Mumford & Sons, Edward Sharpe & the Magnetic Zeroes, and Old Crow Medicine Show Embark on Epic Train Tour of American Southwest
Call it the modern day Festival Express. Three scratchy alt-rock bands embark on a rolling hootenanny of a concert tour. All for trains.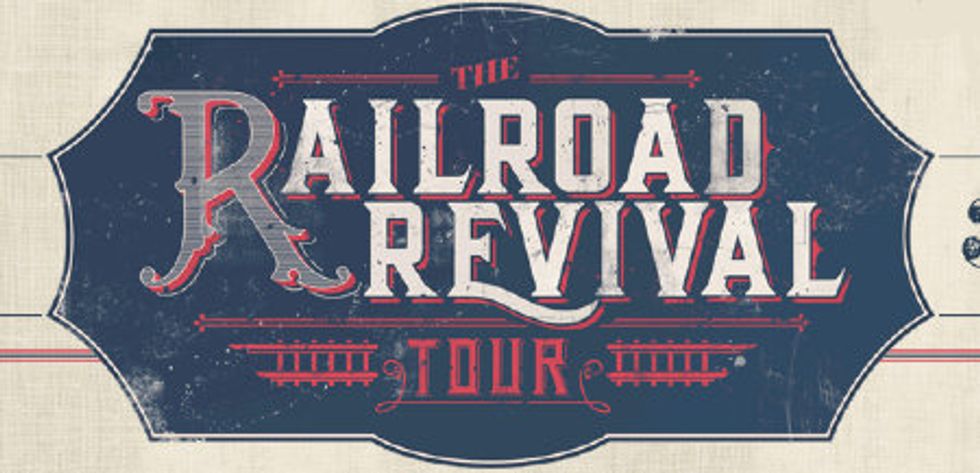 Call it the modern day
Festival Express
. For one week in April, Mumford & Sons, Edward Sharpe & the Magnetic Zeroes, and Old Crow Medicine Show will take to the rails for a six-stop rolling hootenanny of a tour. Behold, the
Railroad Revival Tour
:
This April, Mumford & Sons, Edward Sharpe & The Magnetic Zeros, and Old Crow Medicine Show will embark on a tour unlike any in recent memory. Traveling exclusively in vintage rail cars, the three bands will journey across the American Southwest over the course of a week. The aptly titled Railroad Revival Tour will feature the three bands playing concerts at six unique outdoor locations along the route, beginning April 21st in Oakland, California.

---

\n
The tour isn't so much inspired by some wonky push for intercity high-speed rail, but, rather, for quite the opposite. The tour seems like it's built to capture that long-forgotten romance of the rails—the bands will be riding in vintage cars from the 1950s and 1960s, traveling through the great desolation of the American Southwest, eating, sleeping, and recording on the train all the while. The tour's website declares:
Today's mass transit is built for speed and volume, which suits our modern lifestyle. But sometimes the notion of landscape and discovery is left behind. The RRT is an effort to re-imagine that landscape, the experience of the journey, and to re-discover what happens in between destinations. The inaugural Railroad Revival Tour train is more than 1,500 feet long. It features 15 vintage railcars pulled by 2 locomotives, and is set to travel more than 2,000 miles over tracks that stretch across five states.

\n
And get a load of these quotes. Alex Ebert of Edward Sharpe & The Magnetic Zeroes, said of his inspiration to ride the rail:
From hobos to the wild west, trains have always been a fascination of mine. This tour is going to be rad.

\n
And Winston Marshall from Mumford & Sons certainly doesn't have any pretensions about the tracks this revival is running on:
To misquote the great Woody Guthrie, this train is bound for disgrace. Glorious disgrace. Woody rode with his fellow drifters around North America; we get to do it with a bunch of other musicians, although not strangers, from different corners of the world. A dream come true to be on tour with them, a privilege we get to do it on a train (one of Britain's greatest inventions by the way).

\n
Anything that gets Americans to fall back in love with trains is aces in my book. We've long lost our fascination with trains, and a tour like this could help recapture that romance of the rail. Long gone are the days of five-star chefs in dining cars that were the envy of Europe; the age of Cary Grant making time with Eva Marie Saint in a honeymoon sleeper cabin in the final scene of North by Northwest.
As any long time GOOD reader might know, I'm a bit of a rail nut myself. A couple of years ago, I rode Amtrak across the country on an assignment for the magazine. (That the piece wound up being titled "Train in Vain" should give you a good sense of the experience.) Despite the sorry state of American trains (which, James Kunstler likes to say, "would be the laughing stock of Bulgaria"), I still love the whole rail experience. I ride it pretty regularly from New York Penn Station up to Vermont, and think I'd travel almost exclusively on it, even for longer hauls, if the lady was as keen on service delays and sleeper cars as I am.
The shows aren't all at rail stations, per se, but rather at pretty unusual, outdoor locations across Califnornia, Arizona, Texas and Louisiana. Here are the concert dates.
April 21 Oakland, CA @ Middle Harbor Shoreline Park
April 22 San Pedro, CA @ Ports O'Call Village
April 23 Chandler, AZ @ Arizona Railway Museum
April 24 Marfa, TX @ El Cosmico
April 26 Austin, TX @ 4th and Waller
April 27 New Orleans, LA @ Woldenberg Park






\n
Tickets go on sale tomorrow, Wednesday, March 9th, at Noon Eastern, exclusively on the Railroad Revival Tour site. "Each ticket will include an MP3 download of live recordings from the tour as well as a commemorative ticket custom-designed for each site, with no additional service fees."
And, yes, they will be filming a documentary.
Honestly, if if you were going to hand-pick three bands to score or soundtrack a romantic rail revival through the dusty desert of the American Southwest, these three would be right up atop my list.
[youtube]http://www.youtube.com/watch?v=3KkUeRPjc-Y
I mean, look at these guys. They're pretty much built for this.