Articles
Should Obama Shift His Focus to Education?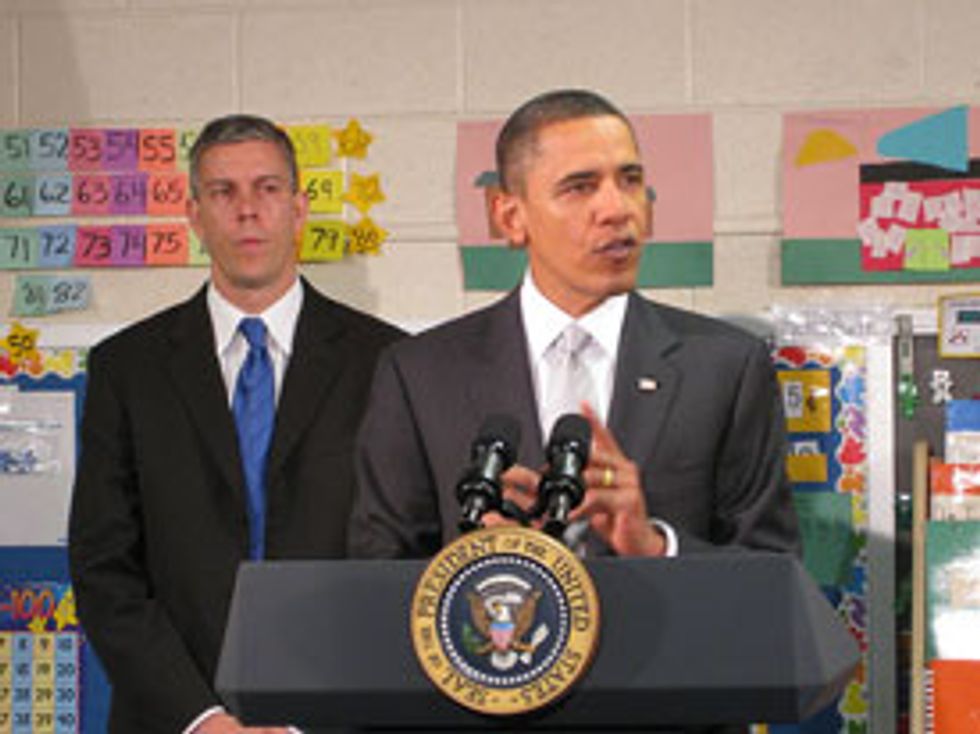 ---
With the healthcare reform effort on life support,
The Atlantic
's Derek Thompson
suggests that President Obama (and liberals in general) might instead
focus on education
:"[It] could be a good way for Obama to build the bridges Americans think he's burned with Republicans and to reclaim the mantle of a new kind of progressive-one whose policies combine a liberal belief in the power of government money with a federalist faith in our states to govern themselves."
The Race to the Top program
can be construed as precisely one of those efforts, allowing states to jockey for a piece of a $4 billion pie. So far,
40 states and the District of Columbia have applied
for the first round of funds.Some critics, including Texas Governor Rick Perry, don't see the federalist angle in
the requirements that need to be filled in order for states to apply for public money
.
According to the
Austin American-Statesman
, "Perry said last week that the common standards initiative 'smacks of a federal takeover of public schools' and could lead to a 'dumbing down' of the state's standards.Obama shot back at Perry yesterday when
he pitched a $1.35-billion expansion of Race to the Top
. The new funds would constitute an end-around of Perry's strategy of blocking funds for his entire state by
allowing individual school districts to apply for funds
. "Innovative districts like the one in Texas whose reform efforts are being stymied by state decision-makers will soon have the chance to earn funding to help them pursue those reforms," Obama said.Even if healthcare is, in fact, in the rearview, them's fighting words. And if the commander-in-chief is spoiling for a tussle, do you second the idea that he make education the battleground?
Photo via Flickr user talkradionews