Articles
The Decade in Design
Ten years of Apple, starchitects, and design for change. Being a designer means being able to not only predict the future, but...
\n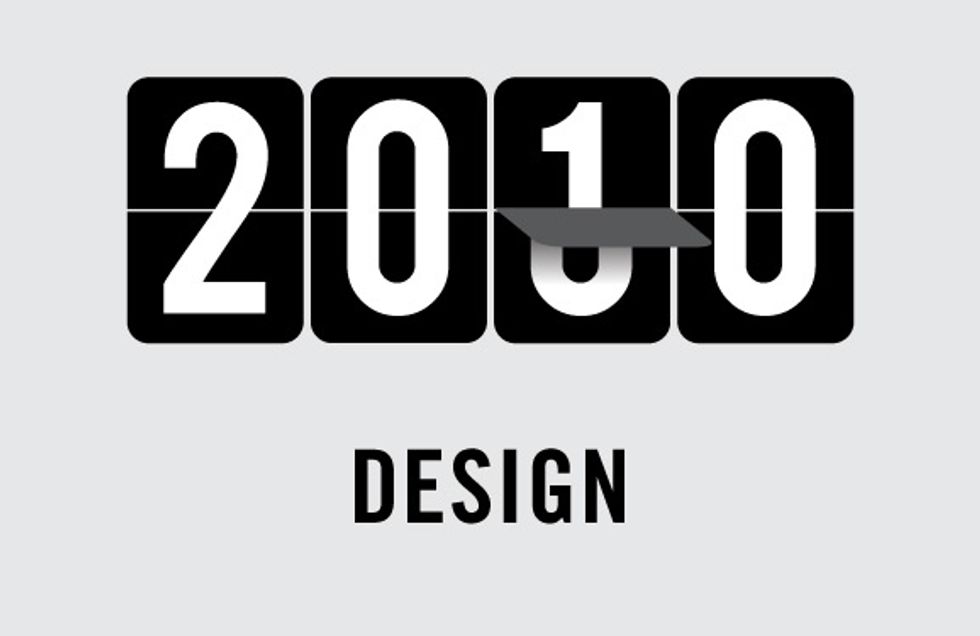 ---
Ten years of Apple, starchitects, and design for change.
Being a designer
means being able to not only predict the future, but to have a hand in shaping it as well. In the last 10 years, however, designers also had to dramatically change the way they worked: What other industry got to weather the dot-com crash, a real estate bubble,
and
the death of print?But it was not all boom and bust. The design field redesigned itself during this decade, transforming from an industry that created better objects to one that created better experiences-and endeavored to deliver them to everyone, not just the people who could afford them. Design was the place for big thinkers to cultivate new technology, and it's where the sustainability movement found its most trusted partners. Here's a look back on the design decade that was.
2000No Logo, Naomi Klein's treatise on anti-globalization, sets the tone for the decade's debates about consumerism and branding.

Tech stocks plummet, signaling the official burst of the dot-com bubble. Thousands of newly-minted web designers are laid off. San Francisco's cafes swell with unemployed creatives paying inflated rents.

Dwell publishes its first issue, transforming the way that people understand-and purchase-modern design.

The Cooper Hewitt, National Design Museum launches the annual National Design Awards, giving nods to Frank Gehry and Apple.

American Apparel moves into its current factory in downtown Los Angeles. Under the leadership of Dov Charney, it becomes an incongruous champion of locally-produced fair-labor clothing, racy quasi-pornographic advertising, and Helvetica.

After a tight presidential election introduces the world to the Floridian hanging chad, AIGA's Design for Democracy begins a massive effort to redesign and standardize voting across the nation.

2001

Apple's first retail store opens. Steve Jobs announces the first-generation iPod, which can hold 5GB of music. It is available only in white.

The Mini Cooper is launched in the United States, followed by the Toyota Prius, the first mass-produced hybrid vehicle. The SUV backlash begins.

September 11, 2001: The terrorist attacks on the World Trade Center utterly transform the skyline of New York City and destroy two of the world's greatest architectural and engineering feats: Minoru Yamasaki's 1973 twin towers.

Peter Jackson's Lord of The Rings: The Fellowship of The Ring reforms live-action purists by showing the artistry possible with digital filmmaking. Nerds rejoice.

The Prada Epicenter Store in New York's SoHo makes retail into a spectacle, thanks to a collaboration with Rem Koolhaas' OMA, 2x4, and IDEO. Flocks of tourists try on Prada clothing just to play with the legendary dressing room doors, which become frosted for privacy with an electric current.

2002

Design Within Reach opens its first retail store, reintroducing midcentury designers like George Nelson and Charles and Ray Eames back into the vernacular.

The stop-motion Lego animation of the White Stripes' video Fell in Love with a Girl by Michel Gondry heralds a new generation of video and commercial auteurs who bring their specific aesthetic to feature films (and Criteron Collection DVD sets).Minority Report's Precrime interface, designed by Imaginary Forces and Schematic, spurs interactive firms worldwide to create similar real-life multi-touch and gesture-recognition systems.William McDonough publishes the sustainability manual Cradle to Cradle: Remaking the Way We Make Things. An industry-wide call to make

"cradle-to-cradle"

products supersedes the more ambiguous movement of "going green."

2003Jeffrey Zeldman's book Designing with Web Standards transforms the way that web developers interact with code, calling for universal accessibility across browsers."Design thinking" is referenced in a BusinessWeek article.

DIY doyenne Martha Stewart is indicted for insider trading. She goes to jail, where she teaches craft classes to fellow inmates.

The Droog Design Foundation opens its first retail store in Amsterdam, becoming the magnetic center for an era of witty, issue-oriented industrial design. A signature piece is a chair made from piles of bound-together rags.

2004

The first batch of city funding is allocated for what will become the High Line, a community effort to transform an abandoned railway into a New York City park, and the most talked-about public space project in years.

The Beautiful Losers exhibition opens at the Contemporary Arts Center in Cincinnati, legitimizing the work of street artists and skateboarders who have been influencing culture for decades.

H&M launches its first collaboration with a high-end designer, Karl Lagerfeld.

Massive Change by Bruce Mau is released, asking designers to think about their work within a greater global context.

Zaha Hadid, architect of swoopy, sculptural, computer-generated forms, is the first woman awarded the Pritzker Prize.

The Dove Campaign for Real Beauty is launched by Ogilvy & Mather, featuring self-esteem messaging for young girls, an attack on glossy magazines, and imagery of real women shot by Rankin.

2005

The One Laptop Per Child project announced by Nicholas Negroponte. The lime-green laptop is later designed by Yves Béhar.

Target debuts the Clear Rx pharmacy bottle, a redesigned system for safely labeling medication. The idea originated as a School of Visual Arts design thesis project by Deborah Adler.

Emigre, the seminal graphic design journal published by Rudy VanderLans and Zuzana Licko, publishes its final issue.

Etsy.com launches as a new way for a swelling community of designers, makers, and crafters to sell their goods online.

Industrial designer Hella Jongerius mass-produces the Jonsberg vases for Swedish retailer IKEA.

Philip Johnson, a modernist architect famous for black angular boxes and black rounded glasses, dies.

The housing bubble peaks. Prices skyrocket and the building frenzy reaches critical mass. Cranes crowd the skyline in every major metropolitan area.

2006

Architecture for Humanity's TED Prize winnings are put towards the launch of the Open Architecture Network, allowing architects to easily share best practices for building affordable, sustainable structures in communities around the world.

The Council for Fashion Designers of America introduces legislation to copyright their designs, lead by new president Diane von Furstenberg.

We Feel Fine,

created by Jonathan Harris and Sep Kamvar,

heralds a new era for data visualization and internet-based art.

Widely considered to be the first green skyscraper, the Hearst Tower opens as a Gold LEED-certified building that tops a 1928 structure with a glittering, pixelated bouffant by Norman Foster.

An Inconvenient Truth changes the way we think about global warming, Power Point-style presentations, and Al Gore.

The Wii gaming console is launched by Nintendo, forever transforming the way we interact with games. We never need to go outside again.

2007The type-focused documentary Helvetica, directed by Gary Hustwit, premieres at South by Southwest, the same time and place as another type-focused product debuts: Twitter.Design for the Other 90% opens at the Cooper-Hewitt, showcasing hundreds of products and initiatives that designers are creating for the rest of the world's population.

The 2012 London Olympic logo by Wolff Olins is revealed, sparking a international scandal as more than 50,000 British citizens sign a petition against its design. An animated version is said to cause seizures.

Mad Men debuts on AMC to a small audience, but Matthew Weiner's tireless meticulousness in recreating 1960's ad campaigns, three-martini lunches, and pregnant smokers quickly makes it a cultural touchpoint for all creatives.

The I-35 bridge collapses in Minneapolis, killing 13, injuring 145, and forcing inspections of the United States' deteriorating infrastructure.

Amazon's e-book reader, the Kindle, debuts. Book designers call it a print-killer. Industrial designers call it ugly.

"One more thing..." At Apple's keynote event, Jobs introduces the iPhone.

2008Industrial designer Philippe Starck declares "design is dead," retires, signs on to star in BBC reality show Design for Life.

Shepard Fairey creates the "Hope" poster to support Barack Obama's presidential run. It becomes the single most representative image of any political campaign, ever. Fairey spends the next year in a heated fair-use battle with the Associated Press. No one wins. Oh, except Obama.

The Designers Accord, dubbed the "Kyoto Treaty of design," sees 120,000 firms and individuals sign on as adopters.

Brad Pitt hires a bevy of starchitects including Thom Mayne, David Adjaye, and Shigeru Ban to design flood-proof houses for Hurricane Katrina victims and raises millions of dollars through his foundation, Make it Right.

Design and the Elastic Mind, curated by the Museum of Modern Art's senior curator and design cheerleader Paola Antonelli, illustrates the many applications of design beyond creating physical objects.2009

Dubai's Burj Dubai, designed by Adrian Smith, tops out at 2,684 ft, the tallest man-made structure ever built. It's scheduled to open in January 2010 as reports of Dubai's downfall begin to trickle into architectural publications.

Ninety-eight-year-old architectural photographer Julius Shulman dies. A documentary of his life, Visual Acoustics: The Modernism of Julius Shulman directed by Eric Bricker and narrated by Dustin Hoffman, enters wide release.

The Aspen Design Summit, previously the 58-year-old International Design Conference at Aspen, relaunches under the guidance of the Winterhouse Institute, AIGA, and Change Observer, a new social change-focused division of the blog Design Observer.

William Kamkwamba, a Malawi inventor who built a wind farm for his village from scrap metal when he was 14, publishes his book The Boy Who Harnessed the Wind.

CityCenter, the United States' largest privately-funded development in history and one of the largest starchitect collaborations in the world, opens in Las Vegas with aspirations of "green superdevelopment" cred.

A meeting with Washington officials and a multi-disciplinary group of designers forming the United States Design Policy advocacy group solidifies a plan for designers and policymakers to begin working more closely together in 2010.
Additional reporting by Keith ScharwathUpdate: Two errors were corrected, the first iPod held 5GB of music and the Minnesota bridge collapse in 2007 killed 13 people, not 179. Thanks, vigilant commenters!