Articles
The Dylan Industry
Is there a more efficient machine in popular music than that of the Dylan Industry? It's sort of amazing how well oiled it is, in part because so much of it is out of the direct control of Bob Dylan and his associates. Obviously, Dylan Inc. stays on its toes: the man's official website is a model for..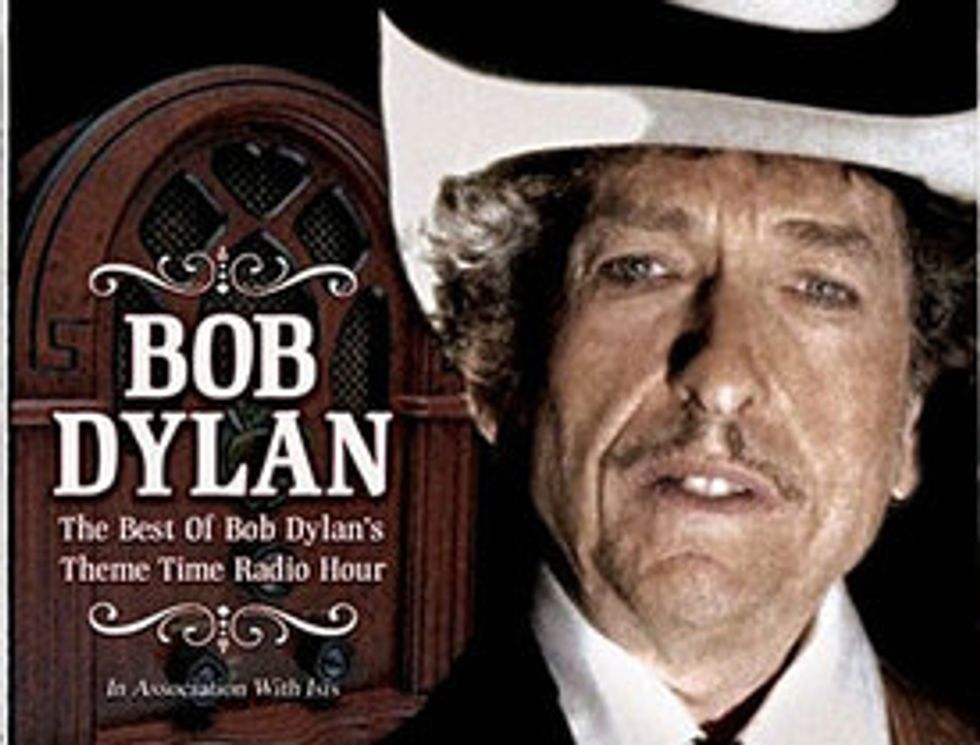 ---
Is there a more
efficient machine in popular music than that of the Dylan Industry? It's sort of amazing how well oiled it is, in part because so much of it is out of the direct control of Bob Dylan and his associates. Obviously, Dylan Inc. stays on its toes:
the man's official website
is a model for fan-friendliness, from its
extensive set-list archive
to
complete song lyrics
. The man stays on the road consistently-barring future bookings, he'll play 92 shows this year-and we'll soon see the release of
The Bootleg Series Vol. 8
, two CDs of previously unheard outtakes from his last three studio albums-
Time Out of Mind
(1997),
"Love and Theft"
(2001), and
Modern Times
(2006), all of them major works. And he's hosted two seasons of his
Theme Time Radio Hour
for XM satellite radio, with 78 episodes so far of Dylan talking about, playing songs about, and quoting famous friends on, a single topic each week.But the margins teem, as always. In October 2007, a British label that specializes in collections of public-domain music, Chrome Dreams, issued a double-CD called
The Best of Bob Dylan's Theme Time Radio Hour
; this May a second volume was added. (These collections aren't Chrome Dreams' first to exploit Dylan's name and image: a few years ago they released a single disc titled
Songs That Dylan Loved
, a companion to another collection,
Songs That Elvis Loved
. The examples go on.) In the middle of these releases, this past February, Ace Records, one of the earliest and best of rock's reissue specialists, issued
Theme Time Radio Hour With Your Host Bob Dylan
, yet another double-CD, but an official one, compiled by Dylan insiders Eddie Gorodetsky, Roger Armstrong, and Dylan's manager, Jeff Rosen.It would be easy to write off the Chrome Dreams collections in favor of the "real" one, and indeed the Ace compilation is, by some distance, the best of the three. Since Ace's people, unlike Chrome Dreams', went for material still in copyright (and the royalties that go with it), the White Stripes' "Seven Nation Army" pops up early on disc one, while the Clash's "Tommy Gun" appears on the second. There are also recent cuts by Mary Gauthier, the Yayhoos, and Geraint Watkins, none of whom I've listened to before but am happy to encounter here, particularly Gauthier's wonderfully to-the-point "I Drink." (As in, "Fish swim, birds fly/Daddies yell, mamas cry/Old men sit and think/[pause] I drink.") And it's likely the '60s material that predominates involved paychecks as well.But the real reason the Ace is better isn't the relatively wider selection or better sound quality (the Chrome Dreams comps are full of spotty fidelity); it's the sequencing. Where Chrome Dreams' volumes march their selections out in episode order, Ace moves easily around, like great radio. There are surprises around every corner--odd, great juxtapositions galore. From the Donays' eager girl-group "Devil in His Heart" to George Jones and Melba Montgomery's "Let's Invite them Over" (about wife-swapping! In 1963!) to Sister Rosetta Tharpe's "Don't Take Everybody to Be Your Friend" (she was a sensation, and listening to her she still is) to Billie Holiday's "Good Morning Heartache" seems a bit willful on paper. In the air, it's inspired.But in truth, I'm nitpicking: all three collections are stuffed full of great music. Chrome Dreams' limitations of availability are turned into assets; their volumes are full of jazz, blues, country, folk, pre-rock R&B, and early rock and roll gems. Chances are you already know a fair share of them: who hasn't heard Duke Ellington's "Take the 'A' Train" or Hank Williams' "I'm So Lonesome I Could Cry" (
Vol. 1
) or Buddy Holly's "Peggy Sue" or Johnny Cash's "Folsom Prison Blues" (
Vol. 2
)? But those obvious picks ground a lot of great lesser-known stuff: for starters, on
Vol. 1
, Slim Gaillard's "Matzoh Balls" and Jimmie Revard and His Oklahoma Playboys' "Lose Your Blues and Laugh at Life"; on
Vol. 2
, Babs Gonzales's "Professor Bop" and Amos Milburn's "Bad, Bad Whiskey." All of those songs are, among other things, funny-kind of like the guy who played them on XM in the first place.The shows themselves, of course, are fantastic. Dylan has incredibly dry comic timing, and his spoken rhythms are every bit as odd and indelible as his sung ones, and they're very similar. The songs are first rate, but it's the banter that hooked me definitively, as on the "Baseball" episode, when Dylan introduced a song from the original cast album of the Broadway hit
Damn Yankees
. "And I don't mean that group with Ted Nugent and those guys from Styx," he croaks, improbably. Even if you know the show has a long list of writers and researchers (they're credited at the end of every episode), who on earth would have guessed that Bob Dylan knew or cared enough to comment on that early-'90s hair-metal supergroup? As for that episode, it's somewhere on the Web, along with every other
Theme Time Radio Hour
so far: usually they're hosted together as individual downloads, and the place to find them tends to move around. Try to hear them-as I said, the margins teem, as always.