Articles
The "Twitter Revolution"
Social media meets social unrest in Guatemala Guatemala is in the throes of its most intense political convulsions since a bloody 36-year civil...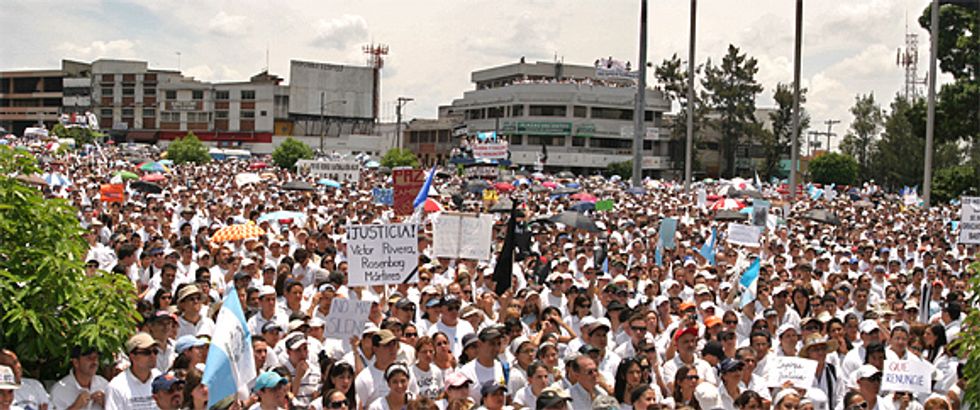 Social media meets social unrest in Guatemala
Guatemala is in the throes of its most intense political convulsions since a bloody 36-year civil war ended in 1996. A president accused of assassination by the victim himself, from beyond the grave; government officials accused of corrupt dealings with one of the country's largest banks; thousands marching in the street, week after week, demanding an end to impunity.And in this crisis, online social networks such as Twitter and YouTube have become key, dynamic forces. Some are calling this "the Twitter Revolution."The current crisis was sparked by a viral video: one recorded by attorney Rodrigo Rosenberg four days before he was murdered. The 18-minute testimony begins with the words, "If you are watching this message it is because I have been murdered by President Álvaro Colom." In the video, Rosenberg claimed he would be targeted because he planned to come forward with evidence that Colom's government engaged in drug money laundering and misuse of public funds through a partly state-owned bank.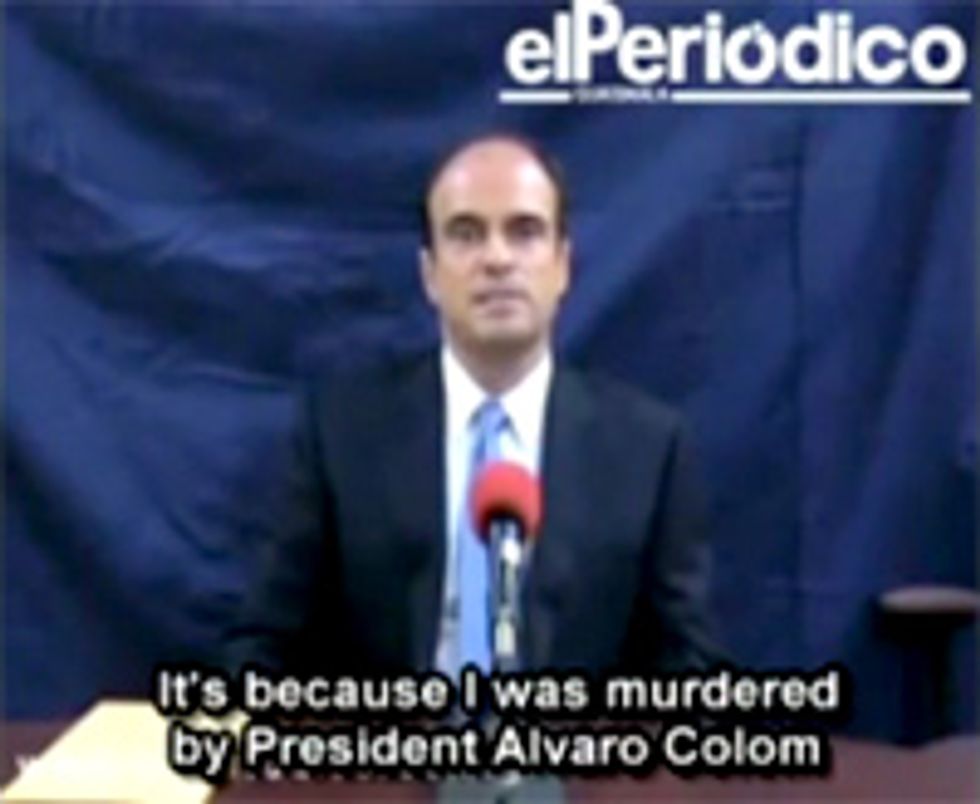 ---
Rosenberg's allegations have yet to be proven or disproven. Colom and his administration have blamed the murder on crime syndicates reacting to new measures to crack down on organized crime. Colom is Guatemala's first left-leaning president since a U.S.-organized coup overthrew Jacobo Arbenz nearly 50 years ago, and his supporters claim he has been framed by right-wing political opponents.Regardless of who killed Rosenberg, and why, his death wasn't an unusual occurrence. Last year, more than than 6,000 people were murdered here. Political assassinations, death threats against human rights workers, "disappearances," and seemingly random killings traced to leftover death squad operatives who've found postwar work in the drug trade-they're all normal. Death defines Guatemala. You don't have be involved in politics or social justice to be at risk. According to a United Nations study, some 97 percent of crimes here never go to trial. This is a country where one can easily and literally get away with murder.Rosenberg's video was handed out on DVDs at his funeral. The footage spread within days to YouTube and other video networks. Soon, it was the focal point of chatter among mostly young Guatemalans (who are more well-off than Guatemala's extremely poor majority) on social sites like Twitter, Facebook, and Hi5. Users followed those conversations by searching for the hashtag #escandalogt-shorthand for "Guatemalan Scandal." Remixes of the video soon appeared online, along with subtitled versions and amateur op-ed responses to the claims therein.Those same social networks also played a role in organizing massive demonstrations in the country's capital, Guatemala City. Crowds one weekend were estimated to be between 30,000 and 50,000. Roughly that same number have signed petitions calling for Colom to be stripped of the immunity from prosecution that Guatemalan law grants elected officials. Newspapers in Guatemala credited social networks such as Facebook and Hi5 with "summoning" the petition signers.Many protest participants wore white, to symbolize an end to violence, and they became known as the "tsunami blanco." Web-savvy news organizations (namely Libertopolis.com and Prensa Libre) broadcast live video of the protests online, right there in the streets, using laptops, cellular data cards, and free streaming video services like Ustream.Despite widespread fears the protests would turn violent, and even with government-organized pro-Colom demonstrations just blocks away (the administration is said to have spent millions of quetzales in public funds to organize the events, pay poor participants, and bus them in by the thousands from the country's interior), street activity has been peaceful so far.But backlash to online activity has been intense, notably from the sector of Guatemala's government that controls the country's financial system. One Twitter user was arrested, jailed, and faces up to 10 years in prison for having posted a single 96-character tweet about the bank at the center of the corruption scandal. Guatemala's Supervisor of Banks, Édgar Barquín, has proposed sweeping controls on internet use, including a requirement that anyone who wants to log on in an internet café must first register their national ID card (
cedula
) at the front desk.In keeping with the hall-of-mirrors, telenovela-like surreality that marks Guatemalan politics, Colom's chief political rival-former Army general Otto Perez Molina-recently denounced a purported plot to assassinate
him
. Colom's party dismissed those claims as having been fabricated "for show." On Twitter, some countered that the lack of institutional ability to investigate any crime is the root of the current crisis, so all claims of threats should be treated with equal respect and due process."All we are saying is give the rule of law a chance," one "tuitero" direct-messaged me."Who are we supposed to trust when all of the institutions of the state are compromised?," tweeted another.That overwhelming lack of faith in any state institutions is what many outside of Guatemala see as most concerning.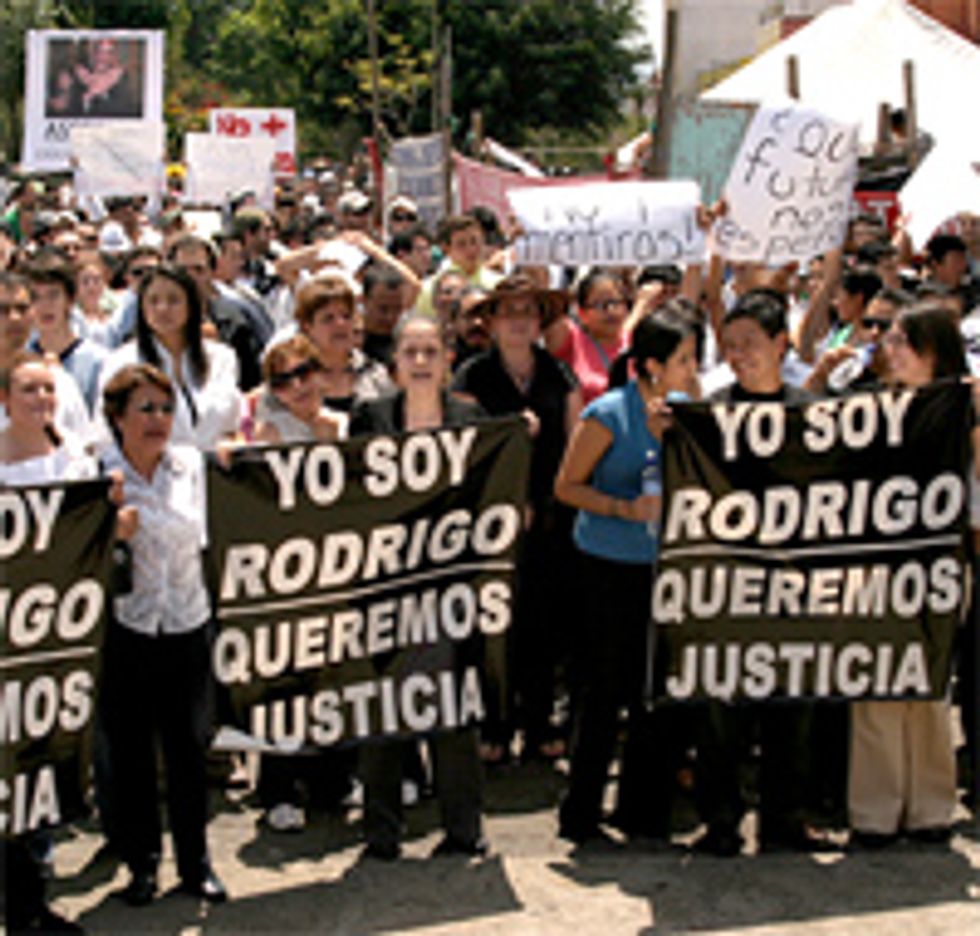 A recent
article in The Economist
suggests Guatemala is now well on its way to becoming a "failed state." Some op-ed writers in Guatemalan papers responded defensively. But the longer Rosenberg's symbolically important case goes unsolved, the longer corruption is perceived as unchecked, the longer the already horrific violent crime stats in Guatemala continue to climb, and the greater the risk of total collapse.And as this wired generation of Guatemalan citizens demand transparency and change in new ways, our own newly minted government-which promised change-has just ruled that the CIA continue to maintain the secrecy of records related to America's involvement in the Guatemalan civil war.Guatemalan human rights organizations want access to these documents to help solve the cases of assassinations and disappearances from that era, and bring those responsible to justice. Many military figures from that era remain active political figures in Guatemala. There is good reason to believe that a lack of consequence for past killings has created the
"killer's paradise"
that exists here.Even the "tuiteros" exhilarated by their own newfound, potent public voice fear the darker aspect of that history will repeat."The problem is that sooner or later, they're going to persecute us," tweeted one. "Just like they did the so-called 'communists' of the '60s and '70s."
LEARN MORE
See more images of the protests via Flickr user
Surizar
.Read more about the "Twitter Revolution" on Boing Boing (
1
,
2
,
3
,
4
,
5
,
6
)Find background on the recent United States court ruling
here
and the ruling itself (pdf)
here
.
Xeni Jardin is a Boing Boing tv host and executive producer, and Boing Boing blog co-editor living in Los Angeles, CA.Photos by flickr (cc) user Surizar.