Articles
Think Globally, Record Locally
The Global Lives Project is creating a video cross-section of humanity. Rumi Nagashima, 22, navigates Tokyo in her wheelchair on the way to a...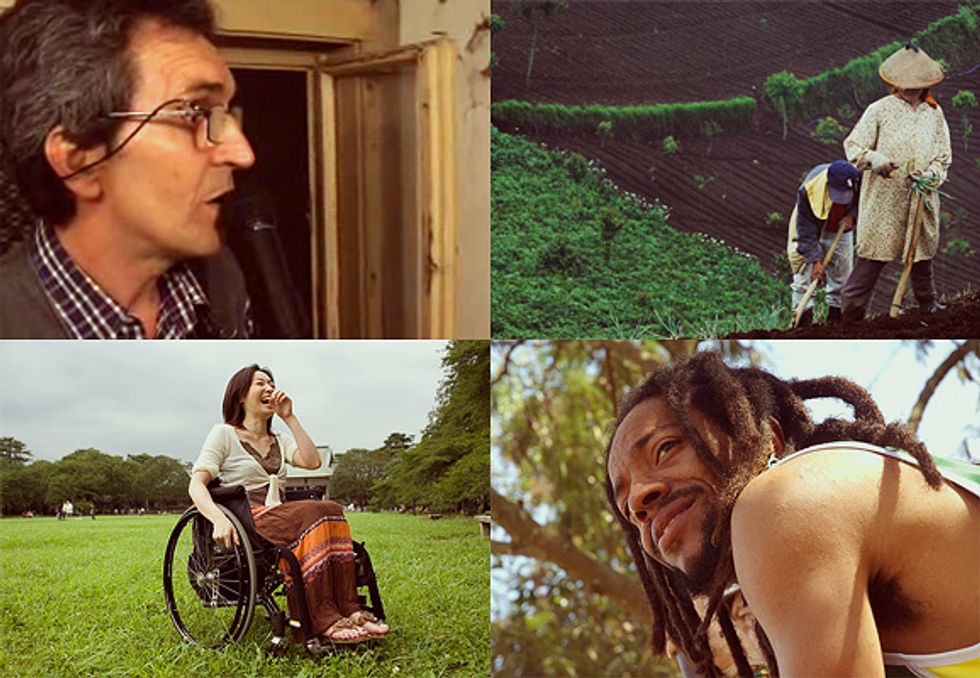 ---
The Global Lives Project is creating a video cross-section of humanity.
Rumi Nagashima, 22, navigates Tokyo in her wheelchair on the way to a girl scout meeting where she's the troop leader. In Ngawle Village, Malawi, Edith Kapuka, 13, is playing ball with her school friends before walking a trail to her small hut. Across the world in San Francisco, James Bullock, 57, steers his cable car up San Francisco's steep hills. And you? You're in the middle of it all. An array of video projectors immerses you in a day in the life of everyday people around the world. Look left, and there's Israel Feliciano, 23, a hip-hop singer in a favela of São Paulo, Brazil. Behind you is Muttu Kumar, 18, a postcard vendor hawking his wares in Hampi, India. This is an installation of the
Global Lives Project
, a volunteer effort originally launched to "record 24 hours in the lives of ten people that roughly represent the diversity our planet's population."
[youtube]http://www.youtube.com/watch?v=Tm-VTHCPpHc
"The project is about taking people out of their own realities and putting them into the world of people they never would have known with experiences they'd never otherwise see," says project founder David Harris, an affiliate researcher of
Institute for the Future
where I'm a research director.
In college, Harris spent 8 months in a study abroad program living in five very different places, from a bamboo house in the Philippines to a mansion in New Delhi to a squatter settlement in Mexico City. He studied economic development in those places, but found that just living with his local families taught him the most. It was the culture shock and eventual intimacy that led to Global Lives, he says. Shortly after his trip, Harris and a friend conducted the first shoot, with the San Francisco cable car driver who also happens to surf. After graduation, Harris moved to São Paulo, Brazil where he connected with the Museum of the Person, a key partner in the project. From there, the Global Lives story spread organically online, and volunteers-students, documentary filmmakers, journalists-stepped up to shoot in places like Japan, China, Lebanon, Serbia, and Indonesia.
Now, the organization is a full-fledged non-profit with a network of unpaid collaborators around the world. As such, there isn't one person, Harris or anyone else, who picks the subjects of the shoots. Rather, there's a carefully-constructed set of criteria designed to avoid reinforcing stereotypes. Local teams participate in a process-of-elimination procedure with the broader Global Lives network. The six selection criteria include world region, population density, gender, age, religion, and income.
"When Global Lives got started, our core objective was to record the daily lives of ten people who were 'roughly representative of the world's population,'" Harris says. "'Roughly' is probably the most important word to remember there. The Global Lives Project is not a scientific endeavor to classify and present the human species under a microscope, but rather an artistic and educational undertaking, seeking to transform people's understanding of the world by doing a pretty good job of showing them what it's like to live a day in a human body."
Continuing the community-minded thread of the project, all of the footage is released under a
Creative Commons
license, permitting free downloads and redistribution. And while the original Global Lives story is nearing its completion-the tenth shoot is now being scheduled in south central Asia-the project has, well, taken on a life of its own.
The Museum of the Person produced a guide to taping one person for 24 hours, hoping that others around the world will pick up a camera. Indeed, Harris is currently working with the Internet Archive to develop a system for storing and managing the terabytes of raw footage streaming in from every shoot. And that's no easy task when you consider the project's revised, and lofty, goal of collecting, digitizing, and sharing the myriad human realities that the world has to offer.
"With the momentum we've established, we're hoping that Global Lives will grow into an online library of human life experiences," Harris says.
David Pescovitz is co-editor of Boing Boing, a research director at Institute for the Future, and editor-at-large of MAKE.