Articles
Two Smart New Ads Show What's at Stake in Clean Air Act Assault: Our Children's Health
Finally, someone is running some ads that call out the current attacks on the EPA for what they are: a threat to our children.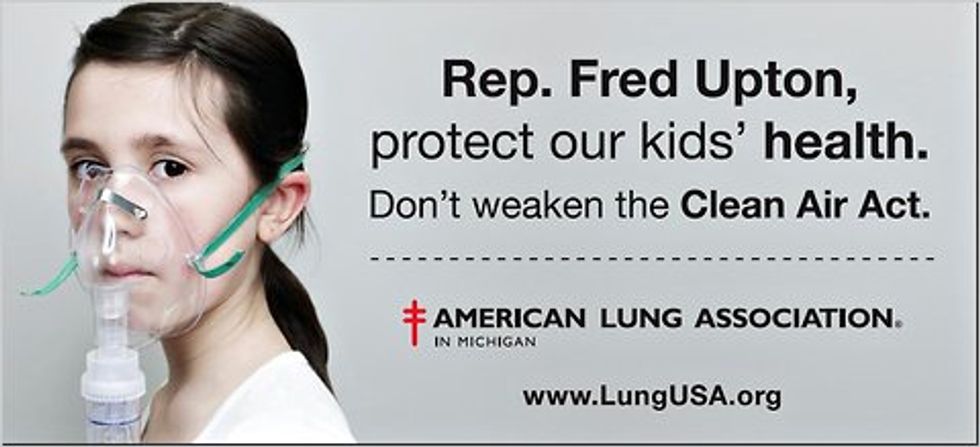 With several key votes coming this week on Republican legislative efforts to weaken the E.P.A. and hollow out the Clean Air Act, finally, we see some smart messaging about the assault hitting the mainstream. The American Lung Association is running the image above on
four billboards throughout Michigan Representative Fred Upton's district
, including one right across the street from his district office. Upton is chair of the House Energy and Commerce Committee, and co-sponsor of an outrageously
cynical bill
that would flaunt scientific consensus and, amongst other things, essentially strip out the Clean Air Act provisions that allow the EPA to regulate carbon pollution.
We already know
from local polling that Upton's own constituents want him to leave the Clean Air Act alone, so who knows if a startling ad like this will penetrate.
Then there's this commercial, run by American Families Voices, that echoes the sentiment of the ALA billboards. It shows, in simple terms and poignant images, exactly what's at stake if the GOP is able to gut the E.P.A. and Clean Air Act: our children's health.
---
[youtube]http://www.youtube.com/watch?v=SSTnoeNNbzQ
The E.P.A.'s own estimates are that the Clean Air Act prevented 160,000 early deaths— including 230 infants—in 2010 alone. You can show some support (whatever show of support signing a petition is worth) at CleanAirSavesLives.org.