Articles
Who Gets Florida's High Speed Rail Money?
Florida governor Rick Scott rejected $2.4 billion of high-speed rail. Can the Northeast line get that love?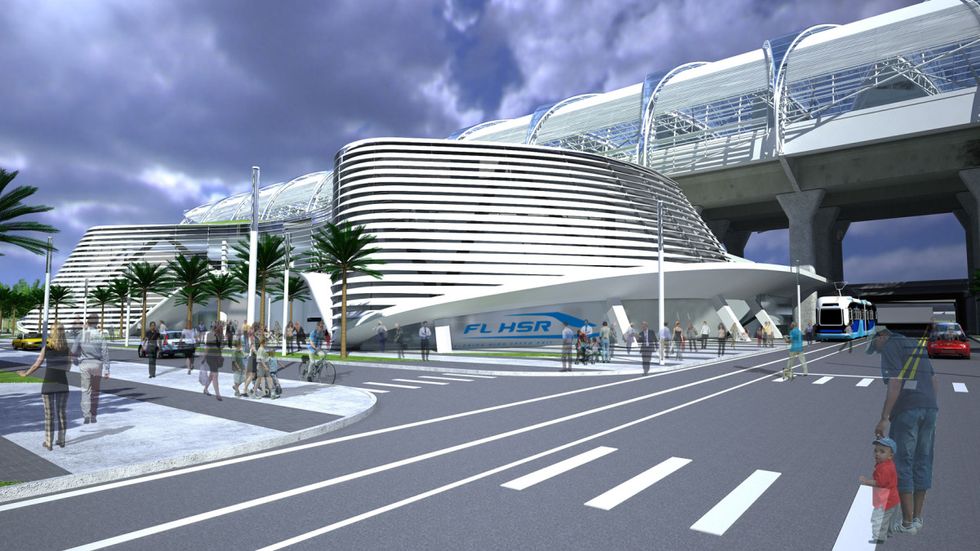 On Wednesday, Florida Governor Rick Scott announced
his decision
to reject $2.4 billion in federal high-speed rail funding that would've gone towards a proposed Orlanda-to-Tampa line.
The Infrastructurist has the details of the governor's decision. (Long story short: It's cynical political posturing.) Some are saying, "to heck with Florida. Show us their money. We'll build that rail."
---
California politicians were first to raise their hands palms. "The $2 billion that Florida rejected are more than welcome here," new governor Jerry Brown said. Senators Dianne Feinstein and Barbara Boxer wrote to Transportation Secretary Ray LaHood with the same sentiment:
It is now clear that California will lead the way in demonstrating the viability of high-speed rail to the rest of the country.

\n
Gas 2.0 writer Christopher DeMorro has another idea:
Give the money to states and people who will and do use trains ... So if by some off chance you are reading this, Mr. President, the Northeast Corridor could really use some help. Right now it is slow, prone to delays, and woefully out of date

Besides the crappy, slow trains though the Northeast has a lot going for it in terms of right-of-way and already built lines. The Northeast already has a high speed train (the Acela) that should be able to go even faster with a little (actually a lot) of work. It's the busiest train corridor in the country, with 12 million riders a year and a high population density, yet it has barely gotten any money in the grand scheme of things. People here know how to ride a train.

\n
As a Northeasterner, I've got to side with DeMorro. Show us the money, Mr. President. I promise to ride that train regularly.
Image: Florida High-Speed Rail