Articles
Will Teachers Benefit Most From Effectiveness Ratings?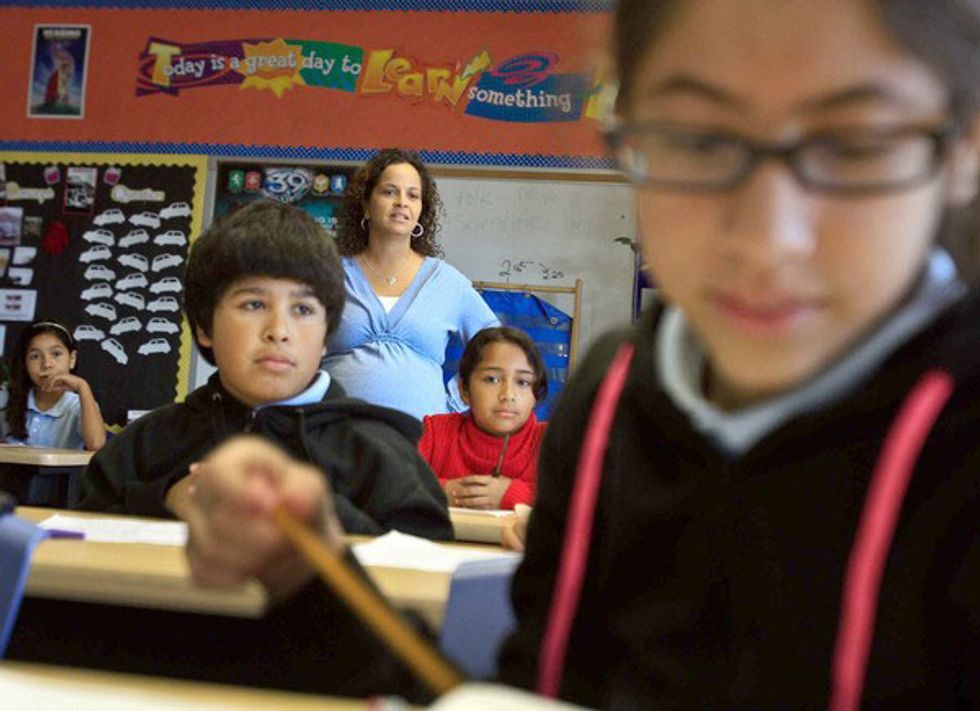 Last month, when
the Los Angeles Times began revealing its value-added teacher effectiveness data
—which culminated in
ratings of 6,000 third- to fifth-grade teachers
—one's gut reaction was: good for parents, disastrous for teachers. And
that's the way responses to the data dump have come in
: with reformers and parents being ecstatic, while teachers union reps have rolled their eyes.
Today, Times investigative reporter Jason Felch and Beth Shuster, the paper's K-12 education editor, discussed on a conference call with the reporters some of the logistics, decisions, and reaction associated with the package of stories and the ratings, which were based on raw data supplied by the Los Angeles Unified School District. Both Felch and Shuster expressed pleasant surprise at responses from teachers, which demonstrated that many of them were actually clamoring for feedback on their performance.
---
Felch noted that a third-grade teacher featured in a Times piece as an example of an ineffective one immediately asked what she could do to improve when he revealed her value-added rating. Shuster added that a special ed teacher, who was not eligible to be rated because she didn't teach enough students, requested that the paper do an assessment of her and other special ed instructors.
The teachers desperately want more information, Shuster said:
When we opened up the database for teacher comments, before it went live on the website, we had a number of teachers who wrote into us requesting their private page—where they could see what their ratings are. And even before they got that information, they were asking us, "What more can you give us? Are you just going to give us this one number? Are you going to give us math and English broken out? How much more can you give me? I'm planning for the upcoming school year." I mean, these people are asking a newspaper for this information. It just strikes me that these people are victims of the system. The district has not done anything to help these people. they've never gone in and helped these people in anyway, the good ones or the bad ones.

\n
The problem of teachers not getting decent feedback is not only a problem at the district level, but also within schools, said Felch. And the issue stemmed from identifying which teachers needed help. He noted that some principals were able to correctly point out who their most effective teachers were—at least on this narrow, value-added metric—whereas others seemed to have no clue.
To speak very broadly, what we found was that those principals who do spend a lot of time in the classroom—and not all of them do, but, for those principals who are pretty tuned in and paying attention to teacher quality issues—they had a fairly good sense for who their most effective teachers were. ... [W]e found that in several other cases, these are schools that are oftentimes very high achieving schools, they've been under no pressure to improve, and the principals are not very focused on teacher quality. Because the kids come in at a very high level and score very high on achievement tests, they're kind of resting on their laurels. ... It was at those schools where we found a real disconnect between what the principal's point of view was and what the data was telling us.

\n
Felch also expressed shock that Randi Weingarten, the head of the American Federation of Teachers, told the Times that, though she was against posting value-added ratings, she believes parents should have access to teacher evaluations—a position she shares with Education Secretary Arne Duncan.
Though, one consequence of the Times making this data public is that L.A. Unified could have a rough opening to its school year. Concerned parents might start to ask questions about why their third, fourth, or fifth-grade student is assigned to a poorly rated teacher. "That's kind of a marketplace at work, isn't it?" asks Shuster. "This is some information that parents have never seen before, never had. They've only been able to rely on parking lot chatter, what they hear about a teacher, what their kids tell them about a teacher."
Still, the data could end up doing a lot of good for teachers and for principals in the long run, allowing L.A. Unified to better train its teaching staff and offer a more uniform educational experience to its students. That is, if the school district—which is voting today to open the door to adding value-added data to teacher evaluations—doesn't make any rash, personnel decisions first.
Photo via Irfan Khan forThe Los Angeles Times.