Articles
The starchitect and graphic design legend discuss their newest collaboration Hot To Cold, designing for a greater good, and the creative life well-lived.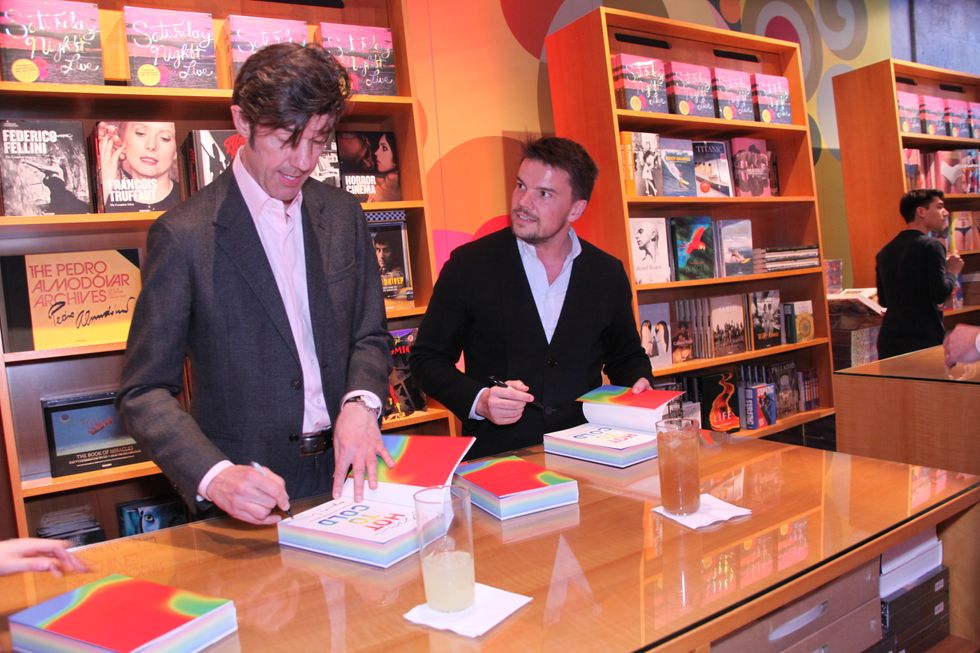 Ingels and Sagmeister signing copies of their collaboration Hot To Cold (TASCHEN, 2015).
They arrived at least an hour early, if not more. By the time architect Bjarke Ingels and famed graphic designer Stefan Sagmeister took the mic at TASCHEN Books, the tiny Soho store was filled with over 300 people, the line snaking out the door and down the block. Many were young architects who treated Ingels, a wunderkind designer who at 40 is already a legend, as a star, asking for handshakes and chattering among themselves with excitement. Sagmeister, a veteran of the design world who, among many accomplishments, created some of David Byrne and the Talking Heads' most iconic album covers, retained his trademark cool, calm stance as fans swirled past. The two had come to TASCHEN to celebrate and discuss their collaboration, Hot To Cold, a weighty tome highlighting some of Bjarke Ingels Group's (BIG) greatest works, dreams, and unrealized projects, featuring Sagmeister's distinctive design. In this case, Sagmeister had created a rainbow gradient that splashes the cover, meant to conjure a heat map. The book sold out almost immediately.
<p class="shortcode-media shortcode-media-rebelmouse-image"> <img class="rm-shortcode" data-rm-shortcode-id="019c5a516271c07d1fbbd72231f5c951" data-rm-shortcode-name="rebelmouse-image" id="d1d9b" type="lazy-image" data-runner-src="https://assets.rebelmouse.io/eyJhbGciOiJIUzI1NiIsInR5cCI6IkpXVCJ9.eyJpbWFnZSI6Imh0dHBzOi8vYXNzZXRzLnJibC5tcy8xOTgzNzU5MC9vcmlnaW4uanBnIiwiZXhwaXJlc19hdCI6MTYzNTUzOTk4NH0.95b05KgbD6LxJ58M9yikSKVLIgI31rY5WnXEeDblgWk/img.jpg?width=980"/> <small class="image-media media-caption" placeholder="add caption..."></small> <small class="image-media media-photo-credit" placeholder="add photo credit...">Ingels mobbed by fans at TASCHEN.</small> </p><p>Before the throngs of fans arrived, I was able to meet with the duo in the downstairs reading nook; the catering crew put prosecco on ice as close friends leafed through the books in TASCHEN's vast archives. Despite their fame and success, the pair were humble and incredibly thoughtful, even jointly moving a heavy, mid-century antique chair for this journalist to sit on. How they met, and later collaborated, is almost like a love story. Both were taking part in a <a href="https://conferences.ted.com/TEDGlobal2009/program/speakers.php">TED Talk</a> at Oxford six years ago. Ingels, a comic book designer-turned-architect, had just published <em><a href="http://www.amazon.com/Yes-More-Archicomic-Architectural-Evolution/dp/3836520109">Yes Is More</a></em>, a graphic novel of architectural evolution, and was intrigued by Sagmeister's use of politics and world culture to explain design. There was, in their own words, chemistry as the two discovered a kindred artistic spirit. "We talked about hit-or-miss sustainability," explained Ingels, "and that architecture is the art and science of making the world the way you wish it was." Both have been very successful in remaking the world in their complex, idealistic visions. Sagmeister, in addition to his prodigious work, has inspired legions with his thoughts on modern life and joy, encapsulated in his <em><a href="http://www.sagmeisterwalsh.com/work/project/the-happy-show/">Happiness Show</a></em> series, and even in the way he chooses to live, often leaving New York every seven years to rejuvenate. Ingels has put his colorful mind to work creating public design projects that are both useful and beautiful, as demonstrated by the <a href="http://www.dezeen.com/2014/07/12/movie-interview-bjarke-ingels-big-amager-bakke-power-plant-ski-slope/">power plant turned ski slope</a> he created in his native Denmark. Even though the project was a great success, both from a design and a sustainability angle, he had many doubters. As Ingels laughingly explains, one suit took him aside and told him, "This is a billion dollar project in our hometown. Don't fuck it up with something that's never going to happen." But despite taking bold chances, has always come out on top. Recently, he was <a href="http://www.fastcodesign.com/3042862/fast-feed/google-taps-starchitects-thomas-heatherwick-and-bjarke-ingels-for-new-headquarters">chosen to co-chair the recent redesign</a> of Google's headquarters in Mountain-View. Ingels has quickly become one of the most recognizable names in contemporary architecture.</p><p class="shortcode-media shortcode-media-rebelmouse-image"> <img class="rm-shortcode" data-rm-shortcode-id="07d3ab76e73efdf0d0ea383c846d9231" data-rm-shortcode-name="rebelmouse-image" id="6a6e4" type="lazy-image" data-runner-src="https://assets.rebelmouse.io/eyJhbGciOiJIUzI1NiIsInR5cCI6IkpXVCJ9.eyJpbWFnZSI6Imh0dHBzOi8vYXNzZXRzLnJibC5tcy8xOTgzNzU5Mi9vcmlnaW4uanBnIiwiZXhwaXJlc19hdCI6MTYwNjk3MDc2N30.VFT_C8NdA4PXaR0liCH5SBi3-XxesrIXuiC3b7e6RlI/img.jpg?width=980"/> <small class="image-media media-caption" placeholder="add caption..."></small> <small class="image-media media-photo-credit" placeholder="add photo credit...">At the discussion, the crowd was so large the pair needed to stand on book shelves for distance.</small> </p><p><em>Hot To Cold </em>is the "physical manifestation" of an exhibition currently running at the <a href="http://www.nbm.org/exhibitions-collections/exhibitions/hot-to-cold.html">National Building Museum in DC</a> till August. The 712-page work is also a thorough tribute to Ingel's accomplishments, as well as his failed bids, including a magnificent glass bridge to join two riverbanks in northern Norway. Ingels' delightful puckishness, and his optimism, even in the face of adversity, are perhaps both reasons why he's such a rock star to fans, and why, with the studied and deliberate Sagmeister at his side as foil, he's unstoppable. "The first time I talked to Stefan we had this idea that the book was going to be called 'Bigamy,' with the subtitle 'You can have both,'" says Ingels in reference to <em>Hot To Cold</em>'s title, a cheeky riff on the idea of duality in architecture, and how two, often opposing forces can be combined into something new and unexpected. But, as they note, "the board essentially thought it wasn't appropriate." After the initial setback, they got to work conceptualizing how the book could achieve the same organizing principle as the exhibit. The product was the result of long conversations, regular meetings, and a real mutual partnership. "Stefan is an expert in books, we [BIG] are [experts at] architecture, and we somehow bring those things together to find a way of structuring this book." Despite spearheading countless projects, Ingels still retains a level of awe and wonder about his own ability to create: "You come up with something that is completely made up, that is [essentially] fiction, and then you spend the next five, six years, solving all the problems, traversing all the obstacles, cranking it out. And when it's done, it now is part of daily life. So what starts as something completely fictitious ends up being a fact about life." And for both, design is life. "What's most fascinating about being a designer is the possibility that you could do something that helps other people," explains Sagmeister, "that excites people. And when that happens, you can see the work is really meaningful."</p><p class="shortcode-media shortcode-media-rebelmouse-image"> <img class="rm-shortcode" data-rm-shortcode-id="0e4ed57be7adef6483a876574aec5089" data-rm-shortcode-name="rebelmouse-image" id="6e02f" type="lazy-image" data-runner-src="https://assets.rebelmouse.io/eyJhbGciOiJIUzI1NiIsInR5cCI6IkpXVCJ9.eyJpbWFnZSI6Imh0dHBzOi8vYXNzZXRzLnJibC5tcy8xOTgzNzU5NC9vcmlnaW4uanBnIiwiZXhwaXJlc19hdCI6MTY1MjQ1ODM1MX0.2_HmHjDb-Jnemozq7H84YASj7o9hZ4GFYOL_iTnf5dg/img.jpg?width=980"/> <small class="image-media media-caption" placeholder="add caption..."></small> <small class="image-media media-photo-credit" placeholder="add photo credit...">Sagmeister jokes with a fan.</small> </p><p>To pick up your own copy of the book from TASCHEN click <a href="http://www.taschen.com/pages/en/catalogue/architecture/all/04636/facts.big_hot_to_cold_an_odyssey_of_architectural_adaptation.htm">here</a>. </p>