Articles
Join Us for GOOD LA's Launch Weekend: April 8, 9, and 10
Next month we're publishing the Los Angeles issue of our magazine and launching a new local community for L.A. Celebrate both with us!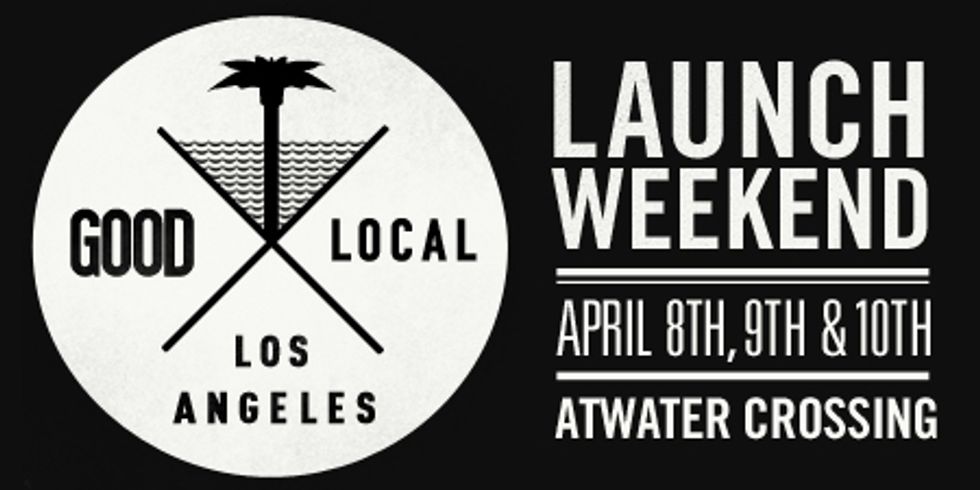 We're celebrating the publication of the Los Angeles issue of our magazine, and the launch of GOOD LA, a new local community for Los Angeles residents. So we're throwing a party to honor our hometown and the people who make it work (that's you!).
---
Join us at the GOOD LA Launch Weekend for urban adventures, DIY workshops, hack-a-thons, civic engagements, artist interventions, resource sharing, literary readings, film screenings, book club meetings, neighborhood walks, and locally-made goods, all at an exciting new creative space in Atwater Village.
Atwater Crossing (ATX)
3229 Casitas Avenue
Los Angeles, CA 90039


All events except for the GOOD Book Club take place at ATX
Parking is in two free lots, or street parking is available
We highly encourage everyone to bike or take public transit; plan your trip at Metro.net

All events are free but you must RSVP!
Read on for a full schedule of what we have planned...
Friday, April 8
Steal This Idea: GOOD Design LA
7:00 to 10:00 p.m.


We matched eight designers with eight urban problems proposed by city leaders working on issues from homelessness to obesity. These concepts will be featured in the Los Angeles issue of the magazine, and you can see the designers' ideas come to life as they present their solutions in front of a live audience, followed by a lively Q&A and cocktail hour.

Challenges from LAUSD/ 100,000 Homes & Home for Good / Metro / Los Angeles Food Policy Council/USC Center for Body Computing / Tree People / KPCC / Mayor Villaraigosa's Office of Neighborhood and Community Services
Design solutions from Mia Lehrer + Associates / Dan Goods and David Delgado / Amy Martin / Tanya Aguiñiga and David san Miguel / Bunch Design / Stuart Karten Design / Coolhaus by Farchitecture / Bobby Solomon, The Fox Is Black
Hosted by GOOD's Alissa Walker
Beverages by Greenbar Collective

FULL.
Saturday, April 9
Pop-Up Community Center
12:00 to 5:00 p.m.


Join some of our favorite Angelenos for opportunities to enhance, explore, improve, and give back to L.A. More details and a schedule will be emailed to you just before the event when you RSVP.
Local Marketplace featuring 24 vendors from Unique LA and Artisanal LA
p.o.p candy, AF2 Chocolatiers/Auntie Fruf's aahsome fudge, Jenkins Jellies, Mothercluck Artisanal Jams, Jellies, and Preserves, Crème Caramel LA, Vici Victual, Maggie's Tapas and Catering, I Heart Pies, Farmscape Gardens, Cold Brew and Cola, Cara Lydon, Stella Neptune, FAHMINA, Voz Clothing & Art, Janie XY, Klean Spa, Dust and Co., MNKR, Lulu Dee, 33 Stewart Avenue, Love Nail Tree, Cast Iron Gourmet, Echo Park Artisan Collective
Community Sharing Center byArroyo Time Bank, Closed on Mondays, Echo Park Time Bank, LA Food Swap, NeighborGoods, and swear on our friendship: Bring what you don't want, take what you need! Share, swap, exchange, and donate your goods, services and homemade treats. Meet the sharers at 1:00 p.m. and 3:00 p.m.
Live screenprinting by Eagle Rock Yacht Club and Hit + Run! Buy a t-shirt or bring your own and print it yourself. Check in to the event on Yelp to get a free t-shirt!
Smart City Camp hosted by LA APPS. RSVP here.
Make a zine with 826 LAand its talented writers and designers.
Join the Do Good Bus as they roam the party, doing good deeds for all.
Bring your old TOMS Shoesand help local artists recycle them into an interactive art project.
MAIN STAGE
Open Neighborhoods, 12:00-1:00 p.m.: Find out how to bring your community free wifi
100,000 HomesandHome for Good, 1:00-2:00 p.m.: Play a game that helps L.A.'s homeless, designed by Tanya Aguiñiga.
Backwards Beekeepers, 2:00-3:00 p.m.: From hives to honey, everything you need to know about urban beekeeping.
Public Matters, 3:00-4:00 p.m.: Watch how this local group works with teens to fight food deserts and bring healthy food to L.A.
Tree People, 4:00-5:00 p.m.: Learn how you can take easy steps towards living a more sustainable lifestyle.
Freewaves and Public Matters: We'll be screening videos from the new series Out the Window all day.
URBAN ADVENTURES
LA Commons, 12:00-1:00 p.m.: Take a neighborhood cultural walk through Atwater Village.
Streetsblog LA, 12:30-2:00 p.m.: Join a short bike ride around Atwater Crossing to learn more about safe cycling with commuting basics, safe riding tactics, hand signals and more! Ride will be on flat roads at a slow to leisure pace. Bring a bike, helmet, water.
de LaB, 1:00 p.m.: A field trip to a magical mosaic castle for Obscura Day (FULL)
The Big ParadeandLos Angeles Stairstreet Advocates, 2:00-4:00 p.m.: This urban hike will head over the river and into Silver Lake to climb a public staircase.
Friends of the LA River, 3:00-4:00 p.m.: Join FoLAR for a nature walk to the Los Angeles River (only a few blocks away!).
ENVIRONMENT
Common Studio: Learn the power of seed bombing.
The Ecology Center: Plant an herb garden you can take home with you.
Root Simple/Los Angeles Bread Bakers: Bake your own homemade bread, demo at 2:00 p.m.
LA Guerrilla Gardening: Find out how to make a planter out of reclaimed materials.
KIDS
Iridescent: Make your own mini-windfarm (kid-friendly!)
DESIGN
CRASH Space: Craft, hack, make, sew & solder: Do one of several DIY projects.
Rethink LA: Enter their "confessional booth" to discuss the future of L.A.
Craft and Folk Art Museum: Make an installation of paper, origami cranes for L.A and Japan.
Atwater Village Art Center, 3:00 p.m.: Visit their art show and gallery opening.
Wordspace, 2:00-5:00 p.m.: Bring a pen and paper and bring your Los Angeles experiences to life in a series of writing workshops.
HEALTH
Brazilian Yoga: Take these free kids capoeria, burlesque, courtyard yoga and remedy yoga classes.
Fitness Forum: Sign up for half-hour sessions on nutrition and workout tips.
Center of Grinberg Method Practitioners: Sign up for free bodywork sessions, demo at 12:00 p.m.
We'll have a map and directory on-site with all this information!
Beverages provided by ONE Coconut Water and Amstel Light
Wristbands will be $5 each for those over 21

Music by DJ Bennett Schmid
Food by The Mighty Boba Truck, The Hungry Nomad, Greenz on Wheelz, Gringos Tacos

Special thanks to 826 LA!
If you'd like to volunteer, email chelsea[at]good-projects[dot]com
Readings By Slake
5:00 to 7:00 p.m.

The hottest literary journal in town hosts an evening of stories, essays, and poems about Los Angeles read by Slakecontributors.

Justin Warfield
Lauren Weedman
Judith Lewis Mernit
James Greer
Natasha Vargas-Cooper
David White





Innovative and comedic mixology by Alie and Georgia, creators of the McNuggetini, and hosts of the Food Network'sDrinks with Alie & Georgia.
Wine by 55 Degree Wine
Music by Dorian Wood + band
Two performances by Heffington + KCT's The Sweat Spot pop-up dance studio
FULL.
Sunday, April 10
GOOD Book Club
CicLAvia: The 7th Street overpass over the 110 freeway, downtown


12:00 to 1:30 p.m.
We're holding the first-ever meeting of the GOOD Book Club right on the streets of L.A. where we'll be discussing Reyner Banham's Los Angeles: The Architecture of Four Ecologies with Los Angeles Times architecture critic Christopher Hawthorne. Also at the discussion will be Joe Day, who wrote the introduction to the newest edition of Banham's book, architect Craig Hodgetts, and other special guests. Bring your own seating or be prepared to sit on the sidewalk or street.


RSVP here. (Note: This event is NOT at ATX!)
Rio Arriba Tour from ZZK Records at ATX
4:00 to 10:00 p.m.

Sunset, drinks, delicious food, digitropical flavor. $5 at the door, or free with proof of bicycle transportation (bike or helmet) in honor of CicLAvia. Presented by Trent Wolbe and dublab.

Chancha Via Circuito
El G
+ very special guests
Paul Devro
Kingdom
Total Freedom
DJ Trent






FULL. Subject to capacity.