Articles
Creative Tech Reuse Project Wins the First GOOD Design Hackathon
The first edition of the GOOD Design Hackathon in New York City last weekend brought together scores of innovative minds in interaction design.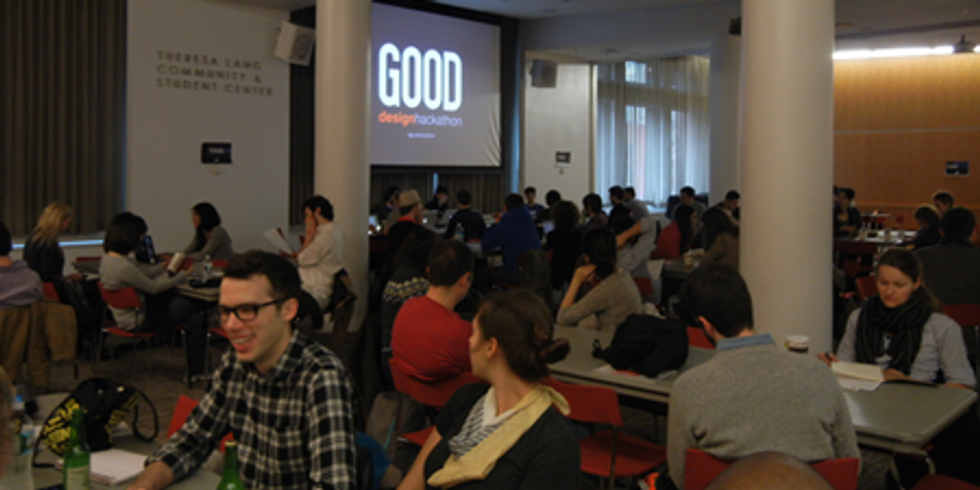 The first edition of the
GOOD Design Hackathon
in New York City last weekend brought together scores of innovative minds in interaction design.
The event drew more than 100 participants seeking to extend and recreate existing social and media platforms. GOOD challenged attendees to create a learning tool in 24 hours that supports learning by doing, sharing actionable information, and bridging communities. A unique group of software engineers, entrepreneurs, and students from the School of Visual Arts, Yale, Carnegie Mellon, ITP at NYU, and many other institutions comprised 20 teams of between four and seven people each.
---
The overall winner, as determined by the judges was Purpose, a project by The Comparators, whose team members included Tony Chu, Michael Yap, Prachi Pundeer, and Tom Harman. Purpose brings together consumers, makers, and manufacturers to enable creative reuses for unwanted technology. Consumers donate technology otherwise bound for the global waste stream, while manufacturers fund packaging, shipping, and handling as an opportunity to practice corporate social responsibility.
Read on to learn about the other winners:
Most Innovative: EveryStep by Aliona Katz, Emily Wagenknecht, Eric Schreiber, Tina Ye, Yang Yang
EveryStep is a personal health service and app that empowers individuals to raise money for causes they believe in, every hour of the day. It combines pedometer/run-tracker data and the concept of micro-donations to motivate you to exercise. For every step you run or walk, your friends and loved ones (who are invested in your long-term health) pledge a tiny amount. This inspires you to stay active over time, while spreading awareness and helping nonprofits raise funds in a sustainable, low-cost way.
Best Use of Social: BldgTalk by Engin Ayaz, Nick Santaniello, Maria Rabinovich, Phil Groman
BldgTalk is a platform for residents of a building to connect on practical, social, economic, and political issues. Through its user-friendly and inclusive design and its offline services, such as the building newsletter, it facilitates resident engagement within the building and encourages active citizenship within the greater community.
Best Use of Location: 100 Mile Kitchen by Georg Fischer, Able Parris, and LA Hall
Many of us want to be more intentional about buying local food, but it's not easy. The biggest barrier is education. For our project, we asked ourselves, "How can we help consumers reduce their 'food miles', and buy food grown and packaged within 100 miles of the city?" 100-Mile kitchen is like Wikipedia meets Mint.com. Individuals are able to track every part of their home-cooked meals to learn where they come from, and more importantly, where to buy locally-sourced foods next time.
Photos, group presentations, and additional coverage of the event will be available later this week at good.parsons.edu. Special thanks the School of Art, Media and Technology at Parsons the New School for Design for hosting the event. For more information, email doris at goodinc dotcom.