Articles
A City Education: A Positive School Environment Can Keep Students Motivated
In the lunchroom, there's a mural of City Year corps members playing with notable characters from famous books.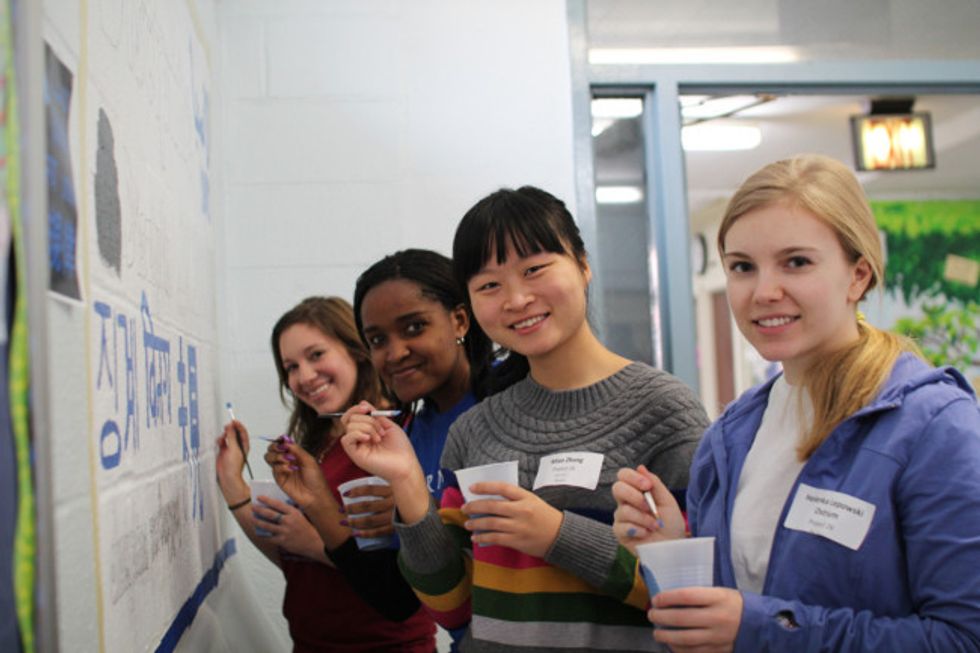 In our A City Education series, two City Year corps members share their experiences working as tutors and mentors in schools in hopes of closing the achievement gap and ending the dropout crisis.
In high school, the back wall of my French classroom was painted with a Paris scene prominently featuring the Eiffel Tower. Instead of a blank wall, I saw a place I wanted to visit. The visual sent me the message that if I kept studying hard, one day I would be able to walk those streets and speak the language.
---
As a City Year corps member, I spend much of my day helping students with their academics, whether through in-class support, literacy interventions, or after-school homework help. We also try to help create a positive school climate and participate in service days—events that allow large groups of people from the community to come together and leave a lasting impression on a school.
This year, on MLK Day, we brought together more than 750 volunteers and corps members to paint inspiring quotes above doorways and spruce up school walls with colorful painted murals. There is something cool about how a little paint can really change your mood when you enter a space. At P.S. 50, our library has a jungle theme—with a tree in the center and branches extending outward—that helps create a cozy, fun atmosphere.
In the lunchroom, there's a mural of City Year corps members playing with notable characters from famous books—telling students that the characters are interesting and books are enjoyable. My favorite scenes are in the basement, where children's book covers are painted throughout the hallways. These paintings are inspiring, but they also remind students that school is a place to develop the entire person. If a school environment is exciting and positive, it can motivate students to come to school and stay engaged and focused throughout the day.
In college, I finally got to see the Eiffel Tower, and it definitely met my expectations. The instruction in my visually inspiring French class would have been the same in a classroom with boring beige walls, but I have clear memories of this class, partially because the room was lively, colorful, and full of hope. I hope that the words and images painted upon the walls of P.S. 50 and the other schools served by City Year make our students smile, encourage them to use their imaginations, and inspire their goals for the future—just as they did for me.
Photo courtesy of City Year New York