Articles
A Month Later, "Homeless Man with a Golden Voice" Is Abandoned by His Corporate Friends
Less than two months after being initially discovered, the homeless man with the radio voice has been abandoned by his benefactors.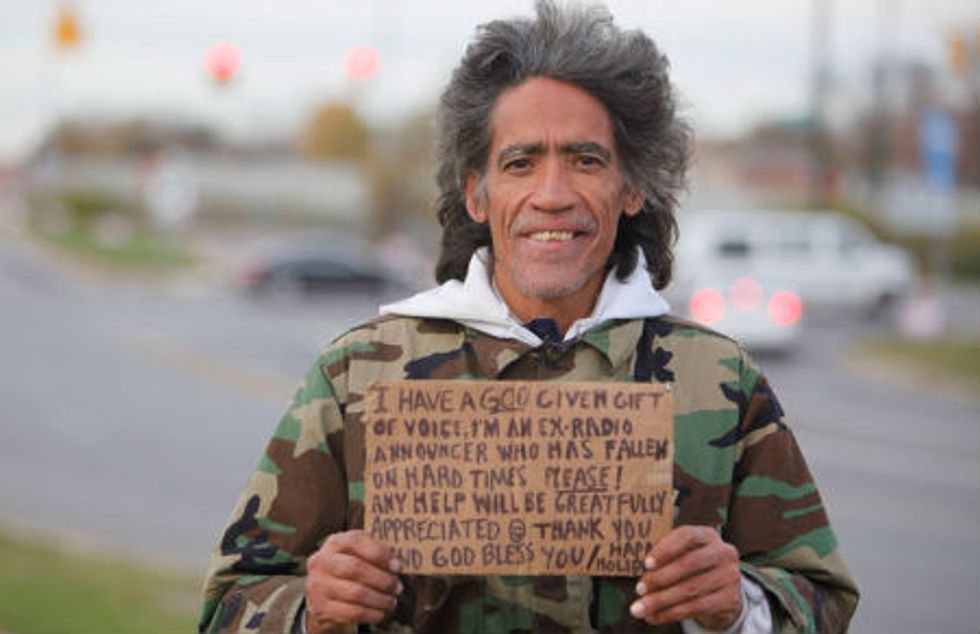 In early January, a journalist in Ohio came across a homeless man possessed of a "golden radio voice." That man, as you probably know, was Ted Williams, and the journalist's video footage of him
quickly became a hit
on the internet and television. Williams got a makeover seemingly overnight, and soon he was doing voiceovers for Kraft products, appearing in TV ads, and fielding
an announcing job offer
from the Cleveland Cavaliers. But then reality struck.
After getting into an altercation with his daughter, an altercation for which he was not arrested, Williams was pressured into going into rehab for alcohol addiction by TV psychologist Dr. Phil McGraw. He then left almost immediately, saying he felt rushed and that the process (i.e. being broadcast on Dr. Phil live from rehab) felt "scripted." Williams then checked himself into a sober living house for voiceover actors in Los Angeles, where he could come and go as he pleased, but where he still needed to submit to drug tests and promise to remain clean.
---
Eventually came word that Williams had long ago abandoned his nine children. And then The Smoking Gun released his rap sheet. Ultimately, it turned out that the man with the golden voice did not have such a golden history.
Alas, in the aftermath of his troubled second chance, Williams is still making minor appearances—the Los Angeles Times reports he was recently at a milkshake shop—but Kraft hasn't brought him back, his TV ads have been pulled, and the Cavaliers' job offer has been reneged. He's been abandoned almost as quickly as he was embraced, and for nothing more egregious than any other common celebrity infraction.
In the future, it would probably be wise for Americans and the media to remember that people emerging from the depths to which Williams sank need time to recover before they're thrown in front of cameras and lights and millions of people. Nobody's saying that it can't be done, of course, but it shouldn't be done over night. And when people crash and burn because they weren't ready for the spotlight, it seems wholly wrong to immediately forget about them.
If there's such a thing as a second chance, there should be a third chance, too.
Update: In a recent development, Williams has been signed to star in the first season of Second Chances at Life, a reality show that will follow people who have fallen onto hard times as they "battle to rebuild their careers and personal lives."