Articles
Al Davis Was a Vindictive Control Freak—And I'll Miss Him
With any luck, the Raiders will keep the best parts of Davis' legacy alive for many more years while burying the cruel and petty parts.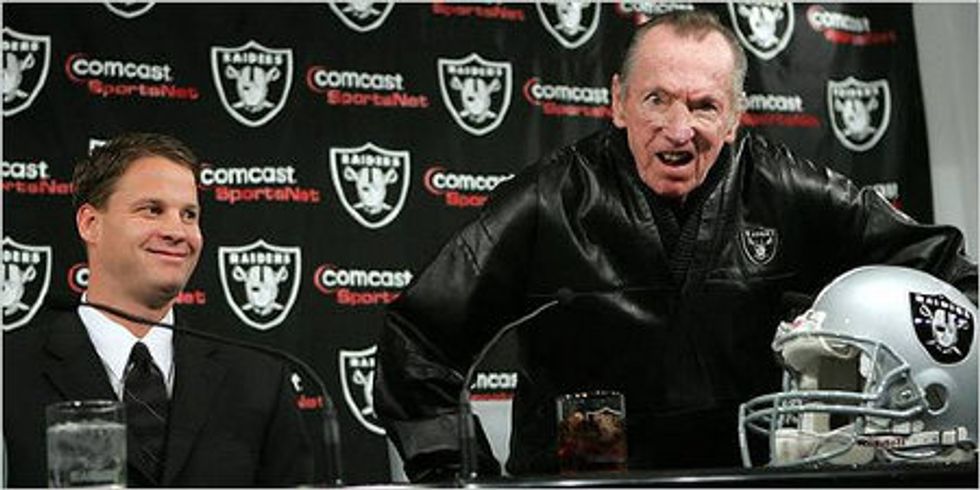 I've lost count of the number of times I've wished for Al Davis' death.
---
I know that sounds terrible, and it is, but when a megalomaniacal control freak is in charge of something you care about and is running it into the ground, what other option do you have? Being an Oakland Raiders fan over the past several years has meant watching Davis, the team's owner, make a string of bad draft picks (most notably JaMarcus Russell, who hasn't played football since the Raiders released him in 2009), employ a constantly rotating carousel of coaches (often hired out of nowhere and fired as soon as they crossed the big boss), and rack up dozens of losses. Davis was the Raiders' judge, jury, and executioner, and the only hope for a fresh perspective was losing the old one.
Yet when I woke up Saturday morning to news of Davis' death, I didn't feel relief. Three days later, I still feel sad that the old man is gone—and disoriented by the disconnect between my heart and my head.
I've read tens of thousands of words written about his fashion choices (white Raiders track suits, gold-framed glasses on a gold chain), his fascination with Hitler, and his various feuds. Like every time someone prominent dies, the media coverage has glossed over his shortcomings, which were numerous. The obituaries all give him credit for being loyal, which he was—stories abound of Davis cutting checks to employees in need—until he wasn't. After a contract dispute, he tried to destroy the career of Marcus Allen, one of the greatest running backs of all time and a two-time Super Bowl winner in a Raiders uniform. When his relationship with then-head coach Lane Kiffin went south, he publicly called Kiffin a liar and a disgrace to the franchise. He could be manipulative, vindictive, and just plain mean.
Most notably, Davis betrayed the city of Oakland when he moved the Raiders to Los Angeles in 1982, then betrayed Los Angeles 13 years later to return to Oakland when he couldn't get the stadium upgrades he wanted at Memorial Coliseum. When the league tried to block the first move, he steamrolled them until he got his way. When three cities filed lawsuits against him because of broken promises, he defeated them all.
What's remarkable about this saga is that people don't hate Davis more. After Art Modell moved the Browns from Cleveland to Baltimore in 1995, he was forced to move his family out of Ohio because of the threats against him. Clevelanders hate him even more than LeBron James, which says a lot. If Modell died tomorrow, there would be dancing on the shores of Lake Erie.
Compare that reaction to the one Davis got. Sure, there was plenty of anger when he moved the team, but Oakland fans forgave him as soon as he moved back north, and the Raiders remain Los Angeles' most popular non-hometown team by a mile. I'm not the only fan who hated him in theory only to realize how much I loved him once he was gone.
After all, Al Davis was the Raiders—there's never been a way to root for the 11 guys on the field without supporting the one in the luxury box. Sunday marked the first Raiders game in 49 years without Davis overseeing the proceedings. His bluster, his bullying, and his victim complex all made him the perfect fit for Oakland, which exists almost literally in the shadow of its larger, glitzier neighbor to the west. The 49ers may have more Super Bowl wins and two of the best quarterbacks of all time, but the Raiders have—had—Al Davis.
When your team loses the man who defines it, what does it have left? The Raiders are in the midst of a years-long process to overcome the turmoil of the last decade. Redefining themselves after Davis' death will take much longer.
With any luck, the Raiders will keep the best parts of Davis' legacy alive for many more years while burying the cruelty and pettiness. Though it's only been three days since his death, signs are good that the team took the right message.
As if to epitomize Davis' overarching philosophy—"Just win, baby!"—the Raiders were beaten soundly in Houston on Sunday in every statistical category except total points, eking out a 25-20 win. They nearly gave it away in the closing seconds of the game, until Michael Huff—a classic, much-ridiculed Al Davis draft pick—came out of nowhere to intercept the ball in the Texans' end zone. After the game, head coach Hue Jackson congratulated Huff in an emotional locker room speech, but awarded ultimate credit elsewhere.
"That was a hell of a job by you, Michael Huff," Jackson said. "But I tell you this, Al Davis had his hands on that ball, man."
Photo via (cc) Flickr user Ryan Leighty