Articles
AOL and The Huffington Post Create Click-Generating Chimera
AOL, the struggling internet behemoth of the 1990s, is going to acquire The Huffington Post for $315 million. Will the public benefit?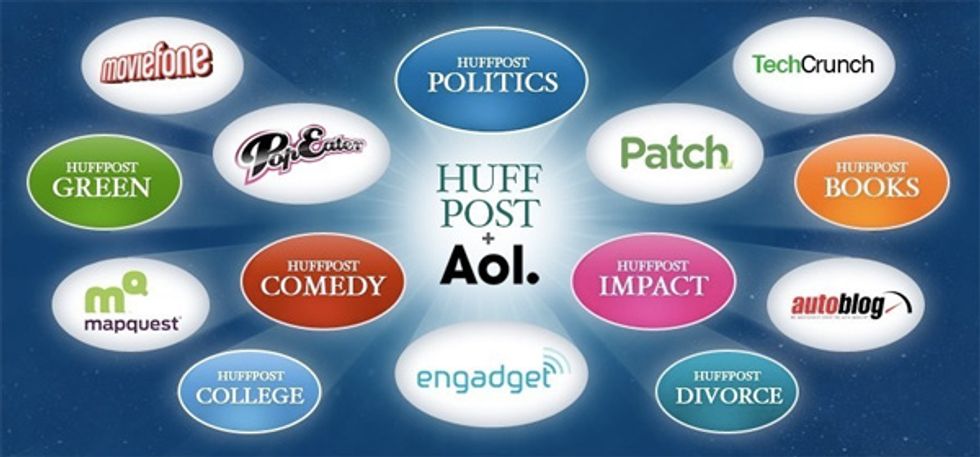 According to
news
released early this morning, AOL, the struggling internet behemoth of the 1990s, is going to acquire The Huffington Post, the flourishing media mini-empire of right now. AOL will pay $315 million for the site, and Arianna Huffington will become president and editor in chief of a new "Huffington Post Media Group" that includes all of AOL's national and local news as well as TechCrunch, Engadget, and even MapQuest (yes, MapQuest still exists, and even
has some advantages
).
The New York Timesexplains the apparent logic:
---
For The Huffington Post, which began as a liberal blog with a small staff but now draws some 25 million visitors every month, the sale represents an opportunity to reach new audiences. For AOL, which has been looking for ways to bring in new revenue as its dial-up Internet access business declines, the millions of Huffington Post readers represent millions in potential advertising dollars.

\n
Touting the benefits of the two companies joining forces, Arianna Huffington wrote that "In this case, 1 + 1 = 11." It never does, of course, but over at Reuters, Felix Salmon argues that this was a good business decision for both parties, fuzzy math aside. It will give AOL a clear editorial brand and will give The Huffington Post big name blogs likeTechCrunch and Engadget—and money. It will also, he says, make Arianna Huffington "Empress of the Internet."
The Huffington Post announced this deal with the graphic above (Alexis Madrigal pokes fun), and it gives you a sense of what this new Huffington Post Media Group is going to look like. It's going to be a gigantic chimera with a single mission: to generate pageviews. Whether it also helps foster a public that's informed about the issues that matter most remains to be seen.