Articles
Architecture Is Tough! Will Architect Barbie Help More Women Become Designers?
Forget her non-black dress, or the fact that her hard hat doesn't match her shoes. Can a doll really change the way girls think about their future?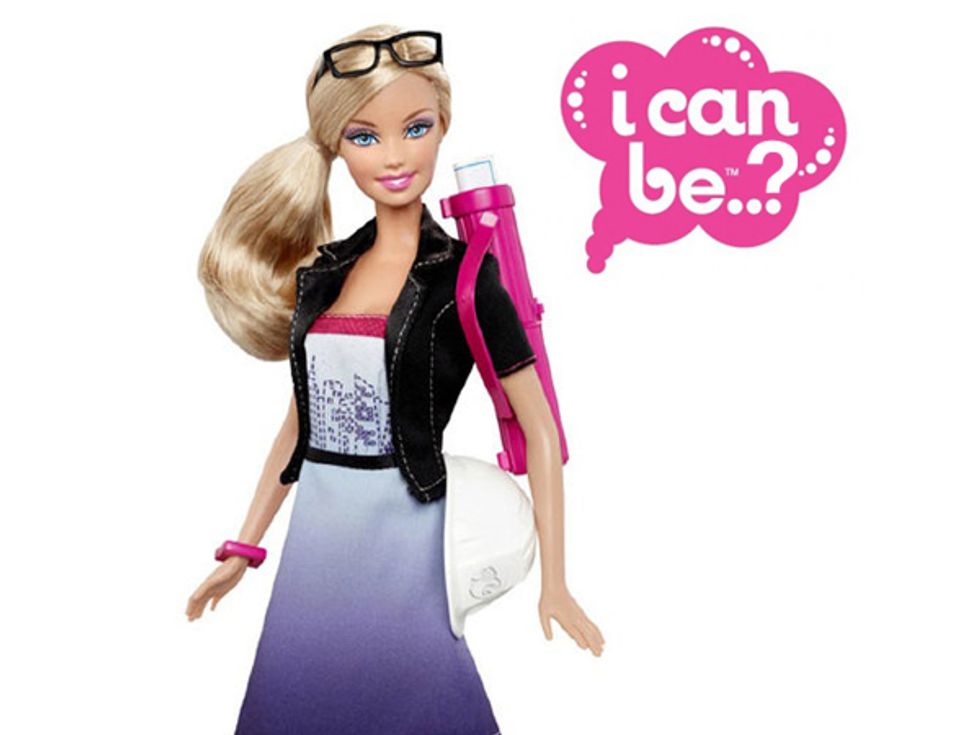 Each year Americans make a very important decision that affects the future of our country. They choose the next career of a certain plastic icon.
---
As part of the Barbie "I Can Be..." series, several vocations for the doll are suggested to the public, and Mattel asks us to choose which of these wide-ranging careers are most important for girls to emulate. Last year Architect was in the running—alongside Computer Engineer, News Anchor, and Environmentalist—sparking a wave of design-centric support. Architect didn't win the popular vote as the next doll to be produced, but a year later, Mattel announced at the annual Toy Industry Association Toy Fair that Architect Barbie was indeed in the blueprint phase. Later this summer, you'll finally be able to meet (and purchase) Architect Barbie.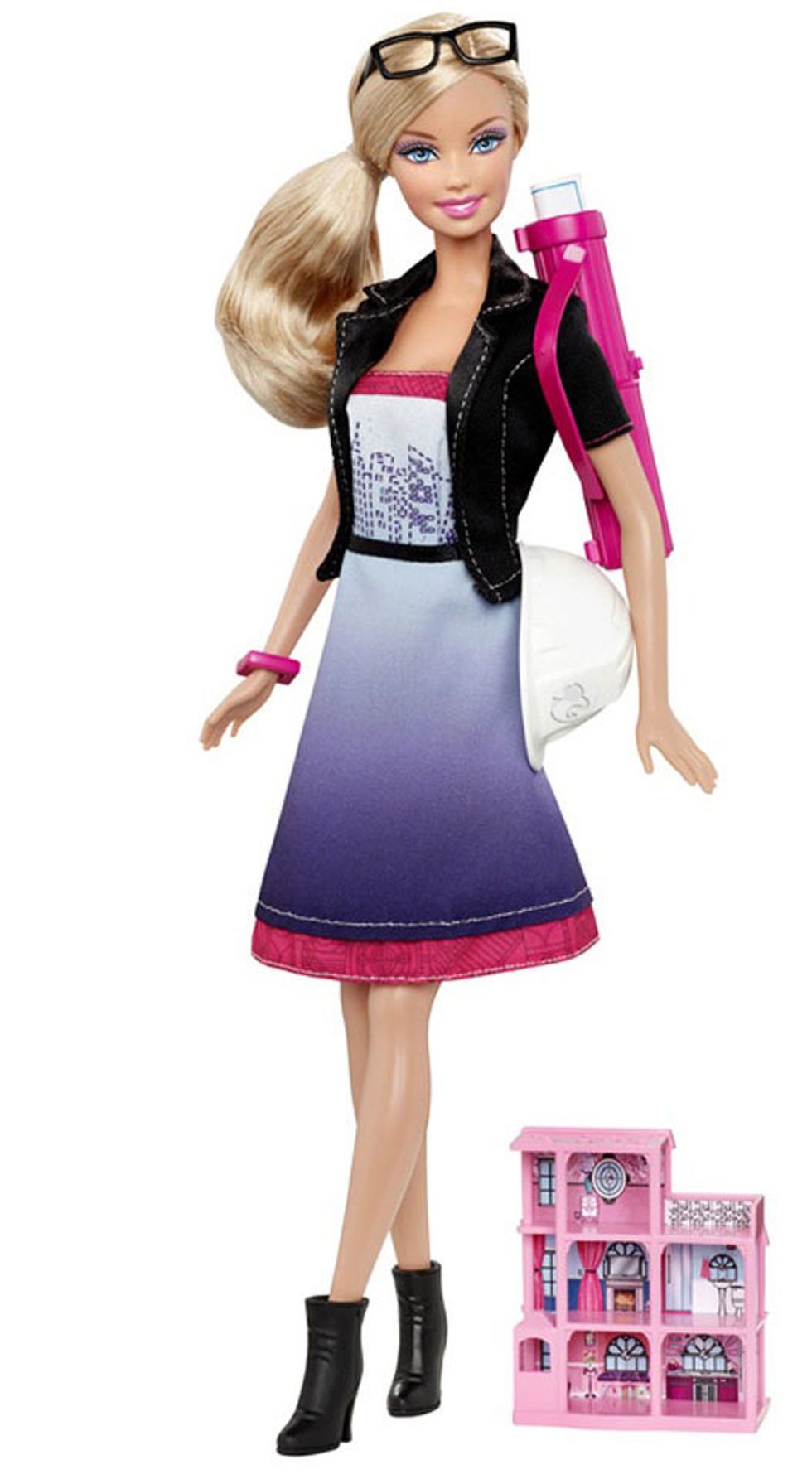 Architects are upset because she's wearing too much color. Also, scale models hardly ever come in pink.
There has been much discussion in the design community over the last week about Barbie's sudden ascension into the ranks. Mostly, about how Mattel got it all wrong. Architizer interviewed the handful of female architects who won the AIA's Young Architect Prize about Barbie. They commented, mostly, about her clothes and accessories. Carrying an outdated document tube! Wearing high-heeled boots on a construction site!
I'm not really as concerned about all that—first of all, she's a doll; second, her feet are molded into that permanent tippy-toe, she can only wear heels, people. But I'm honestly interested in the real impact that this doll could have on how many women enter the design field.
You may remember a piece that I wrote last year, "Where My Ladies At?" In it, I uncovered some interesting statistics about the industrial design field. Even though, anecdotally, women make up about half of design students, when it comes to practicing industrial designers, the number of women drops to about 10 to 15 percent. It's slightly better for architects. There's a statement about Architect Barbie at the site of the American Institute of Architects which notes that only 17 percent of their ranks are female.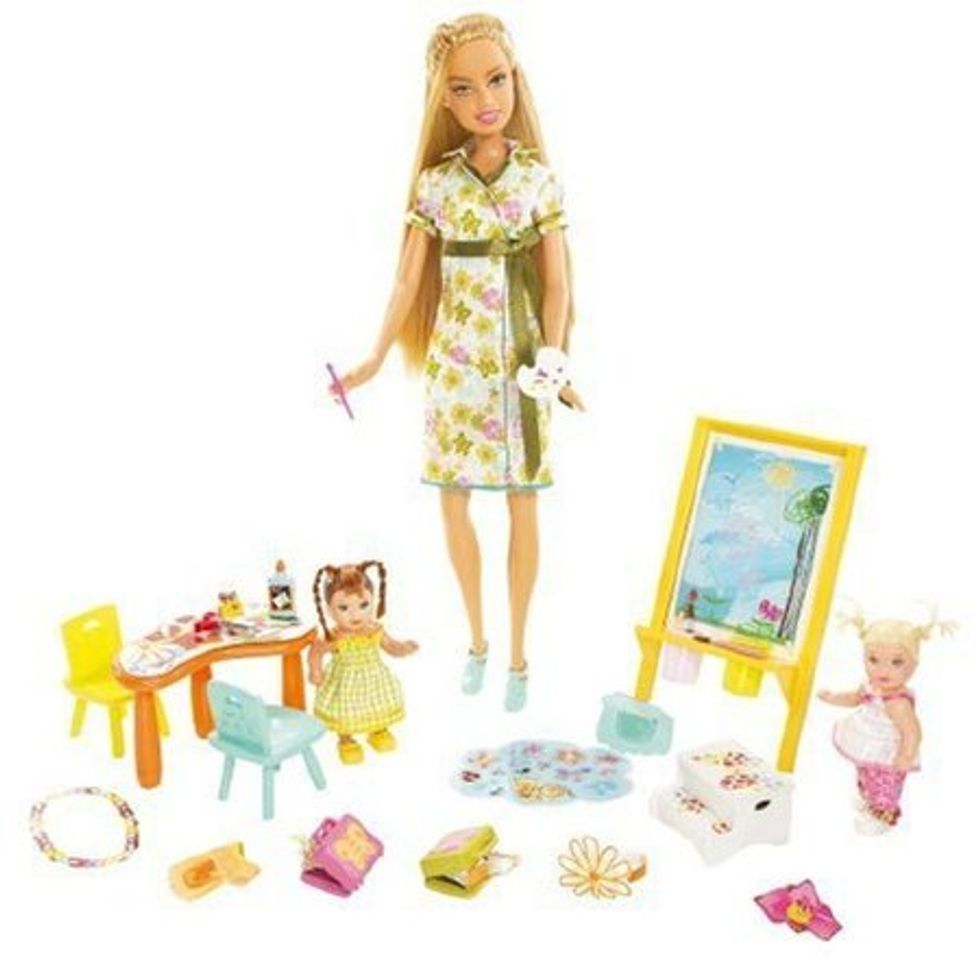 Did "I Can Be... Barbie Art Teacher" inspire a wave of design educators? What about "I Can Be... Barbie Pet Sitter"?
Can a doll, especially one as iconic as Barbie, sell young girls on a future career? Mattel thinks so: "Barbie inspires girls to try on different careers, encouraging them to play out their dreams and explore the world and all of its possibilities without ever having to leave home," Mattel spokesperson Michelle Chidoni told the AIA. "We believe role-playing with Barbie leads to real life opportunities, and are very proud to introduce I Can Be...Architect Barbie as our 2011 career of the year."
The two female architects who consulted with Mattel to make Architect Barbie a reality also think she can inspire the next generation of designers. In fact, that's why they launched a ten-year campaign to get Mattel to listen to them.
In 2002, Architect was also on the "I Can Be..." ballot, and from the beginning, University of Buffalo professor Despina Stratigakos, who has devoted a career to studying gender and design, saw the power to raise the profile of female architects. "Barbie is a cultural icon with the power to provoke conversations," she tells me. "We could imagine a conversation at the toy store between a girl and her parents about the roles of women in society today. But we also hope the doll will prompt those in the profession to reflect on issues of identity and image, particularly with regard to exclusions."
Ten years ago, the American public did pick Architect (over Librarian, even!) but Mattel never announced the doll. So Stratigakos mounted an exhibition in 2007 at the University of Michigan where she asked designers and artists to create their own vision of what the doll might look like. The Architect Barbie exhibition even featured a pregnant, "glass ceiling" Barbie.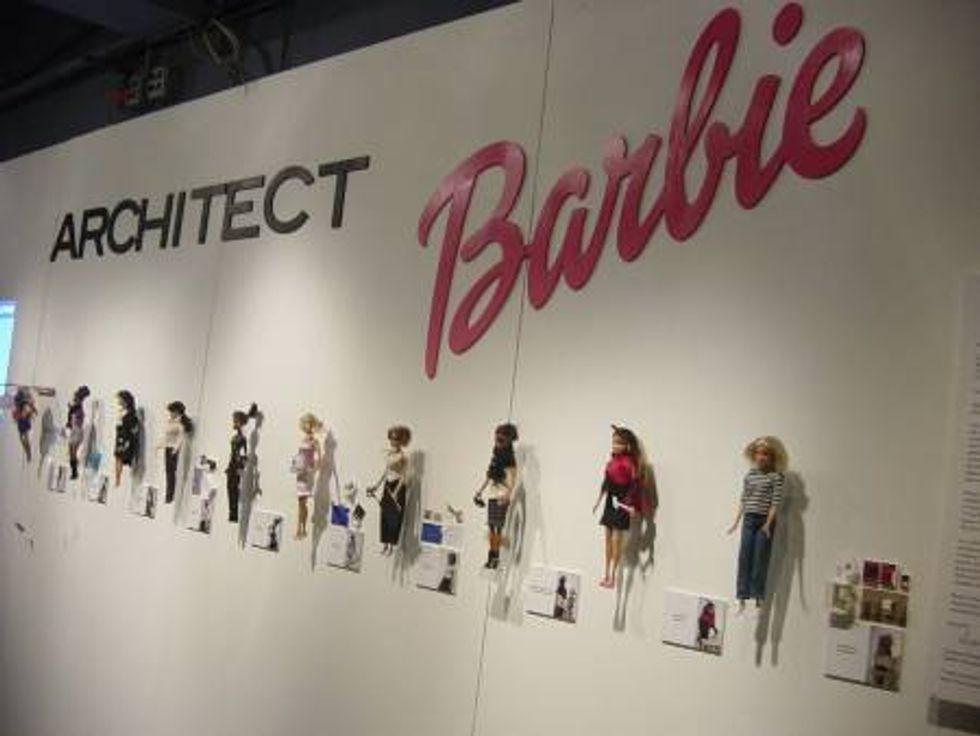 The 2007 Architect Barbie show was a humorous but skewering look at the role of women in design
When Stratigakos came to Buffalo, she met Kelly Hayes McAlonie, who is associate director of the Capital Planning Group at the University at Buffalo, and who has also worked to raise awareness of women in architecture. She points to the biography she's writing on Louise Bethune, who is likely the first certified female architect in the world. "Despite the fact that Louise Bethune, the first woman architect, practiced 125 years ago, many little girls are not aware of architecture as a profession," says McAlonie. They became united in their goal to create awareness among young women, and agreed that Barbie would be a good way to do it.
In 2010 Stratigakos and McAlonie embarked upon a huge campaign to get Architect Barbie to be victorious in the "I Can Be..." battle royale, even penning a letter to Mattel. To their pleasant surprise, Mattel got in touch with them. "Last July, Mattel contacted us and said it planned to move forward and asked for our help," says Stratigakos. "Working with Mattel's very talented designers, we made suggestions about Architect Barbie's clothing and her accessories." Even though people have fixated on her clothes, Stratigakos defends the need to have elements that borrow from stereotypes as well as ones that buck them. "We wanted Architect Barbie to be both recognizable as an architect, which meant drawing on popular conceptions, and yet also challenge those conventions," she says. "Who said architects can't wear pink?"
McAlonie says that throughout the process she recruited feedback from what was essentially their client: a friend's daughter, who is now twelve. She wants to be an architect, says McAlonie. "She loves it! She thinks that Architect Barbie will appeal to little girls, which is our goal."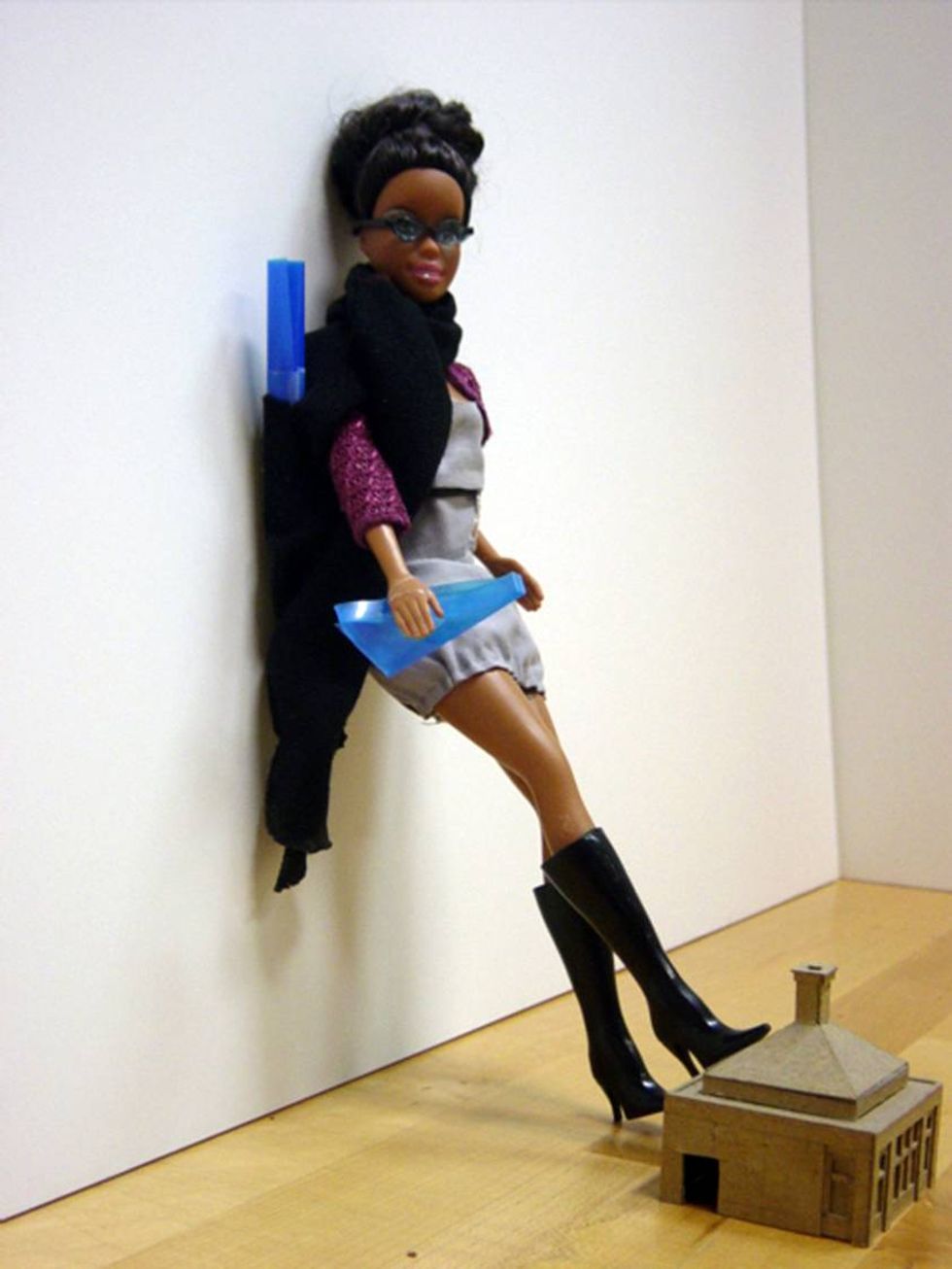 A Barbie from the exhibition by Mashawnta Armstrong explores issues of design and diversity
But McAlonie and Stratigakos agree you can't pin all your hopes on a plastic role model. It's about real-life role models, too. "Kelly and I are also firm believers in introducing children to design early on and expanding the mentoring opportunities for architects," says Stratigakos. "The more role models we have to choose from, the better."
But role models or not, getting young women to want to become architects is really not the problem, notes Kristine C. Royal, of Architecture Royal, in the Architizer interview: "Do I think this will help attract more young women to the profession? No… The trouble we have is keeping women in the profession and actually converting them to licensed architects." And that's the truth.
While I was writing this today I thought a lot about that. What truly influences what we want to be when we grow up? And what makes us want to stay what we want to be?
I always wanted to be an architect when I was a kid, but I never could figure out exactly what it was that architects did. I drew floorplans for my own dream houses across miles of graph paper. I built extensive, multi-level Lego homes (some for Barbie and her clone-like friends). I read my mom's Architectural Digest, hoping to glean some answers about my chosen vocation, and instead was rewarded with glossy photos of chintzy swag-curtained living rooms and bad ads for carpet. My parents didn't know any architects. I hadn't yet read The Fountainhead. I couldn't see what "being an architect" looked like.
I never found my design role model, plastic or otherwise. Maybe if I had received an Architect Barbie when I was six, I wouldn't have become a writer.