Articles
Are Report Card Ads the Next Step for Budget-Crunched Schools?
Motivated by a $70 million deficit, a Colorado school district is selling ad space on report cards.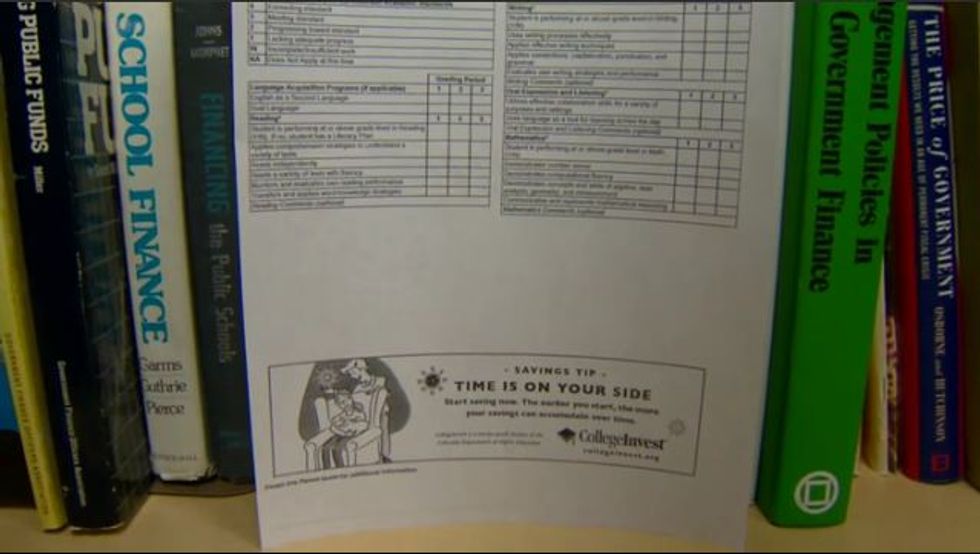 Big changes are coming to grade school
report cards
in one Colorado school district. With a $70 million budget deficit looming, Jefferson County Public Schools officials have agreed to include advertisements for Colorado's nonprofit education savings plan, CollegeInvest, underneath student grades. In return, the school system will receive $90,000 over three years.
Lorie Gillis, Chief Financial Officer for Jeffco Public Schools, told NBC 9 News that budget cuts mean the district has to be "creative" about the way it funds schools. "You can look and say, '$90,000 isn't that much, $30,000 a year isn't that much,' but we are at a point in time where it is that much because it matters," she said. "If it's $30,000 a year, that could be 60 more laptops in the classroom."
---
Gillis admits the marriage between schools and advertisers can be a slippery slope. "Where do you stop with commercialization of the school district?" she said. "Are we just going to start seeing advertisements everywhere?" Jeffco Schools already allows ads on school buses, as do an increasing number of school districts nationwide. The Colorado Springs school district, one of the first in the nation to approve bus ads, brings in as much as $180,000 per year. The only restrictions most districts impose is that ads can't promote alcohol, tobacco, junk food, or political or religious agendas.
Angela Baier, the chief marketing officer for CollegeInvest, says she sees the ads on Jeffco's report cards as public service announcements, because it's important for parents to start saving for college as soon as possible. She says they're a "win-win" for everyone involved.
But there's something unsettling about knowing that today's students will see evidence of our unwillingness to fully fund public education on their report cards 30 years from now. If schools didn't have to hustle for advertising dollars, maybe they'd have time to foster the type of collaborative relationship between students, parents, and teachers that would actually improve performance on those report cards.