Articles
When it comes to books, we Americans have author loyalty (I can't wait to read the new Lorrie Moore novel), and bookstore loyalty (I will only...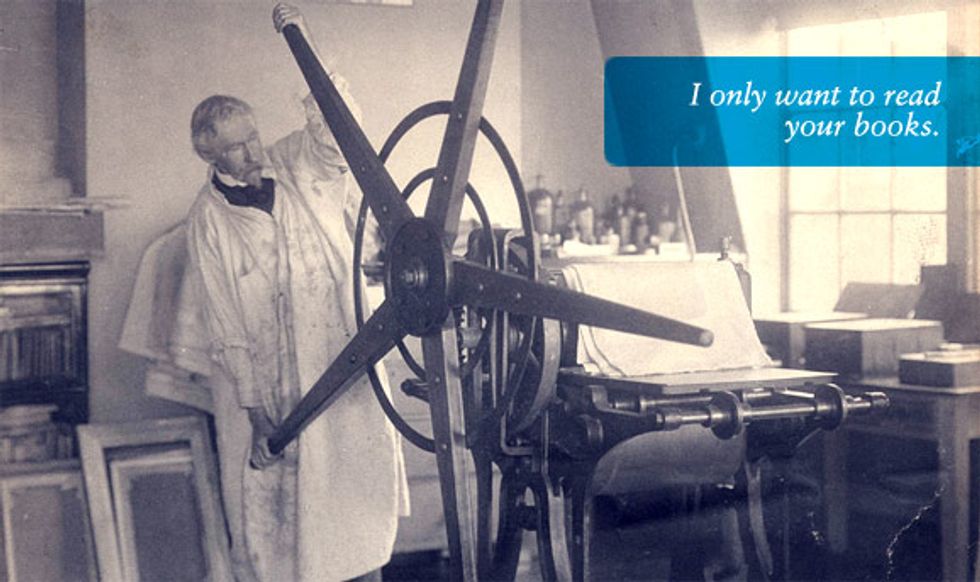 ---
When it comes to books, we Americans have author loyalty (I can't wait to read the new Lorrie Moore
novel
), and bookstore loyalty (I will only shop at local independent bookstores, like
Visible Voice
or
Mac's Backs
). Both forms of faithfulness offer perks, often intertwined. You can, for instance, hear your favorite author read at your local bookstore, buy a copy and have him sign it (and if you are really lucky, join him in a book club discussion of his novel, as Clevelanders
can
with Dan Chaon's
Await Your Reply
).
But we do not have publisher loyalty. I have no idea who is publishing the new Lorrie Moore novel, or who is putting out E.L. Doctorow's
Homer and Langley
, just published to
great reviews
. This hazy disappearance of the producer of books from reader consciousness does not happen in most other forms of culture and entertainment. We often connect movies with studios (especially ones like Dreamworks or Pixar), television with stations (think Bravo and HBO), music with labels (Deutsche Grammophone), visual arts with galleries (Leo Castelli). But only the most in-the-know publishing insiders can tell you what makes a piece of fiction a "Random House title" as opposed to one from Scribner's, say.
Small, independent presses, which should have more cultish followers, lose out as a result. Few of us identify as an "indie book" sort of reader, though we all know those who say they are lovers of indie film or music. I would wager that people would be happy to have a convenient shorthand for their literary tastes as well. (Interestingly, a new form of brand identification is rising: platform loyalty. Do you read on a Kindle, Sony e-reader, use Scribd or refuse to do any of the above? This question will be asked more and more.)
Book clubs, however, are a time-tested way that readers identify with a larger reading community. Back in the day, leading critics and writers like Lionel Trilling and W.H. Auden selected books for a club called the Reader's Subscription (for more about this interesting experiment, read this excellent
book
), and wrote newsletters about their choices. That club appealed to a more literary community than do the Book of the Month and Oprah's Book Club, both of which are still popular today.
One way publishers might generate interest and brand loyalty is to offer a subscription model that works like a book club. McSweeney's has done so successfully, and they are the one exception to my rule. "I read McSweeney's" is a fine way of telling someone about your taste while flirting at a coffee shop. (And by the way, the next title in McSweeney's club could not be more exciting-a big furry edition of
Where The Wild Things Are
!)
Powell's Books is also trying out the model with their recently launched subscription club called
Indiepensibles
. For $39.95 every six weeks, they send you a signed first edition of an independent title. They add in some bonus materials too-always a surprise (log on to their
blog
to find out how they assemble each shipment). Indispensables makes me even more of a fan of Powell's, but again, they are a bookstore-not a publisher.
Perhaps publishers could use the economic downturn and the supposed death of print to their advantage, and convince consumers to band together into a subculture based on retro-cool cache, akin to the revival of vinyl. Book club selections, after all, would be delivered via the
post
. How fun might it be to sit around waiting for the mailman again? I can see the Penguin T-shirts now.