Articles
Buy a Hat and Change a Life with Krochet Kids
You'll be buying from, not donating to, the developing world.
[youtube]http://www.youtube.com/watch?v=AVSivLc3whY&feature=youtu.be
In the age of buy-one-give-one companies like TOMS shoes and Warby Parker, there are seemingly endless ways for shoppers to feel good about buying shoes or glasses for themselves because less-fortunate people get a pair, too. Krochet Kids, a hat company based in Southern California, approaches the model a little differently. A woman in a developing country—Uganda or Peru—knits each hat you buy. Instead of purchasing a pair of shoes for a person in need, by buying a hat, you're investing in the people themselves. It's called human capital, and while it's less tangible new pair glasses, it's working toward a better, sustainable future.
---
Krochet Kids was started three years ago by three friends who shared a love of crocheting. The idea was simple, just like the art of crochet: Give women in developing countries the tools to make product, pay them a fair and living wage, and turn around to sell the product back to the developed world, creating a bridge between cultures using nothing more than yarn and needles. It's not buy-one-give-one, but it works.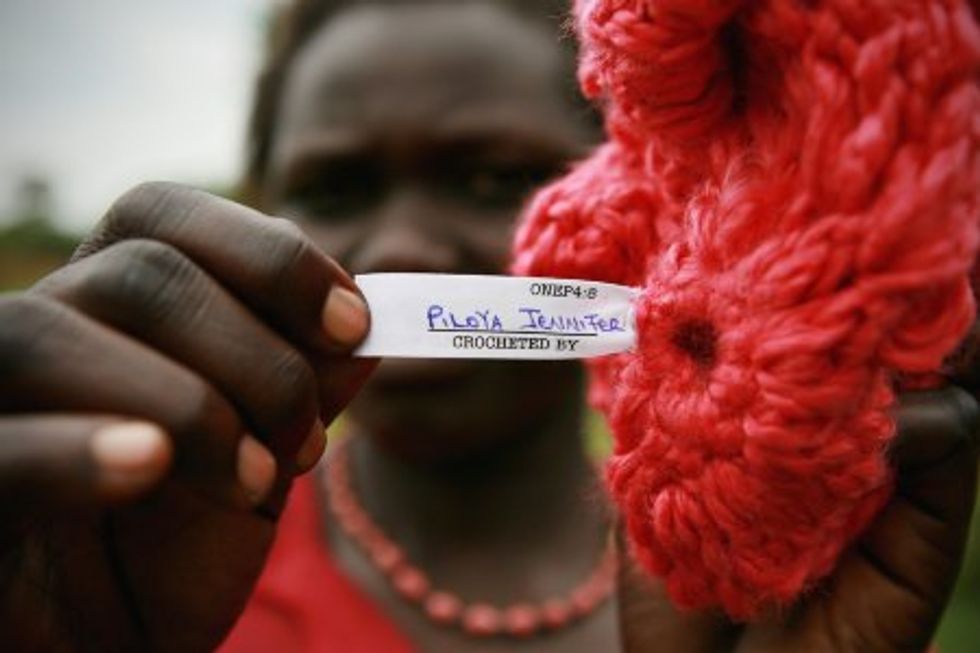 "We have seen a disconnect between the traditional concept of charity and the desire of people living in poverty to be given the chance to change their own story," said Kohl Crecelius, CEO and co-founder. That disconnect was stitched together by cultivating a new industry and by employing those in need to work towards a more sustainable future.
"By investing in a person," said Crecelius, "we instill the confidence and knowledge that they are capable of taking care of themselves. By providing a job we are eliminating the need for someone to receive handouts of any kind. And by coupling that job with education and mentorship we are ensuring this cycle will last for the long-term as people move on to start their own businesses or careers."
The idea was born when one co-founder took a trip to Uganda. He realized that the cycle of poverty was so difficult to break because some people, for as long as 20 years, had been relying solely on aid. Crecelius said that he and his friends taught local women how to crochet, "because it was a skill that we possessed. It was something we knew and could pass on to others." Crochet was something simple, and because of that, it had the potential to be profoundly useful. What the women of Uganda needed was a fair and steady wage, and that could be provided through making hats.
In the past year, 160 women employed by Krochet Kids saved a total of more than $40,000. All of the savings plans are managed by the crocheters themselves. That may seem like a small sum from a global-aid perspective, but the company is expanding. In three years, product sales have jumped from 2,000 to 100,000 annually and are expected to continue growing, says Crecelius.
Video and photo courtesy of Krochet Kids