Articles
"A year ago, yes, it was a guess, it was a risk, today it's not."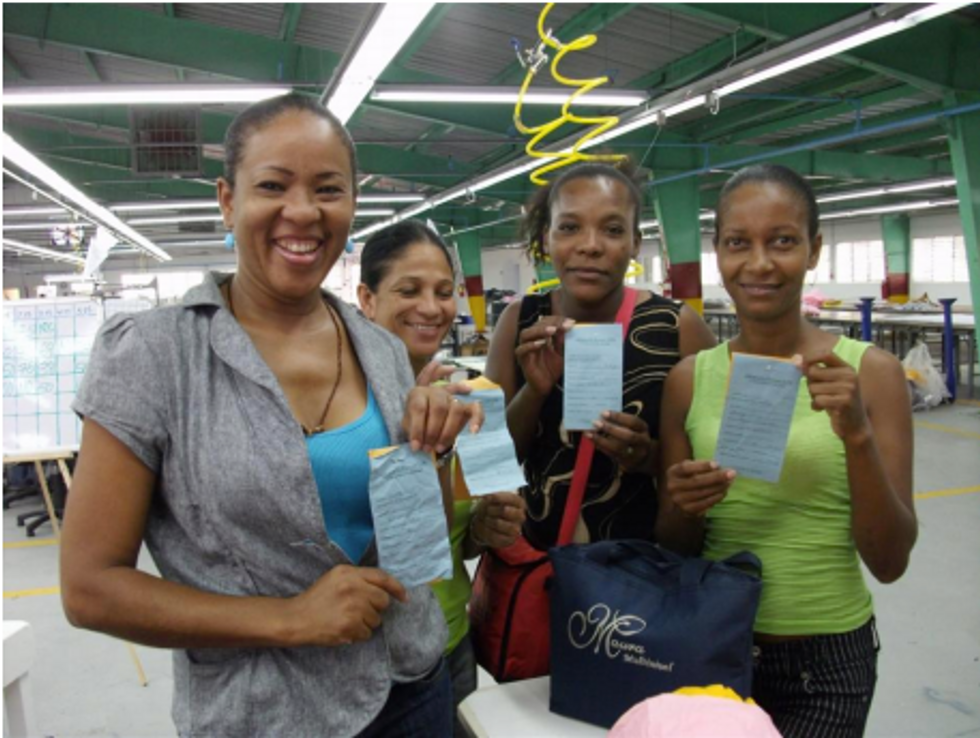 Joe Bozich, the CEO of Knight's Apparel—the largest provider of branded apparel to colleges and universities—got to know the Workers Rights Consortium when the labor organization's director called him five years ago to tell him about a human rights problem at his factory in the Philippines.
"I don't have a factory in the Philipines," Bozich replied, before learning that a recent acquisition had brought that factory under his control. The company has stringent labor rights code of conduct, which includes twice-yearly surprise inspections by independent organizations. Bozich's company worked with the WRC to resolve the problem.
---
A few years later, after being diagnosed with multiple sclerosis, Bozich began thinking about giving back. He wondered if his company could do more than just meet fair labor standards. He wanted to succeed while paying workers a living wage that would support their families. That idea grew into Alta Gracia, a division of Knight's Apparel that provides socially responsible garments to over 400 colleges and universities.
The idea, Bozich says, depends on the observation that consumers want to make purchasing choices based on more than just quality and price; they also want to know their purchases are socially responsible. That's doubly true on college campuses, where student activists provide added pressure for universities to make sure their goods are fairly produced.
In the summer of 2010, Alta Gracia set up a factory in the Dominican Republic that employs 125 unionized employees making t-shirts and hoodies for Georgetown, NYU and the like. Employees are paid $510 a month (roughly 340 percent of the country's minimum wage), an amount verified by the WRC to provide for a household's basic needs and allow for modest savings.
"A year ago, yes, it was a guess, it was a risk, today it's not," Bozich says. College bookstores are retailing his company's products right alongside Nike and Adidas, and sales are encouraging—Duke University has already sold over half a million dollars worth of Knight's apparel this year. The shirts are sold at the same price point as Knight's normally produced clothing, meaning the company takes a smaller profit margin, but Bozich wants to expand Alta Gracia if the demand is there.
"Our goal and our dream is that the demand will become so large at some point in time that it's a model that will have to expand," he says. "How big it will be will ultimately be decided by the consumer."
Bozich wouldn't specify what percentage of Knight's revenue comes from the Alta Gracia line, but he says he wanted he company to be the first to take a step toward making a living wage part of its standards. He compares the move to the fair trade industry as a whole, which he has watched grow from nearly nothing to a $6 billion market in just a decade.
"We get to do what we do every single day, which isn't glamorous, we manufacture and supply clothing, but now we get to use every single day to provide hope for people who have not had it to date," Bozich says.
Photo courtesy of John M. Kline [PDF].