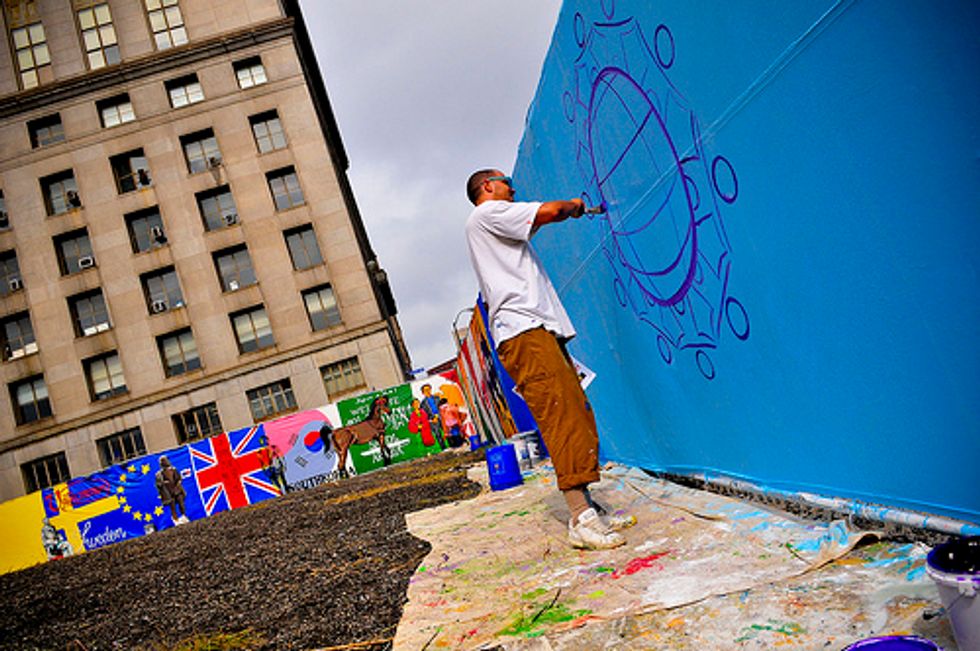 A fenced-off block in downtown Pittsburgh made opaque by a huge wraparound sheet has been rumored to be the designated internment area for protesters nabbed by police. In reality, the sheet is a canvas hung to display a welcoming mural for the world leaders at the
G20 Summit
. While thousands of activists and sojourners are assembled for rallies, marches and demonstrations near Pittsburgh's David H. Lawrence Convention Center, where the summit is being held, approximately 60 teens and a dozen local artists will be hoisting paintbrushes in the air for a public art project.Allegheny County (where Pittsburgh sits) allowed a local Pittsburgh arts organization called
Moving the Lives of Kids Community Mural Project
, along with the
ONE Campaign,
to create a massive mural, intended to welcome-rather than protest-the summit. The mural includes the flags of each of the countries represented at the G20, along with a historic figure or icon from each nation that symbolizes an artistic or scientific contribution made to the world. Sweden is represented by Alfred Nobel, England by Shakespeare, India by Ghandi and the United States by Andy Warhol, an obvious pick given the eccentric artist's Pittsburgh roots.
---
It's a remarkable collaboration between regional, community and international institutions for a rare uplifting activity during a world gathering normally marked by uprisings. The infamous "
battle in Seattle
," wherein the 1999 World Trade Organization summit ended in utter bedlam, is the kind of thing most of us conjure when we think of what happens when world economic leaders getting together.Certain retail chains seemed to be expecting something along those lines: Banana Republic and the Gap, among others, have boarded up their windows and locked their doors as a precautionary measure. And to be sure that protests won't get unruly, more than 6,000 police, state troopers and National Guardsmen, are on hand patrolling the streets. But while the summit has attracted activists of all stripes, from the passive and peace-loving to most millitant anarchists, nothing on par with the battle in Seattle has occurred just yet.So has the mural had an impact? Dan Onorato, chief executive of Allegheny County (who's also running for governor of Pennsylvania) says, "We believe in mural programs like this and we find that these kids who are extremely talented can, instead of wasting their time on graffiti, use their creative energy to put up murals at events like this one. It allows them to participate and get recognition from the political leadership and the business community in a positive way, and we've embraced their work as part of the official G20 welcoming committee."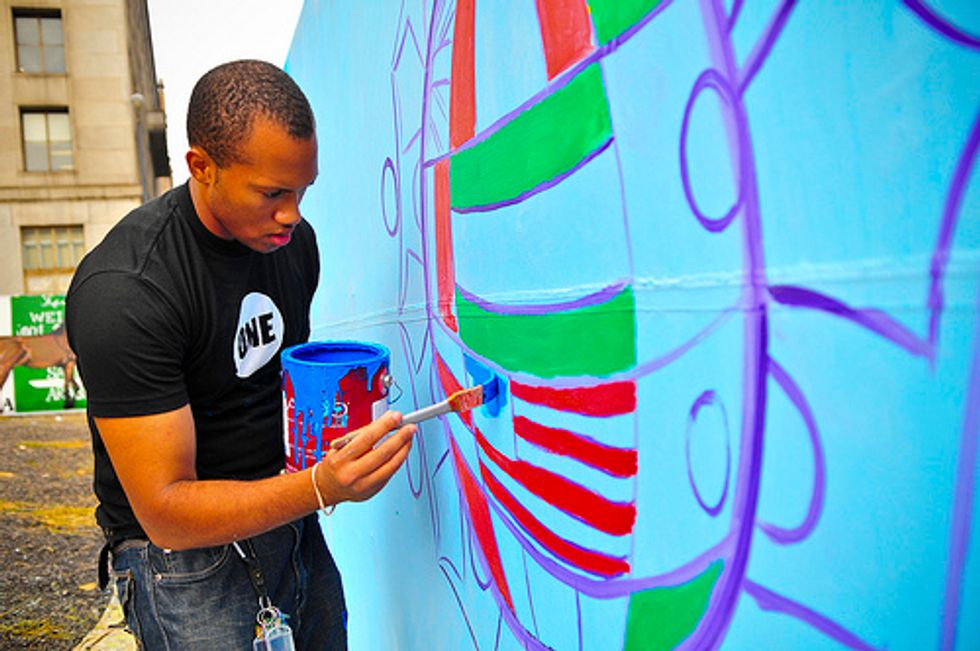 The lead artist is Kyle Holbrook, whose KH Designs arts organization runs the MLK Community Mural Project, which has produced hundreds of murals throughout Pennsylvania, usually by employing youth from the hosting neighborhoods. "With this international audience for the G20, we want to showcase the talent we have in this city," he said. "We're getting kids into the arts and providing a chance to make a statement visually instead of joining the crowd of protesters. Everything the G20 does may not be good, but we still want to get positive energy out there and show that people can work together. The art becomes an example of how people do that."Another person who'd like to see people come together without joining protest crowds is Barack Obama, chair of the G20 meeting. In an
interview
with the
Pittsburgh Post-Gazette
he said protests against "abstractions [such] as global capitalism" are "not really going to make much of a difference." Local activists aren't impressed with the state's power show, however, nor Obama's framing of the issues."Global capitalism is not an abstraction," says LaTasha Mayes, founder and director of
NewVoices Pittsburgh: Women of Color for Reproductive Justice
, which has organized several rallies around town. "It is a system of power, control and exploitation that manifests in all of our lives, particularly the lives of women of color, whether we recognize it or not. I am sure the six thousand police officers and National Guard Soldiers are here to protect our city and its citizenry. However, it looks like, sounds like, and seems like militarism to protect global capitalist interests, and to repress the voices of people who have a right voice their opposition and peaceably assemble."The artists and youth working on the mural would rather not think about protesters, though-or at least not the kind whose actions will draw aggressive police force. The fenced-off area they occupy is for painting and creative expression, not detainment, and they intend to keep it that way.As Larry Kuzmanko, Allegheny County's director of special events said: "Everyone has the right to voice their opinion and we respect that, but art hopefully helps people to reach for the higher ground and keep the focus on making life better for people. That gets lost when people start breaking stuff. When it's time to protest and speak up, let's do it in a way that complements who we are. Art helps us strive for that, and lifts the human spirit."
Guest blogger Brentin Mock is a regular GOOD contributor who will be sending us dispatches from Pittsburgh's G20 Summit. Images from One.org's Flickr