Articles
City Year: Students as Teachers
City Year corps members based in Los Angeles write about their experiences.Before I came to City Year, I was in the process of...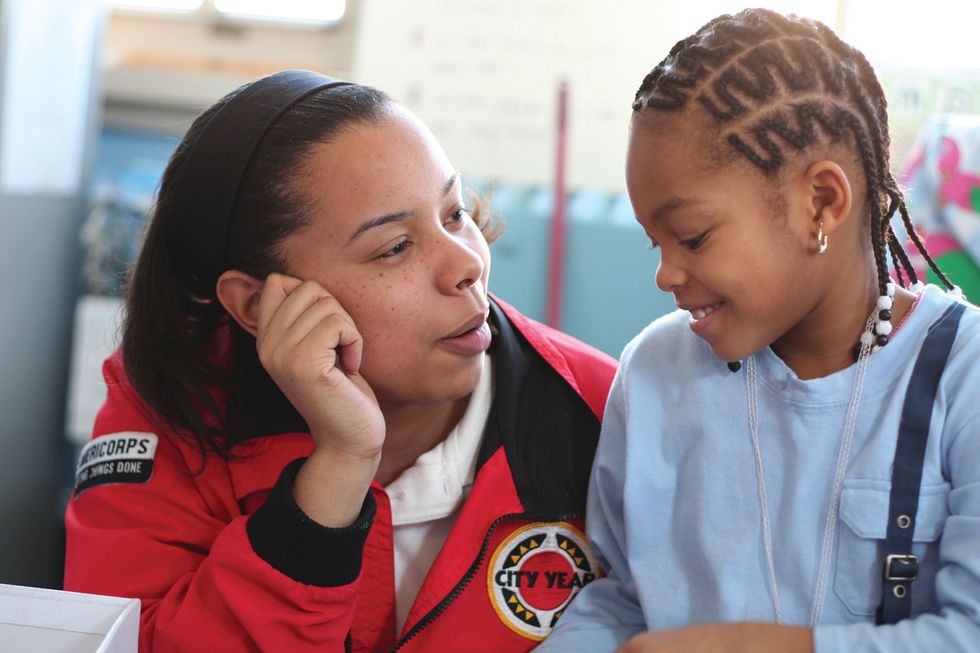 ---
City Year corps members based in Los Angeles write about their experiences.
Before I came
to City Year, I was in the process of working myself out of a great depression. My family had split apart, and I was living in a place where I was thankful to be, but I also wasn't completely happy. I was disappointed in myself for only completing half a semester of college and for not being where I thought I would be at that point in my life. I kept searching for something that could help bring me back to life and started looking for organizations to volunteer with, mostly as a way to convince myself that I had a way out if I needed it.
While I didn't come to City Year with a whole new outlook on life, I was definitely searching for one.
City Year gave me a voice. The word I've heard most this year is idealism. I never thought I would find anybody or any place that would believe in idealism and the power of youth with such fervor. The days are long, and our work load is sometimes immense, but the fact that they trust us with the world is what keeps me going. If they didn't believe wholeheartedly in us and our ability to reach out to children, I don't think they would bring together 150 young people from across the country to fight the high school dropout crisis. It's almost like the trust a parent puts in their child, except it's the trust of a dozen staff members, who are responsible for raising young leaders, idealists.
City Year gave me an opportunity to start again. I was able to meet people who had no idea who I was or where I came from. I was able to learn what it's like to live on my own and be in charge of making sure that I'm getting to work on time. I was able to explore a brand new city and feel the freedom of the world in the palm of my hands.
I've had conversations with my elementary school students that will stay with me forever. The hardships many of them have faced teach me that if I do end up going back to the East Coast, I must constantly remind myself of the battles that the children of Los Angeles are fighting everyday. Gangs, drugs, violence, it's all a part of their every day life. I'll forever know that for one year I was a rock for many of my students—encouragement, love, and hope, something that many young adults aren't expected to be.
I've changed and grown as a person more than I believed was possible. I am able to smile so much more throughout the day. I am able to look at the bigger picture of life, so that little things don't seem like such a big deal. I have a mission while I am here, a purpose to send my "focus students" (the at-risk elementary students I have been assigned to guide this year) to and beyond high school. I have been given a drive that I hope I will feel throughout the rest of my life, a drive to help others succeed in the same way that I wish for myself to succeed.
When I am ready to go to college, I will keep pushing myself through school, constantly reminding myself that if I told my second grader he could not give up just because it's too hard, than I can't either. These children may believe that we are only there to teach them, but in reality, they're the ones giving us the real lessons.
Kristin Harrison serves as a City Year after-school coordinator in Los Angeles.