Articles
Empowering Villagers to Save Infant Lives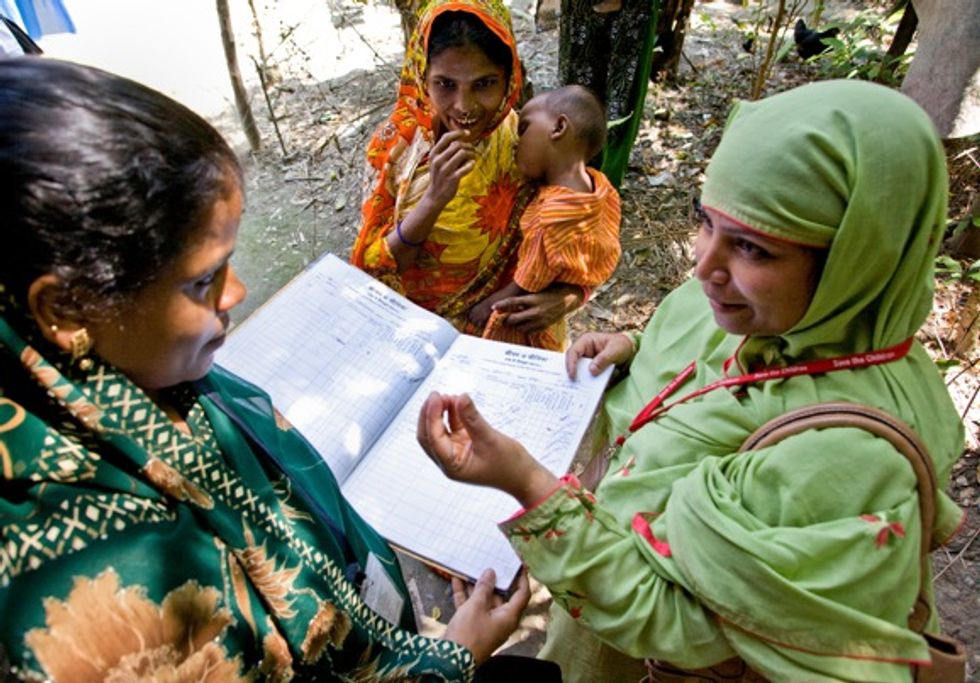 \n
Since rural Bangladeshis couldn't get to medical treatment, Dr. Ferdousi Begum brought the treatment to them.
\n
As a gynecologist in Bangladesh, Dr. Ferdousi Begum knew she was helping her patients. But when she found an innovative way to replicate herself, she began to make a difference in the lives of pregnant women and newborn children that extended well beyond what she was capable of in her small practice. Bangladesh has a remarkably young and poor population; one-third of the nation is younger than 15, and 45 percent lives below the poverty line. The infant mortality rate is staggering, with 41 deaths for every 1,000 live births. (In the United States there are fewer than seven deaths per 1,000 live births.) "I have seen the mothers dying, newborns dying," says Begum, who was born and raised in Dhaka, Bangladesh's capital. With her knowledge and expertise, Begum managed to help as many mothers and newborns as she could.

But Begum was haunted by the women she couldn't save. Many Bangladeshi mothers are uneducated and haven't learned what signs and symptoms might indicate problems with their pregnancies. Given the country's poor infrastructure and punishing geography, it can take days for women to reach the nearest hospitals. Begum recalls a particularly devastating case she saw 20 years ago, as an intern in a big-city hospital. A pregnant woman arrived at the hospital with unusually severe labor pains. During emergency surgery, the doctors discovered that the head of the fetus had utterly obstructed the woman's bladder and urethra. Her insides had turned gangrenous. The woman told Begum that she had begged her family members to take her to the hospital, but even when they agreed, the journey from her rural home took two days by wooden boat. Two days after arriving at the hospital, she died. If the woman had had access to medical care earlier in her pregnancy—or in the village where she lived—the outcome might have been different.

Begum decided she needed to bring pre- and post-natal care to the poorest, most rural communities in her country. So she launched a program to keep pregnant women, and their unborn children, healthy. "To really try to have a healthy baby, the best option is to invest in the mother," she says. She started recruiting volunteers in remote areas and training them to provide basic care to the pregnant women in their own communities. In addition to mastering basic medical skills, the trainees also learn how to market their services and create a culture of health in their villages.

The volunteers take on active roles during the pregnancies of local women. They advise expectant moms on nutrition and teach them about warning signs that their fetus might be in distress. Since 75 percent of infant and maternal mortality occurs within 72 hours of childbirth, the volunteers visit newborns—and their moms—immediately following the birth. They examine both mother and child for danger signs, ensure proper care of the umbilical cord, and assist mothers with breastfeeding.

Over the next months, the volunteers track the children's growth and development, monitor them for signs common illnesses—such as pneumonia, diarrhea, and malnourishment—and organize vaccination events for all the children in a community. But the effort doesn't stop there. Begum wants her trainees to engage other family members and empower entire communities to safeguard the health of their children. "Our target was that no mother, no children would die in our sites," she says.








---
"Our target was that no mother, no children would die in our sites."
Since 2005, Begum has trained more than 3,200 health volunteers, who have collectively served 300,000 women, tracked the growth of 183,000 children, and treated 83,000 kids for pneumonia and diarrhea. Incidences of childhood dehydration have dropped, as has the average household's health care expenses. And this is just the beginning—Begum plans to scale her program to villages all over Bangladesh.

Impressed by Begum's work, Save the Children made Begum the program manager of the organization's Maternal, Newborn, and Child Health division in 2008. Dr. Ferdousi is a real hero to Save the Children, because she and the health workers she trains are saving thousands of children's lives, in some of the poorest, most remote communities in the world," says Wendy Christian, senior director of media relations and communications at Save the Children, an organization that works on behalf of children around the world.

The scope of the organization's work is mind-boggling. Save the Children provides services to more than 48 million children in 50 nations around the world. It is building schools in Africa, digging wells to provide clean water to Afghanis, and providing basic supplies to displaced Pakistani children. The organization also runs significant anti-poverty programs in the United States, focusing on education, nutrition, and physical fitness is locales ranging from New Orleans to Appalachia. Part of the group's work involves responding to natural disasters and other emergencies—25 of them in 2009 alone. After the earthquake in Haiti, for instance, Save the Children provided food and aid to more than half a million children and families. Recently, it opened a temporary school for Haitian children whose normal classrooms were destroyed by the earthquake.

The work isn't always easy. Many of the communities in which Save the Children works are not only poor, but also rural and isolated, and it can be a challenge just to get workers and supplies there. For instance, the most recent iteration of Begum's program, which began in 2005, is focused on three of Bangladesh's coastal districts, which are remote and prone to flooding. But the work pays real dividends. Begum thinks back to when she was a single clinical practitioner. "Now I have a network of three thousand volunteers," she says. "My coverage is three-thousand times what I could do before."

Photo: Dr. Ferdousi (right) meets with a volunteer. By Jeff Holt.