Articles
Final Vote Approaches on Texas Textbook Revisions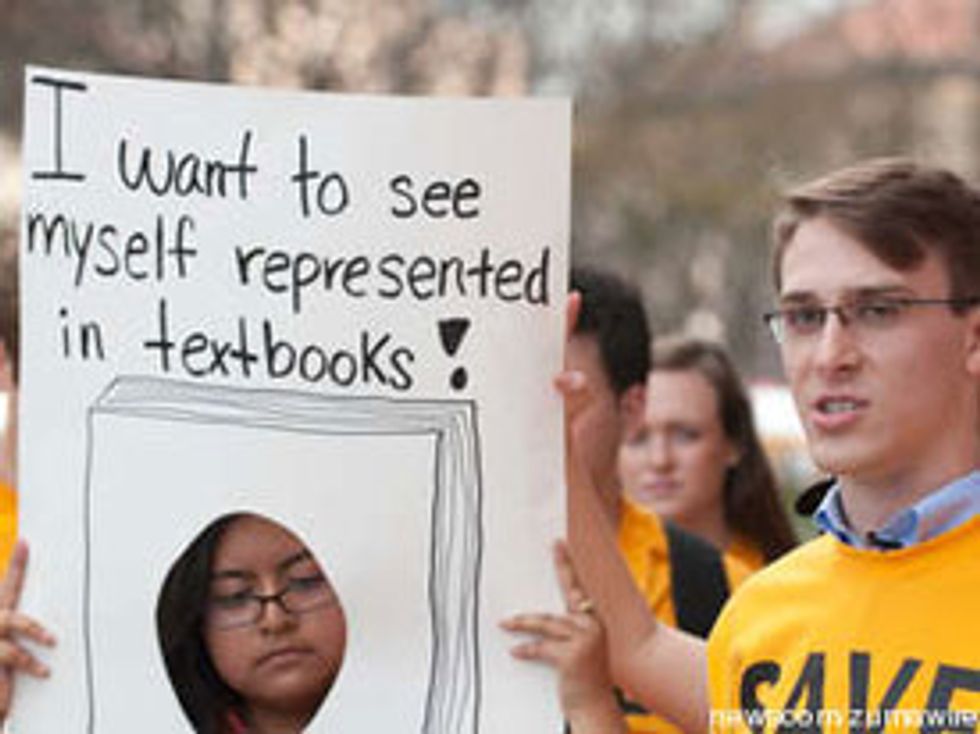 ---
From time to time, I wonder what Europeans think of us Americans and our various culture wars. Judging from
a recent article in the British newspaper The Guardian
, the answer is: They think we're amusing. In its profile of Texas State Board of Education (SBOE) member Cynthia Dunbar, you can almost glean the sarcastic tone of Rachel Maddow in the pacing of the sentences, which describe Dunbar's crusade and catalog the numerous
changes to school textbooks proposed by the SBOE.
(The
revisions were approved in March
and face a final vote on Friday.)
The board is to vote on a sweeping purge of alleged liberal bias in Texas school textbooks in favour of what Dunbar says really matters: a belief in America as a nation chosen by God as a beacon to the world, and free enterprise as the cornerstone of liberty and democracy.

"We are fighting for our children's education and our nation's future," Dunbar said. "In Texas we have certain statutory obligations to promote patriotism and to promote the free enterprise system. There seems to have been a move away from a patriotic ideology. There seems to be a denial that this was a nation founded under God. We had to go back and make some corrections."


\n
As the vote nears, the ringleader of the far-right faction of the SOBE,
Don McLeroy
, has
introduced an amendment to the already controversial revisions
. If it passes, Texas public school students would "discuss alternatives regarding long term entitlements such as Social Security and Medicare, given the decreasing worker to retiree ratio" and "evaluate efforts by global organizations to undermine U. S. sovereignty ... [specifically] the votes of the U. N. General Assembly, the International Criminal Court, the U. N. Gun Ban proposal, forced redistribution of American wealth to third world countries, and global environmental initiatives."
While Texas prepares to write its own version of history, one state legislator in California is taking the "precautionary measure" of making sure that the whims of the second largest public school system in the U.S. doesn't impact the biggest.
As reported in the
Mercury News
,
Sen. Leland Yee, D-San Francisco, proposed legislation,
SB1451
, that would require the California Board of Education to make sure that the changes approved by the Texas SBOE don't appear in textbooks used in its state.
The bill describes the Texas curriculum changes as "a sharp departure from widely accepted historical teachings" and "a threat to the apolitical nature of public school governance and academic content standards in California."

"While some Texas politicians may want to set their educational standards back 50 years, California should not be subject to their backward curriculum changes," Yee said. "The alterations and fallacies made by these extremist conservatives are offensive to our communities and inaccurate of our nation's diverse history."


The bill may just be Yee's attempt at formal protest, as California's Board of Ed would reject most of the changes outright, according to its standards. Still, it doesn't hurt to be extra vigilant when protecting young minds from misinformation.
Photo via.
\n