Articles
Food for Thinkers: A Few Good Menus
What menus can tell us about trends in design, culinary, economic, and urban history—and even the rise and fall of fish populations.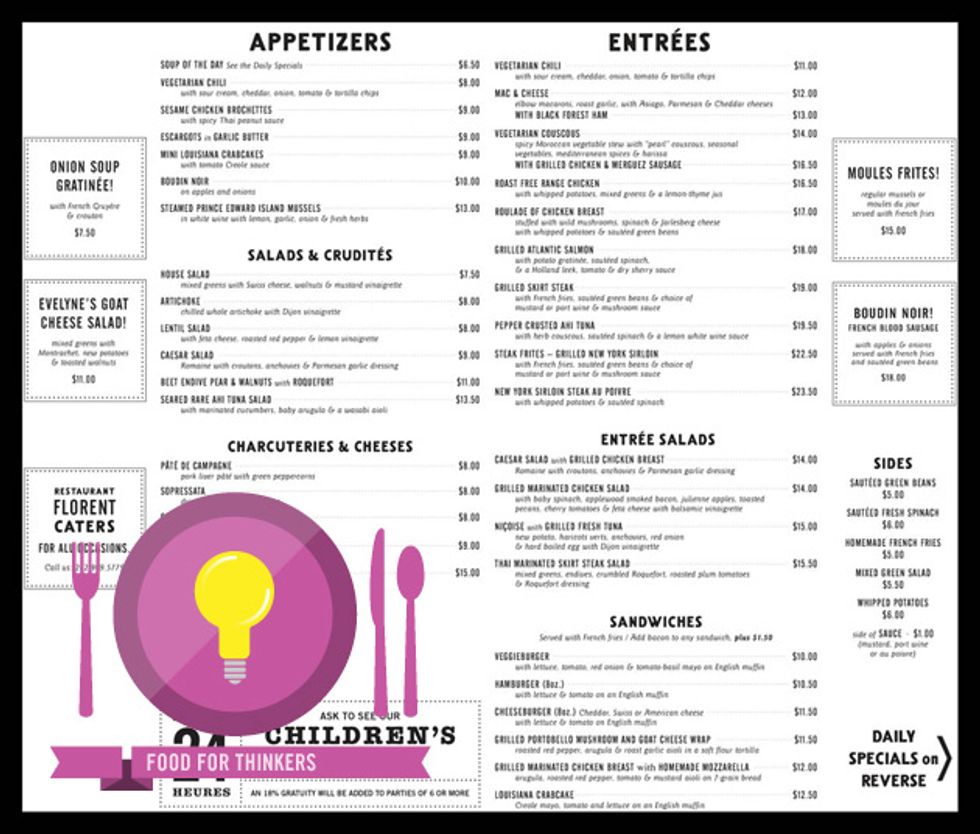 The
New York Public Library's historic menu collection
is
one of the most impressive in the world
, and its treasures are frequently featured on librarian Rebecca Federman's blog,
Cooked Books
. As part of
Food For Thinkers
, Federman chose a handful of curious examples—such as the way a childrens' section added to the Cafe Florent menu above tells the story of larger demographic changes in the neighborhood—to reflect on what makes menus such a fascinating subgenre within food writing.
Menus are ephemeral. They are used to convey information and when that information is no longer relevant, the item is often disposed of. The asparagus appetizer in April may not be available in August. The chocolate mousse from October 1st is not offered on October 31st.

However, like many pieces of ephemera, a menu's informational value rarely stems from its original, intended use. And that, for me, is where things get interesting.



---

\n
Graphic designers and chefs looking for inspiration; culinary, economic, and urban historians tracing trends; and even marine biologists looking to reconstruct long-gone fish populations: all, as it turns out, have something to learn from old menus. Visit Federman's blog to read her post in its entirety, and marvel at current hotspot The Waverly Inn's humble origins exposed in a 1964 menu featuring tuna-fish salad and chips, the black-edged menus used in Ohio to mark President McKinley's assassination, and my favorite: the witty commemorative menu designed in honor of Harvey Washington Wiley, "Father of the Pure Food and Drug Act" of 1906.
Food for Thinkers is a week-long, distributed, online conversation looking at food writing from as wide and unusual a variety of perspectives as possible. Between January 18 and January 23, 2011, more than 40 food and non-food writers will respond to a question posed by GOOD's newly-launched Food hub: What does—or could, or even should—it mean to write about food today?
Follow the conversation all week here at GOOD, join in the comments, and use the Twitter hashtag #foodforthinkers to keep up to date. And don't miss Jessica Helfand's post on culinary rehab (perfect for anyone who's ever been stuck in a supermarket rut) and Alice Gorman's introduction to the conflicting ideologies embodied in Sputnik-shaped food.