Articles
GOOD Voter Guide to California: Insurance Commissioner
The Insurance Commissioner enforces insurance-related laws, and regulates industry to "protect consumers and promote a healthy marketplace."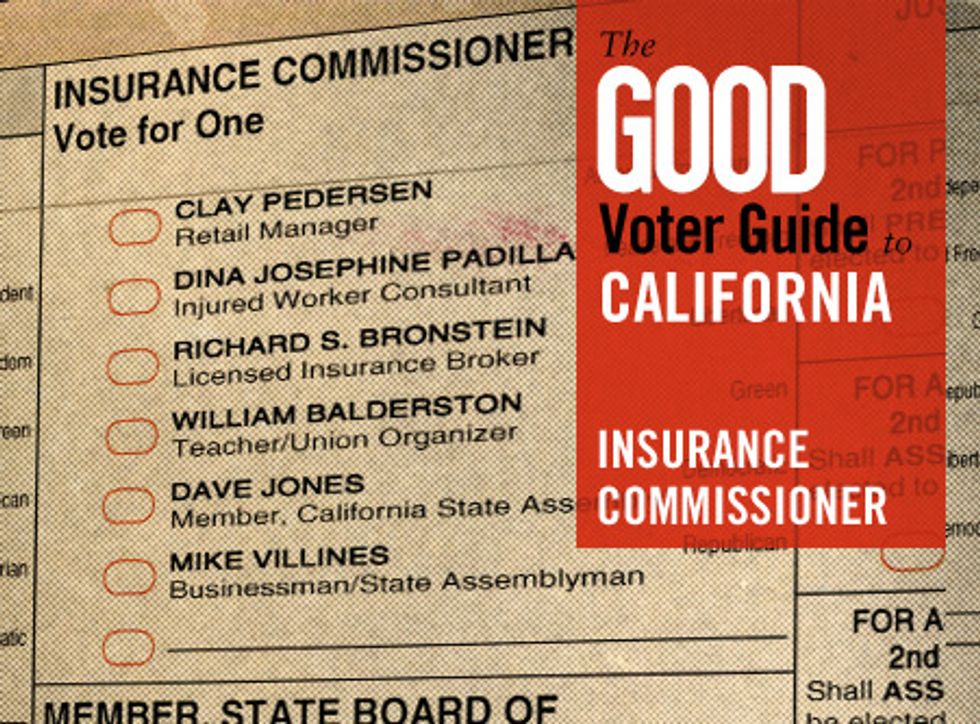 Over the course of the next two weeks, we will be publishing primers about the important items on the ballot in California as part of our GOOD Voter Guide.

The Insurance Commissioner enforces insurance-related California laws, and regulates industry to "protect consumers and promote a healthy marketplace."

William "Bill" Balderston



---
Political Party: Green
Candidate Platform: Believes in a single-payer health care system, that insurance companies should have no role in the health care system—not in California and not nationally—and advocates for a single-payer auto insurance and flexibility for how to access it.
Background and History: Bill graduated from Brown University. He is a long-time political activist in the East Bay. He taught high school English and social studies for over two decades in East Oakland and served in the political leadership of the Oakland Education Association for over a dozen years. He's also represented Oakland teachers at the state (CTA) and national (NEA) levels, and continues to fight for them. Bill currently serves on the steering committees of Labor 4 Peace & Justice, the East Bay Sanctuary Covenant, and Vote Health, and recently participated in national conferences of US Labor Against the War and the Labor Campaign for Single-Payer. As a socialist and committed believer in independent working class politics, Bill has been an active supporter of the Green Party and campaigned for many state Green candidates. That's pretty much all there is out there on him.
Other: Believes United States should withhold funds from ANY insurance company doing business with ANY nation (including Israel) in that region that has a nuclear weapons arsenal.
Sources: Health for All; Smart Voter

Rick Bronstein

Political Party: Libertarian
Candidate Platform: He wants to allow Californians to choose for themselves what kind of coverage they wish to have by allowing Californians to get insurance from any company they want and by allowing individuals and businesses of all kinds to deduct their insurance and health care costs. In this way, he thinks the government will cut the cost and improve quality for all Californians.
Background and History: Richard S. Bronstein or "Rick," was born December 23, 1953. He lives in Encino with his wife Tracy. The two have a son, Andrew "Andy" Bronstein. Bronstein the elder received his Bachelors of Science Degree from UCLA in Political Science, class of 1977. He's an Insurance Broker at Green Sky Insurance. Before joining the Libertarian Party, Rick was a registered Democrat.

Fun Facts: He plays golf in his spare time and volunteers for Libertarian candidates and causes. He is also a dog lover and is very grateful for his dog Monty.

Sources: Vote4rick






Dave Jones
Political Party: Democratic
Candidate Platform: Make pay in the health care system outcome-driven, not procedure-driven; Address double-digit health plan premium increases year over year (because they suck); Give the State the ability to approve rates for health insurance like it does for auto and home insurance (because maybe that would suck less).
Background and History: Dave Jones has been to Sacramento before. In fact, he currently is serving his third term representing the 9th District (Sacramento) in the Cali State Assembly where he chairs the Assembly Health Committee and serves on the Appropriations, Judiciary and Accountability & Administrative Review Committees. Before that gig, Jones served as a Sacramento City Councilmember and worked as a legal aid attorney with Legal Services of Northern California, providing free legal assistance to the poor. In 1995, Jones was awarded a White House Fellowship. He served in the Clinton Administration for three years as Special Assistant and Counsel to U.S. Attorney General Janet Reno. He's a graduate of DePauw University, Harvard Law School, and Harvard's Kennedy School of Government. He and his wife, Kim Flores, have two young children, Isabelle and William, and live in Sacramento.
Economic Responsibility / Justice: Dave opposes big increases in workers' compensation rates. In the Assembly he sponsored a bill that prohibits insurance companies from discriminating against women by charging higher rates than men for similar plans. He also co-authored a bill that would have required state approval for health insurance rate increases. And, like his GOP opponent, he opposes the 20 percent-plus increase in base rates recommended by the Workers' Compensation Insurance Rating Bureau of California.
Environmental Responsibility: In 2010, Dave introduced the Green Insurance Act that established environmental standards and protections in the insurance business, and provides incentives and tax credits for offering green insurance and making green investments.
Health Care: Dave advocates for universal single payer health care reform and wants to regulate health insurance rates. ?
Fun Facts: His haircut is pretty fun. He's seriously rocking the side part.
Key Donors and Endorsements: California Democratic Party, CDF Firefighters, California Federation of Teachers, California Labor Federation, California League of Conservation Voters, California NOW (National Organization for Women), California Nurses Association, California Professional Firefighters, California School Employees Association, California State Building Trades and Construction Council, California Teachers Association, Equality California, PAW PAC, Planned Parenthood Affiliates of California, Sierra Club, The Sacramento Bee
Sources: Dave Jones 2010; Smart Voter; San Jose Business Journal; Sacramento Bee


Dina Josephine Padilla



Political Party: Peace and Freedom
Candidate Platform: Dina's got a Program for California. It includes: prosecution of the insurance industry for shifting liabilities onto governments, forcing the Feds to clean up toxic dump sites and provide adequate health care for those affected, eliminating the Insurance Industry in health care and moving to a single payer plan, removal of insurance industry reps from the Fraud Assessment Commission, and a yearly public summit so that Californians can air their Insurance grievances.
Background and History: Dina is from Chicago and has been fighting corruption a long time—since '85 in fact. She's a Catholic and a former union leader at Kaiser in Sacramento, where she successfully fought the unjust treatment of workers and patients. She's currently an Injured Worker Consultant and a Sacramento Central Labor Council Board Member. In 2008 she ran for Congress in California.
Sources: Vote Smart; Padilla4InsuranceCommissioner


Mike Villines



Political Party: Republican
Candidate Platform: Reduce insurance fraud, which contributes to insurance costs and frivolous lawsuits, and improve access to health care, including for people with pre-existing conditions.
Background and History: Mike was elected to the 29th Assembly District in 2004, a Central Valley seat that encompasses Fresno and Madera counties. He then served as Assembly Republican Leader for more than 2 years, beginning in November 2006. Before that he served as an aide to former Governor Pete Wilson, where he spent most of his time working to "reform ineffective environmental regulations." He also served as chief-of-staff to former State Senator Chuck Poochigian, which is a really fun name to say. He currently owns a Fresno-based public relations business called Panagraph. He's a Cal State Fresno grad, with a Bachelor's degree in Political Science. He serves on the Board of the State Legislative Leaders Foundation, a nonprofit, nonpartisan, independent national organization "committed to educational enrichment programs for state legislative leaders." He's also on the executive board of the Senator Kenneth L. Maddy Institute for Leadership and Ethics. An active member of the People's Church of Fresno, he and his wife, Christina, reside in Shaver Lake with their three children. No, not Silver Lake. Shaver Lake.
Economic Responsibility / Justice: He wants you to know that he opposed a bill that was sponsored by his Democratic opponent which prohibits insurance companies from discriminating against women by charging higher rates than men for similar plans. However, he does agree with his Democratic rival in that he opposes the 20 percent-plus increase in base rates recommended by the Workers' Compensation Insurance Rating Bureau of California. See, who says that the parties can't get along in Sacramento?
Fun Facts: In 2009, Mike controversially voted for a budget deal that included temporary tax increases, taking enormous criticism from Republican hard-liners. For this, he was awarded the John F. Kennedy Profile in Courage Award in 2010 with other California legislators.
Key Donors and Endorsements: Fresno Deputy Sheriff's Association, Latino Mayors and Elected Officials Coalition, Hispanic 100, National Mexican-American Anti-Defamation Committee, National Tax Limitation Committee, New Majority California, California State Sheriff's Association, Lincoln Club of Northern California, Republican Party of Fresno County, Fresno City Firefighters Association, Great Fresno Area Chamber of Commerce, Clovis Chamber of Commerce, Fresno Sheriff's Sergeants Association, San Diego Lincoln Club, Orange County Taxpayers Association, Taxpayers Association of Central California
Sources: Sacramento Bee; San Jose Business Journal; Smart Voter; Mike Villines; Mike Villines; KFSN Fresno News ABC
Some disclaimers: This guide is a volunteer operation, not produced by GOOD. Due to research fatigue, lame candidate websites, and Murphy's Law, you may spot a mistake or two. Some candidates simply don't provide a lot of info, and our researcher styles varied, so some profiles may differ or seem a bit incomplete.