Have Internet, Will Graduate
More and more members of the military are taking classes—and earning degrees—online.
06.04.10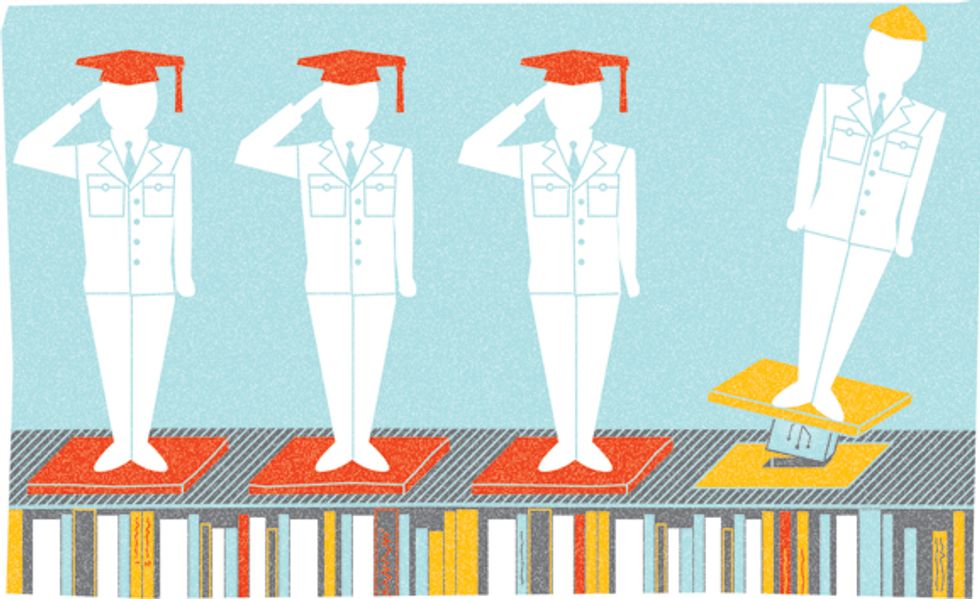 Edit image

More and more members of the military are taking classes—and earning degrees—online.
---
Tim Smasal didn't really think that college fit into his already jam-packed schedule. Smasal, who is a high school dropout, works as a civilian aircraft technician for the United States Air Force. Needless to say, the hours are brutal. "It's nonstop. Overtime and weekends are a given. We take some holidays off, but it depends on flying schedules."

But despite the unpredictability of his job, Smasal wanted a college diploma and, intrigued by the convenience of taking courses online, decided to sign up. In 2008, Smasal enrolled at American InterContinental University Online, a military-focused school that offers many of its courses online. He double-majored in human resources and business management and while he says he struggled at times with the workload—"There were a couple of papers where I had to burn the midnight oil," he says—the fact that his courses were online made it possible for him to pursue higher education.

"Students can be anywhere," says Norma Smith, a dean who oversees military students at AIU. "They just need an internet connection."

Last August, the Post 9/11 G.I. Bill—which pays the entire cost of tuition for veterans who have either served for three years since September 11, 2001 or were disabled during duty—took effect. And since then, military veterans have been taking advantage of the unique opportunity in record numbers—the U.S. Department of Veterans Affairs administered $1.5 billion in payments to 183,000 veterans during the fall semester alone.

In all, the bill is estimated to cost approximately $78 billion over the next decade. And unlike its predecessor, the newly revamped G.I. Bill also provides a $1,000 per-year stipend for housing and books. It also gives veterans that have served as reserves or spent more than six years on active duty the chance to transfer benefits to their spouse or children if they decide to reenlist for four more years.

"The new G.I. Bill has spurred enrollments," confirms J.J. Jones, the vice president of U.S. Department of Defense relations at the University of Maryland University College. And institutions such as UMUC, AIU Online, and University of Phoenix (full disclosure: University of Phoenix is GOOD's education sponsor), have reaped the benefits—and bushels of federal dollars—because of their advancements in online learning and ability to cater to the unique needs of the military student. "Our faculty understands the military lifestyle," Jones says. "If a student has to be out of class for a couple of weeks, our faculty knows how to get them through the class."

Neal Henderson, a retired Navy master chief, who now works for the U.S. Department of the Navy, had wanted to return to school for years. In 1979, he dropped out of Oklahoma University after his sophomore year to join the Marines. He then switched over to the Navy and worked as a career recruiter, but was always mindful of life after the military.

"I knew that a degree would affect my salary structure once I left," says Henderson, who was drawn to the flexibility of online courses. "People take online classes because they are available no matter where you're at," he says. "I've taken online classes because that fits with my schedule. That has been a deciding factor."

Henderson maintains that online education offers unique opportunities not available in a traditional classroom setting. "Right now, I have an instructor who is in Florida, so you get access to good professors who not available locally," he says. "We also have people in my classes who are in Europe or China or on the west coast, so you're getting different points of view."

To counter the isolation of online learning, meanwhile, some schools have gotten creative. "We have a networking group on our virtual campus," Smith says. "For each branch of the military, we have a discussion board where they can post comments, talk about what they are experiencing and get support from their peers."

Of course, there are drawbacks. Class participation favors students with strong written communications skills, because asking questions in class involves typing them out. Also, problem-solving courses like math and science can be troublesome. "There were certain classes I had to take face-to-face, like statistics," Henderson explains. "I couldn't type the formulas and I needed the immediate interaction with the professor."

But military students do have one distinct advantage over their peers when it comes to learning in an online classroom: discipline.

"There were times I got distracted, but drawing from my military experience, I knew I had to stay the course," says Smasal, who completed his coursework at AIU Online in February and is looking forward to this spring's graduation ceremony.

"It feels great," he says. "Mainly because I didn't allow myself the opportunity to walk after graduating from high school."

For Smasal, it will be a unique opportunity to interact with many of his classmates—not online but finally in person.

Illustration by Parliament of Owls.

Articles