The Working Learner Goes Online
Are web-based classes the solutions for both working students and struggling schools?
06.05.10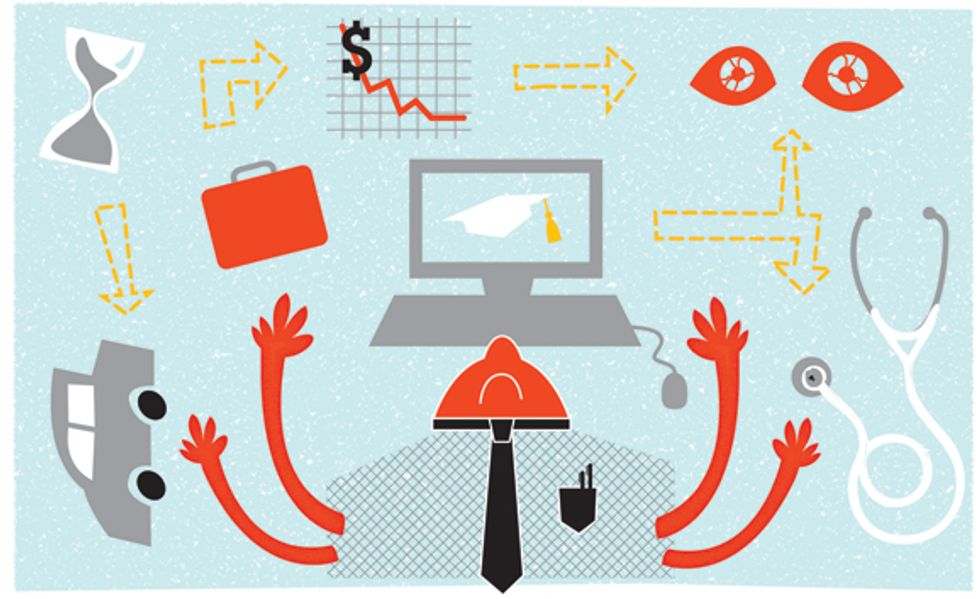 Are web-based classes the solutions for both working students and struggling schools?
---
College classrooms might be a little quieter these days, thanks to the economy. Higher education is being strangled by budget cuts and shrunken endowments. But there is one area that has been, perhaps not surprisningly, a growth industry for higher ed: the internet.

In the past five years, enrollment in online courses has boomed, delivering on the promise that the internet might truly change the way students think about higher education. In 2007, more than 20 percent of all college and university students in the United States were taking at least one course online, and while traditional college enrollment is growing at a rate of 1.2 percent, online learning shows consistent double-digit growth. And it's not only changing the face of higher education, it's also impacting the kinds of students that enroll.

Suddenly, a different kind of student is going to college: young adults who need to join the job market directly following high school; students who can't afford long commutes or relocation costs of going to a school far from home; new moms. As it stands, more than half of college students work while earning their degrees, but at community colleges, according to CALPIRG, a California-based public interest research group, the average working student logs a whopping 23 hours a week. Without the restriction of an on-campus class schedule, schools can more readily accommodate employment schedules and other commitments.

Kerrin McMahan, the dean of academics at East Los Angeles College, who runs their online program and teaches web-based classes, says that growth in enrollment for these types of courses has been huge. From 2006 to 2007, it jumped 46 percent and then another 33 percent the following year. While budget cuts have since slowed growth, McMahan is confident that it's not an indication of demand. "About ten percent of our students are now taking classes online," she says, adding, "And I've had many tell me that it's the only way that they can be in school."

Another trend if afoot with online learners: Some schools are starting to angle for more non-resident students as well. While Baghdad-based girls aren't earning online law degrees from Harvard just yet, it may happen sooner than we think. In March, the University of California Commission on the Future presented a round of proposals to counter some of the fiscal challenges they're facing-California's state college system has been plagued with budget woes for years-and many ideas focused on how to grow the non-resident student population through Internet courses..

There is concern, of course, as to whether an online education can provide the same quality of instruction as compared to in-class learning. But at ELAC, it doesn't seem to be a problem: When teachers reviewed in-class test scores versus those from web-based classes, students rated more or less on par. The question inevitably arises: Are these virtual learners cheating? McMahan says it's something teachers have to consider when building their curricula, adding "but if they were cheating, their scores would be higher, not the same."

There's a human element to the college experience that might be lost, as well. The traditional college experience-where teenagers leave home to see the world and figure out who they are, and where the impact of a professor standing in front of you can be transformational-cannot be replicated online. That can be hard on teachers, too: Direct, face-to-face contact with students can be a difficult thing for some educators to give up, says McMahan.

But for educators, and for students, there are all kinds of new benefits associated with going virtual: Teachers starting families can opt to spend more time at home, or plan class work from an internet cafe in Italy. And while overseas, they can even sneak a video of the David on their iPhone and post it for their first-year art history students to see. There is a new room to be creative, likely opening the door for fresh and innovative approaches to learning.

Besides, there doesn't appear to be much choice. This ship is already sailing, no matter what rough shores lay ahead. "I've seen predictions that this will become the majority of higher education in the next decade," say McMahan. For the most part, she thinks that's a good thing. As for the students who couldn't even be at college without the online option? The answer isn't surprising: "They're incredibly grateful for the opportunity."

Illustration by Parliament of Owls.

Articles