Articles
One of L.A.'s most sought-after catering companies is taking their show on the road with a food truck that's sure to raise the bar.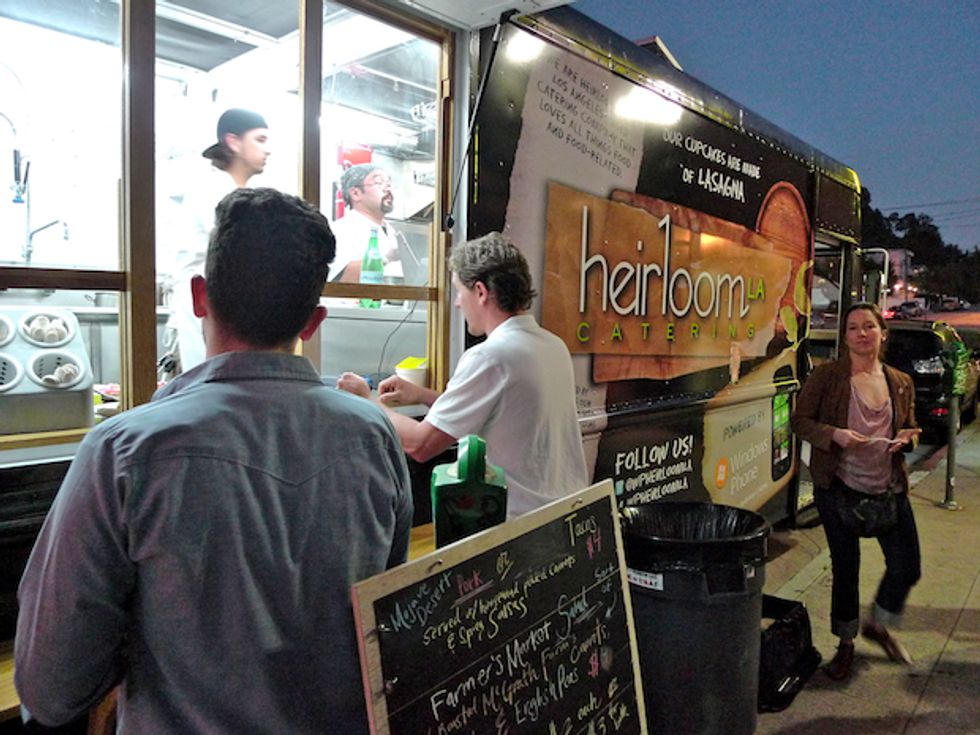 It's hard to top yourself when you've set a standard for culinary innovation. But that's exactly what Heirloom LA achieved with its lasagna cupcake, a gooey, single-serving, all-the-best-parts-of-the-lasagna triumph, which can be found via mail order and in select locations across town. Now the Los Angeles-based catering company is taking its show on the road, and with more than just cupcakes: They've launched a full-service food truck that's about to raise the bar for locally-sourced meals by pairing them with the sweetest drinking venues in the city.
---
On Monday night owners Matthew Poley, Tara Maxey, and Talmadge Lowe threw open the windows of a former moving van, turned on some hip-hop, and hosted a preview of their food truck outside a tasting at Silver Lake Wine. Fans queued up for halibut tacos with pickled peppercorn slaw, containers of silky-smooth butternut squash soup, and farmer's salad dotted with fresh peas. In a way, the truck is not too different from the weekly Sunday tasting events that Heirloom LA has catered for years, says Maxey. "We were already kind of doing this without a catering truck, with a lot more obstacles."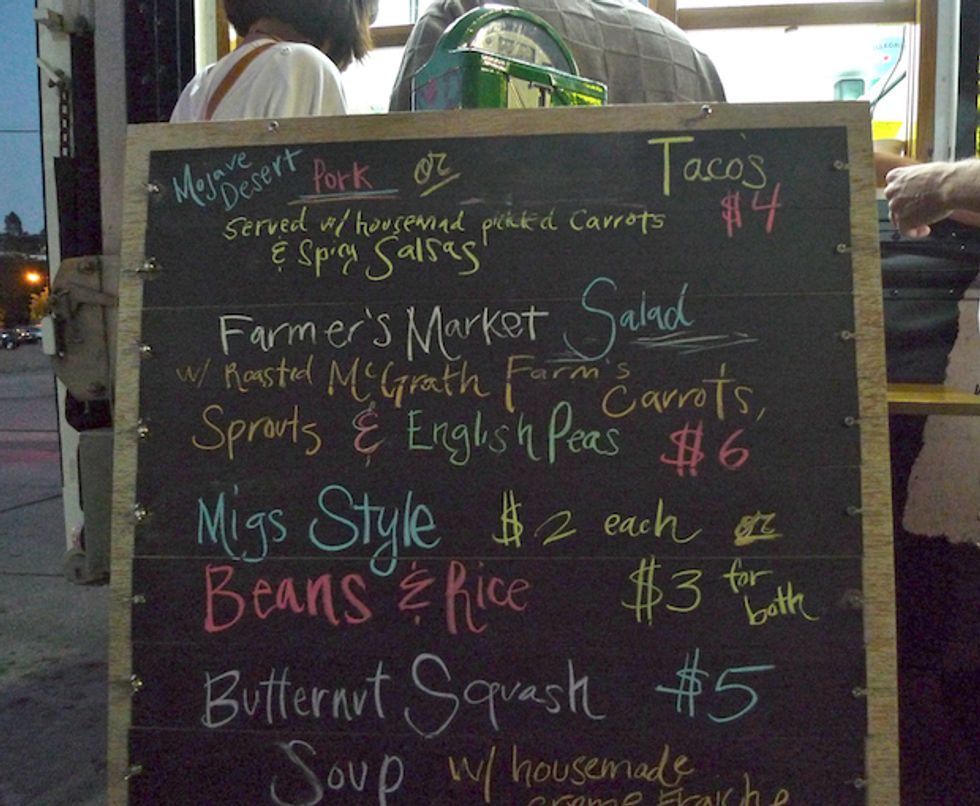 Those obstacles—transporting, prepping, and heating food—just don't slow down the Heirloom LA truck, which is quite literally a full kitchen on wheels. Maxey points to the unusually large six-top range, a dish station, and two convection ovens. "There are really no challenges... except parking," she laughs. The truck was already customized with handsome wood accents and an extra-large serving window, and was further outfitted by architect Ana Henton (designer of Heirloom LA clients Silver Lake Wine and Intelligentsia Pasadena). And in a unique partnership, funding also comes in part from Microsoft Windows Phone, who approached them with a lucrative sponsorship deal that got Heirloom LA on the road.
Each outing of the Heirloom LA truck will feature a different menu, with many ingredients sourced from small local farms. On the debut night, the buttery pork tucked into blue corn tortilla tacos was courtesy of a 210-pound black pig from a farm in the Mojave Desert. Maxey posted photos of the butchering process on their blog. "We turned one leg into proscuitto, we made headcheese—we used the entire pig." Even the produce has a narrative: The carrots, roasted to a sweet caramelized finish, came from McGrath Family Farm, another of many longstanding relationships that Heirloom LA has cultivated with local growers. We take the vegetables they don't sell and turn them into salads to sell at the next farmers' market," says Maxey.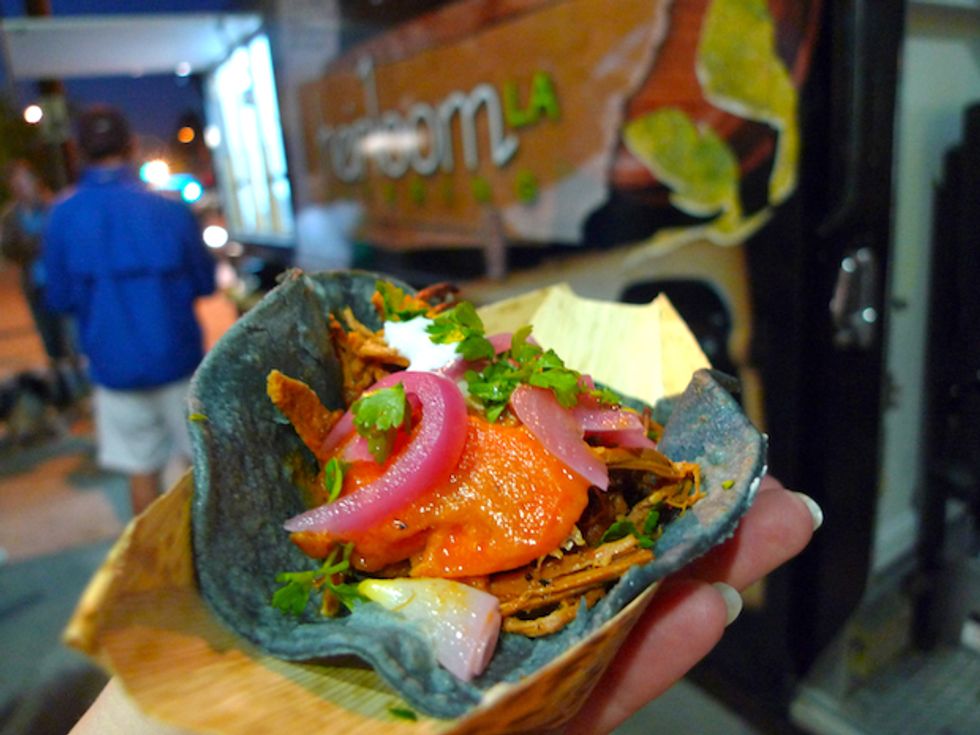 The truck also enhances Heirloom LA's great track record of partnering with the coolest drink-slinging establishments in town. Tuesday night's official grand opening will see the truck parked outside Los Feliz wine bar Bar Covell where Heirloom LA will soon be serving weekend brunch. Maxey is thinking breakfast burritos might pair well with Covell's mimosas and craft beers on those warm summer mornings. On Thursday nights they'll be at the Yamashiro Farmers Market, tucked high in the Hollywood Hills in a pop-up beer and wine garden with other trucks and artisanal vendors. And they'll still have their regular residency at Silver Lake Wine for catered tastings Sunday (which, at $20, including four wine pours, might be the best deal in town) and truck meals Monday night.
Drooling yet? You can hunt Heirloom LA down on Twitter at @WPHeirloomLA. Keep an eye out for those lasagna cupcakes.