Articles
How I Learned to Be Creative
I wasn't always the type to design my own envelopes, sew my own skirts, and hold an annual craft day for friends.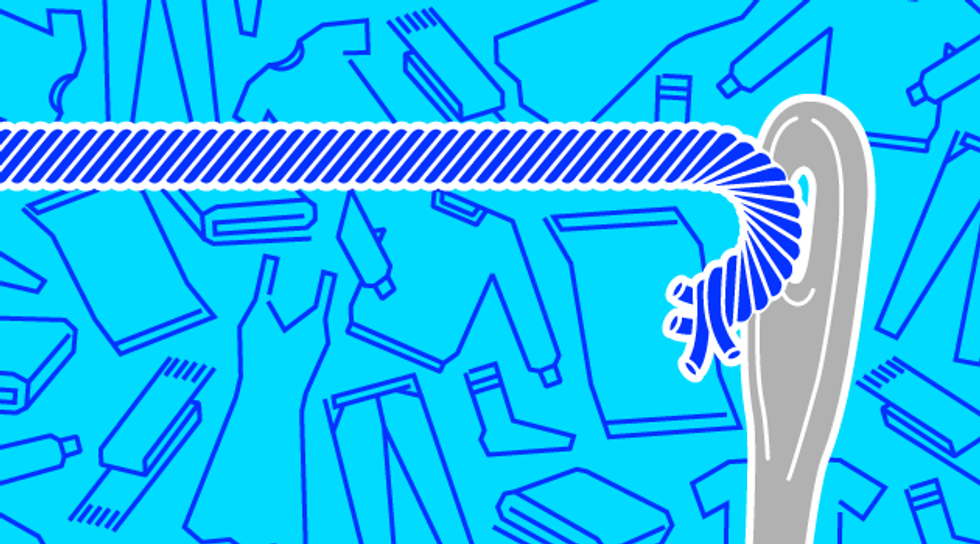 I wasn't always the type to design my own envelopes, sew my own skirts, and hold an annual craft day for friends. Until a few years ago, I equated creativity with Charles and Ray Eames or Martha Stewart, thinking they surely had been born with some sort of mutated gene equivalent to the ones that give someone red hair or small feet. I wanted that gene, but I never imagined I could have it.
The process of learning otherwise—of developing my own creative gene—grew out of desperation. A new pair of pants was too long, and I needed them altered in time for an unexpected date that night. Without a sewing machine or serger, let alone the sense to know that's what I should use, I learned to make my first few stitches by hand. I had no idea how to work a needle or thread. The home economics requirement had long since vanished by the time I went through middle school, so I had never cut my teeth on the easy stuff like pillowcases and coasters. But with a little patience, some YouTube hand-holding, and my desire to wear pants that fit, I started sewing.
---
Once I started, I couldn't stop. From pants, I moved on to skirts, then dresses, then household linens. I learned a unique stitch and figured out where else I could use that stitch. I finished a skirt one day, patched a sweater's hole the next, then made a scarf. All of a sudden, I was a person who knew how to sew.
Sewing became my gateway in to the world of DIY and arts and crafts. It pushed me to find out what else I might be good at if I tried. To further my creative output, I dabbled in other types of art—taking a painting workshop at a museum, enrolling in a pottery class at a local school, picking up a how-to guide for block printing. I tried my hand at both low-commitment tutorials and highly directed instruction.
Through trial and error, I learned that drawing, crocheting, and pottery are not my mediums. I understand the processes, but have been dissatisfied with my results. Using this try-everything approach, though, taught me that block printing, graphic design, and felting—all techniques I might not have thought to try—are activities I truly love. I designed the invitation for my mother's 50th birthday party and created a menagerie of felt animals for my nephew's first birthday. I realized that 90 percent of being creative is about trying, especially if you're doing it for personal fulfillment instead of salary.
Crafting created a self-fulfilling cycle: I'm more creative because I make things regularly. I also make an effort to find new sources of inspiration, whether specific project ideas or work by famous artists. I take every chance I can to look at art, buy art, read about art, and think about art. From crafting blogs to museum exhibitions or lectures on artists, I spend my free time engaged in artistic pursuits whenever possible. I learn new skills, I digest new approaches, and I unearth inspiration wherever I can. I always carry a pencil.
I may not have designed a legendary line of furniture, and I'm certainly not running a megacorporation, but I've also learned that doing these things isn't a matter of a gene mutation. Creativity is about attempting something you never thought you could and finding a side of yourself you didn't know you had. Ultimately, learning to be creative was just a matter of being creative.
Propose an idea to promote Art Every Day where you live for the chance to win $500 to make it happen.
\n