Articles
How Vietnam Is Going Green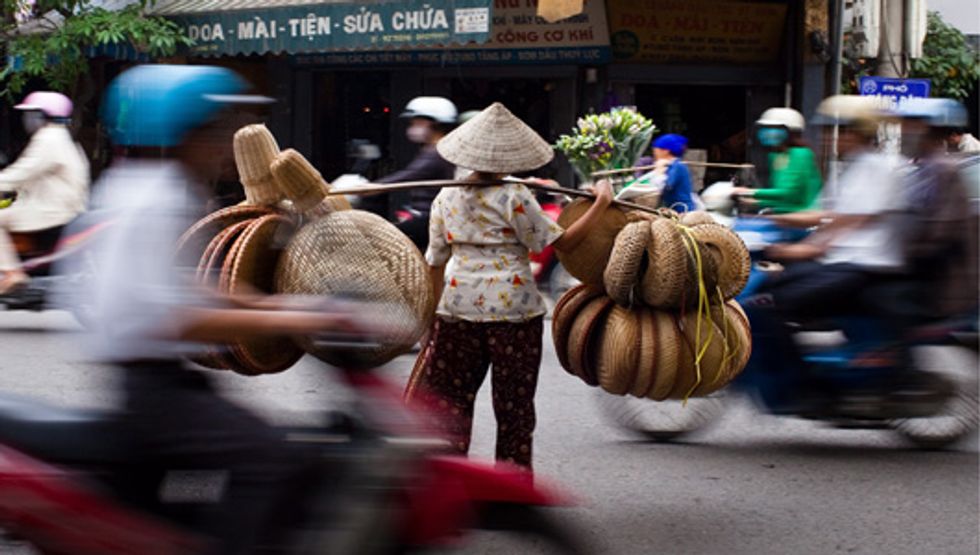 ---
Vietnam has been steaming ahead since it opened its doors to the world in 1994. The economy continues to grow, as do the ranks of the middle class. Of course, the newfound energy, economic excitement, and wealth do not come without negatives. Pollution, increasingly crowded cities, unchecked development, and corruption make for an uncertain future, especially when it comes to the environment.
At the same time, Vietnam is filled with natural beauty. Its long, thin shape gives it diverse landscapes: the waterways of the famous Mekong Delta, dense forests and jungles, mountains, rivers, lakes, and miles upon miles of coastline. National parks and nature preserves are very much a part of the country, with each region featuring stretches of mostly untouched, protected land.

Tourism may be the biggest savior of Vietnam's natural areas. The industry has been booming, causing sometimes-destructive development. The famous Ha Long Bay and the beach resort of Nha Trang have grown from sleepy seaside villages to tourist meccas complete with large hotels and pollution. But despite all the building and emissions, there is a strong green culture in Vietnam. City dwellers flock to parks in the cool mornings and late afternoons to take in the greenery and fresh air. Green-minded initiatives, started by local government, local organizations or international NGOs, are becoming more commonplace in the tourism industry. There is definitely reason to hope that Vietnam's natural areas will become resources for the eco-tourism industry, not casualties of the country's astonishing economic development.

City green\n
City parks are the simplest, but perhaps most enjoyable, part of Vietnam's green scene.
Hoan Kiem Lake
is Ha Noi's central green space, while Ho Chi Minh City's
parks
are perhaps more crowded and urban-like, but equally popular. Sites just outside the city limits offer a glimpse of greenery. Can Gio Nature Reserve, 30 miles from the heart of Ho Chi Minh City, is a
natural area
featuring different species of mangrove trees and animals that inhabit the mud flats and forests.
Country green\n
The Mekong Delta is a seemingly endless network of waterways. Cities like Can Tho and Tay Nhin are good bases for exploring one of Vietnam's
greatest natural resources
by boat. Simply heading outside of the cities is a great way to get into nature. The mountain town of
Da Lat
is surrounded by alpine vistas and forests while Hue's
Perfume River
, the Northern region's Ha Long Bay and the mountains near
Sapa
all offer a taste of the country's diverse natural scenery.
Nature preserves\n
Vietnam's national parks and nature preserves are among the least talked-about features of the country. Eco-tourism is in its infancy, but with these parks, the country has the pieces to make a truly successful, economically sustainable industry.
Cuc Phuong National Park
, outside of Ha Noi in the Red River Delta, is the country's largest park. With mountains and lush forests, the park is one of the most picturesque in Vietnam. Its inhabitants include primates (the endangered langur being the most famous), bears, and nearly 100 other species of mammals.
Ba Na
, a forested area outside of the central Vietnam boomtown of Da Nang, is part of a vast network of forests and national parks that reaches from the central coast to Vietnam's border with Laos. Once a summertime outpost where French colonists went to escape the heat, it is a "preservation area" that is fast becoming one of the country's most promising eco-tourism destinations. Its unique evergreen forests support a diverse population of mammals and birds. Even areas destroyed during the three decades of colonial conflict are being rejuvenated. The summit of Ba Na Mountain, cleared for tactical purposes during the decades of conflict between the 1940s and 1970s, has become grassland that supports different species of flora and fauna.
\n
Eat green\n
Despite its rush to modernize, a majority of Vietnam's population still buys their goods from
markets
where individual vendors sell produce and food products. Though market food is not necessarily organic or sustainable, in many cases it supports a network of small farmers, fishermen, and businesspeople.
This small-scale approach is also evident in the dining scene, with thousands of independently owned street stalls and storefront restaurants giving Vietnam one of the best
street-food cultures
in the world. Eating at these simple restaurants is the best way to support the local businesses, if not sustainable food production.
Go green\n
Bicycling is possible in towns and cities, provided you have the skill and courage to deal with the seeming indifference to traffic laws and the common sight of accidents. Gas-sipping motorcycles are the vehicle of choice for travel around urban areas, and are a reasonable option for low-impact travel for those who don't want to pedal through the tropical humidity. Motorcycle taxis (xe om) are found on street corners throughout the country and can give you all the benefits of a motorcycle ride without forcing you to put your life in your own hands.
The iconic
cyclos
, passenger trishaws, are disappearing from Vietnam's streets, but can still be used for people-powered sightseeing. Though they have been a popular form of transit in the past, they are mainly used by tourists today and are banned from certain parts of major cities unless licensed to operate as part of a tour company.
Buses are a dirt cheap option when it comes to public transportation, but the system is difficult to comprehend and the roadways between major cities are chaotic, meaning a white-knuckled ride is virtually guaranteed. Trains, including the well-known Ha Noi to Ho Chi Minh City
Reunification Express
, are a safer option for those wishing to travel the length of the country while avoiding the roadways and airports.
Vietnam, like so many other emerging economic powers, is only starting to see the value of its natural landscapes in terms of eco-tourism. However, a large network of national parks will make it easier for the country to grow its industry in a sustainable way. Despite massive urbanization and problems with pollution, the economic growth has not caused people, even city dwellers, to completely turn their back on their green surroundings.
Josh Lew writes about travel and transportation for the Mother Nature Network.
Related Articles on Mother Nature Network:

Destination of the week: Cleveland


MIT and NASA combine forces to create greener airplanes


Gulf oil spill ruining vibe on Alabama's 'Redneck Riviera'

Photo courtesy of ZUMA Press via Mother Nature Network
\n